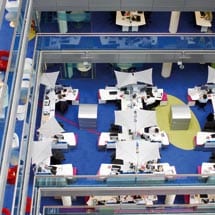 Words by Michael Willoughby
When business consultancy PwC came to create its new HQ on Dublin's booming Spencer Dock, it was presented with a new build from architects Mullally Leonard Partnership that allowed it almost complete flexibility in creating a tailor-made office. So what better way to make sure it works than handing most of the process over to the employees, from brainstorming through to space planning and desk functionality? We spoke to Alan McKeown of US furniture and workplace designer Steelcase about how it all worked:
We [Steelcase, the PwC project team and the architect] asked five groups assembled from people across the company to put together their own take on what their ideal office floor layout might look like. The groups had a series of workshops and then we captured their thoughts. We gave them things to make models out of such as toilet roll tubes, pipe cleaners and crepe paper. They were very up for it although they weren't sure what they were expecting. One PwC employee said he thought he'd walk into the room and be asked his opinion about various pieces of furniture and all of a sudden he was drawn into a thing about being asked how they work together and with their company. When we asked them to actually design and give input they genuinely got very excited. There was a lot of laughter – people who had no artistic or design flair became sort of Michelangelo-like, creating plasticine men. They realised how designing things could help them work better together.
The challenge was then to feed it into a pattern map that we could make sense of ourselves. We took all the relevant pieces and started to morph them, suggesting, for example, that break-out areas, chill cafes and common rooms might mean the same things and start pulling those elements together. Then we mapped everything and checked in with the group. There were some very strong ideas, such as the fountain of knowledge and the idea alley, which became an actual glass-and-light fountain and a linking walkway with information about the company on media walls and notice boards.
At this point the team held a three-day workshop. In terms of the specific desk, many people said that there was always a shortage of two or three-person meeting rooms, so we decided to have a desk that was open at the end with a rolling pedestal underneath that people could sit on. We were using a system of furniture called Forward, which allowed us to do the things we wanted. We decided on two and a half types of desk, a hot desk, a normal desk and a desk that was quite similar but enclosed in an office for senior managers.
We mocked them up out of cardboard and when the architect came in he was able to sit down and say, "It looks a bit deep" and we cut it down there and then. He did the same thing for the return. We placed two cardboard desks side by side and we could see how they related to each other. Richard Powley of Ten Design was drawing up a 3D design at the same time. Architect Liam Mullally had his own requirements. He made us work! He was keen to soften the space a bit since it was very rectilinear. There was a very prominent grid with columns. And of course there were space restrictions and certain things that had to be included as well as delivering an office that worked for the client from a business perspective. And he made some changes, which meant we had to create special elements. In order to deliver on the "vibrancy" requirements he wanted to change our fabric, slideable screens that sat between the desks into bright, rippled glass items. He also installed special LED lights into the panels at the side of the desks. They run off the same system as the rest of the building is in sync with it.
Additionally there were some problems with the glare and acoustics of the building since the second floor on the mezzanine steps back. To ensure 500 Lux at each desk we ended up working with a firm called Structurelab – which I had met at Orgatec last year – and Waldmann Lighting. Structurelab designs canopies for interior and exterior spaces with an uplighter to create a homely feel in foyers etc. We were initially going to use one of their shields for the whole run, but I thought that would look a bit pants. So we created individual "kites" for each desk. Serendipitously, they also provide an acoustic barrier. A bit of science went into this since they are reflective as well as shading. The architect chose 65 per cent natural permeability and 35 per cent reflectivity. I think they are a fantastic addition and work well with furniture. They provide a feature in the space.
The PwC staff involved in the design process were very helpful in spreading the message. They went back to their departments and were telling people what was happening and it created a great sense of inclusion, and a sense that what people working there thought actually mattered. When we were having the induction of the new space we brought these people through first and said: "This is what you were thinking about and here is the fountain of knowledge." One of the employees said, "I am bringing my kids along next week and telling them, 'Your daddy designed this.'"