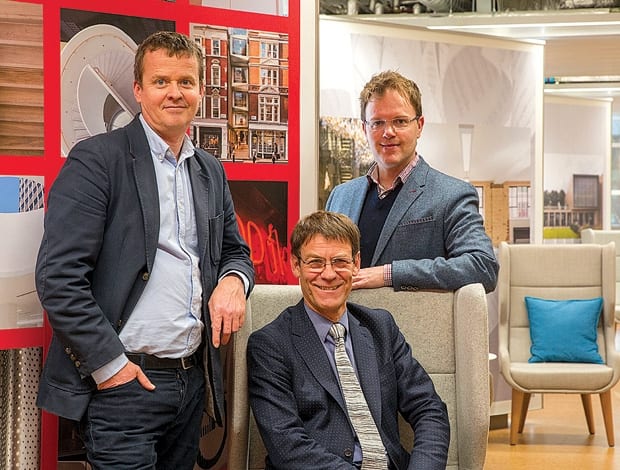 Directors Oliver Richards, John McRrae and Richard Warwick|A blown-up quote from a satisfied client adorns the office wall|Orms' own studio in Oliver's Yard, Old Street|Orms' own studio includes meeting rooms with sliding glass doors|Orms' own studio includes meeting rooms with sliding glass doors|Orm's studio – lighting|Careful attention to detail is key to the practice's work||Waxed steel walls lend a monumental feel to Stephen Street's imposing reception area|The science block features a stone colonnade topped by an anodised aluminium-clad 'jewel box'|Completed last year, Destination Science is a new addition to Uppingham School in Rutland|Uppingham School's new science block||
A rebrand and a move to a self-designed workplace are the least notable things about Orms' current circumstances: its latest projects are the real news
A notepad-sized folder sits on the desk in front of me. The word 'Orms' is inscribed in an attractive curving font, undoubtedly custom-made, across the top left of the document. The gatefold reveals a block of red plastic holding a series of folding leaflets, each illustrating a different architectural field: education, leisure, residential, commercial. It is all very polished and, well, cool. Not necessarily the word one would associate with a design practice entering its 30th year.
The folder is the handiwork of branding agency Odd, founded by a former Orms employee subsequently drafted in to overhaul the practice's image. But there is, as they say, meat on the bones to flesh out this tidy promotional material. Orms, formerly O.R.M.S. (the initials of founders Oliver Richards and Martin Shirley) is on fertile creative ground at the moment with a number of projects finishing and others still poised to leap from drawing board to reality.
They range from a wholesale transformation of tired office space for Derwent London to a sensitive new science block for the 500-year-old Uppingham School. But perhaps the most significant recent work is closer to home, for at the tail end of last year, the practice left its office in Clerkenwell for a self-penned studio at Oliver's Yard (another Derwent development) in Old Street. It is here I meet co-director John McRae to discuss the practice's latest work.
Orms' studio is intended to communicate its creativity. Anyone entering cannot fail to notice a series of angled pinboards displaying not just Orms' own greatest hits, but work from artists or anything the teams might find inspirational. The idea, McRae explains, is that this is a curated space, whereas live projects, renders, plans, and research – anything of a sensitive nature – are pinned on the reverse. His co-director Richards sums up: "Stick something up on the wall and it gets better. It does not get worse."
Perpendicular to the reception, (though that probably overstates the diminutive block of Corian that greets visitors) is a red wall inscribed with a lauding quote from a former client. The space, a large L-shape with an outdoor terrace complementing the return, looks on the surface to be one big open studio. Closer inspection reveals an office of far greater depth and versatility.
Sliding glass walls that create the boardroom, for example, peel back to create an informal meeting space. Barring a period of retraction during the recession, the firm's growth has been measured rather than meteoric. Nevertheless, there is enough space here to accommodate 80 or 90 (the workforce currently stands at 52).
Careful attention to materials – a key element of the practice's best work – is apparent here. Dividing the workbenches is a series of low storage units on which sits a variety of samples, their prominence as much a matter of convenience as a reinforcement of the diligence necessary to craft an interesting building. By way of example, McRae talks through the practice's reinvigoration of 1-2 Stephen Street, the former EMI headquarters.
Here, Orms disposed of the overbearing masonry dominating the structure, which contributed unnecessarily to the overall gloom of the street, in favour of a ribbon of glass topped by a steel 'blade'. However, it is the quietly assured main reception that re-establishes the building's appeal.
Flanked by monumental waxed steel walls, with a platoon of custom pendant lights (in reality two parts of existing products grafted on to each other) hanging above a terrazzo floor, its appeal is at once sophisticated and broad. "We spend a lot of time trying to avoid hitting the latest trends," says McRae. "This could be for a media occupier but it wouldn't be out of character for private equity." Inside, the works are no less substantive with the old loading bay converted into TMT-style studio space with Grade A offices above.
As Stephen Street completes, another commercial development, this time with a far richer heritage, is gearing up. Holborn's art deco Commonwealth House, designed by Henry Philip Cart De Lafontaine, is set for a revival, with original facade details reinstated, including the green glazed tiles reputedly blocked by none other than Giles Gilbert Scott, then an adviser to the Crown. It will be, says McRae, a "deco-informed" building, meaning references to the original movement will be pared-back rather than obvious.
Similarly, the currently-under-construction 81 Chancery Lane almost slips under the radar with Orms successfully slotting a cluster of stepped cuboid offices clad in faceted anodised aluminium above the Chichester Rents passageway, to link neighbouring Victorian buildings hitherto divided, while also reconnecting Chancery Lane with Star Yard.
Orms' original and last remaining founder, Oliver Richards, pinpoints this ability to work with existing structures as one of the practice's enduring strengths in its 30-year lifespan. The other is "financial nouse", as he labels it. "When Martin and I started the business we called ourselves designers and architects. And it was that way round quite deliberately, because at that stage, 'architect' was a bit of a dirty word," he says.
"Martin was a designer and we did a lot of retail design and work for end users." Richards says that Orms is doing more and more interesting work, much of it in the commercial offices sector. "Some years ago it was retail, then loft living. It goes in waves and it always will. I just hope that procurement systems don't shut out capable architects in this country from doing projects of all shapes and sizes. In the hands of some project managers it can become a tick-box exercise. It is really important to keep doing a variety of work."
Inevitably, the practice has outlasted some of its own buildings. Richards recalls his first major work, a two-storey industrial structure for Laser-Scan that was the first building on the Cambridge Science Park in 1973. Demolished some 25 years later, the project's fate reflects the dramatic arc of workplace design. "It was the right building for the right time. Property values had increased drastically, and users had changed from manufacturers – as was our original client – into software companies."
Conscious of the asphyxiation that can occur when a founding director fails to loosen their grip on the reins, Richards, along with nurturing clients and new business, wants to bring through a new generation of talent. The latest boost to the ranks is Richard Warwick, signed from Atkins Global in April 2013 and now the third director alongside McRae.
"We work in pairs; we don't work where one partner does one thing. Richard fits into that model. He is a collaborator, and we as a firm are good collaborators."