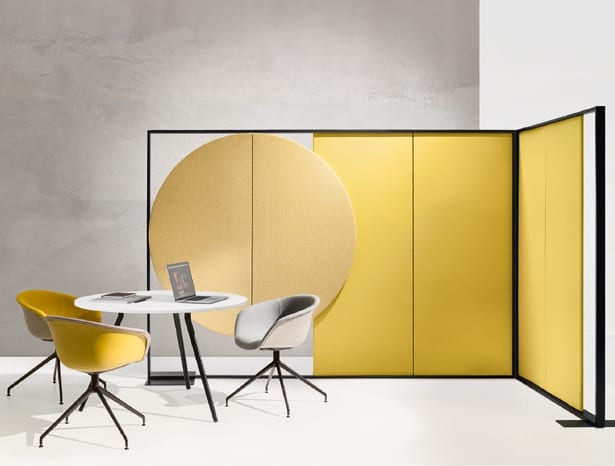 |||
For those who have not visited this furniture event dedicated to all things office for a few editions, things must have looked mightily different in 2016. Gone is the sea of black, widget-festooned task chairs and oversize executive desks. Instead, every stand seemed to have some kind of greenery, from a few pot plants to a 200-year-old tree – the biophilia trend has well and truly kicked in.
The grandmother's-kitchen-table-as-starting-point-for-a-meeting-room-table trend was everywhere, as wood really was the surface du jour. Open-plan office environments are de rigeur, so the need for acoustic privacy was something manufacturers catered for in a whole host of shapes, colours and textures. The bar has been raised in terms of stand design too – in no small part by Vitra's offering but elsewhere, quality of presentation of products was matched by the well-established hospitality offered by the exhibitors.
So what better time in the design calendar to celebrate OnOffice's decade in existence than in Cologne, when the very best in progressive workplace design was on show?
Arper (above)
Following on from its strong showing in Milan, Arper's presentations in Cologne included Parentesit. The work of long-time Arper collaborators Lievore Altherr Molina, the collection of wall panels comes in three shapes – a circle, a square or an oval – and now features a freestanding version intended to enable areas of concentration. For a piece of the office landscape that can err on the side of functional, Arper provides a design-led alternative.
Vitra
Vitra's takeover of an entire hall was highly anticipated and the Swiss furniture giant did not disappoint with a morning till night concept (more of which in a future edition) down the middle, new products of its own down one side and offerings from specially selected companies down the other side. Amongst Vitra's own launches its sit-stand offer CDS caught our eye. The range consists of workbenches and meeting tables in various sizes, at either a fixed height or as a manual or motor-operated sit stand solution. Privacy is assured thanks to screens and roller blinds.
Koleksiyon
This Turkish manufacturer showed a colourful, artfully arranged group of products on its stand, among them the Oblivion partition wall system (reviewed previously in these pages by Grant Gibson). Another that caught our eye was the Boccaporto soundproof seating booth. The work of design studio Metrica, Boccaporto is available in both a single-seater version and one for between two and three people, it also featured an integral LED lighting strip plus the obligatory place to plug in or pop in a USB. Suitable for offices and airport lounges alike.
Dinesen
How to give the wow factor to your stand design? Add an 11m long Douglas tree, if you're Danish manufacturer Dinesen that is. The installation entitled 'From forest to floor' was designed in collaboration with architects AART and very much tapped in to the trend for wooden surfaces. The intention here was to showcase how a touch of timber can soften up the working environment and the tree trunk itself contrasted well with the finished flooring.
Håg
Scandinavian Business Seating's stand was designed by former OnOffice cover stars Form Us With Love and one of the key launches was the Håg SoFi mesh chair. The secret's all in the double woven fabric its makers say. That, coupled with intuitive controls, means it can be easily adapted, with mesh providing a comfortable, protected feeling. The connecting part between backrest and seat cushion cleverly hides the more technical elements.
Dataflex
Nearly 90 minutes a day are lost due to visual and auditory distractions at work says Dataflex, whose Totem is an innovative solution to the distractions of open-plan workspaces. Staff can use Totem to turn their workstations into private spaces where they can focus in comfort. Height adjustable wings block sound and create privacy at eye-level and the integrated monitor mount allows users to set their monitor to the most suitable position. The base is filled with sound absorbing materials.
Luxy
Luxy's Italia chair is an interesting new take on the task chair, combining practicality and ergonomics with Italian style and craftsmanship. The strengthening structure of the chair is actually displayed externally. So, whilst providing comfort and strength, the support also becomes a stylistic feature. The exposed structure is crafted from a high-strength steel-rod frame, available in chromed or embossed, black or white finishes.
Thonet
Thonet's club chair, the S 830 range, fits into a variety of environments thanks to its versatile design. The appealing combination of curved and straight lines makes it both feminine and masculine, inviting and formal. At Orgatec the club range was presented with even more variety, including new bentwood legs, a cantilever tubular steel frame and a four-leg cross base. A highlight is the new writing panel: a small, teardrop-shaped surface that can be mounted on the seat's shell.
BuzziSpace
BuzziSpace had an impressive stand, filled with the type of quirky products we expect from the brand. One of the highlights was the uplifting BuzziBalance family of products, designed by Austrian company 13&9, comprising a standing balance board and its seated pouffe counterpart. Both products feature wooden-carved surfaces that activate muscles – and conversation – as users maintain balance.
Incatro Room Acoustics
Stylish acoustic solutions and products inspired by the natural world could be found throughout Orgatec's halls this year – so Incatro Room Acoustics was right on trend with its leaf-shaped acoustic range, SOUNDleaves. The DESKseries and WALLseries provide speech privacy at individual workstations, whilst the AIRseries and FLOORseries absorb excess reverberation and noise reflexions in larger offices. The calming leaf designs are available in shades of green as well as other colour combinations.
Pedrali
Pedrali introduced the elegant upholstered armchair, Vic, by French designer Patrick Norguet, The back of the chair lifts from the seat, remaining connected only at the ends. The opening gives the chair a sense of lightness and eases handling. Legs come in solid ash wood or in steel tubes and the seat and backrest can be upholstered with leather or fabric. With its timeless silhouette and different options for customisation, it's a lounge chair that could be used in a variety of spaces.
Area Declic
Three designers revealed new chair collections for Area Declic at Orgatec: Chromis, Kabira and Máni. Máni, (or moon in Icelandic), was designed by Welling Ludvik and features delicate lines and simplicity of design that allows users to fully enjoy the chair's comfort and craftsmanship. The polypropylene shell can be combined with steel or solid ashwood, finished with a cushion or upholstered. The finished collection is scheduled for spring 2017.
Haworth
Be_Hold office storage was designed in collaboration with Patricia Urquiola and comprises open shelves and cupboards, private lockers, sliding door cabinets and meeting points. The components can be used to structure spaces, creating functional areaswith individual personality but without dividing teams. The range comes in perforated metal, in a varied palette of finishes, back and front panels covered with fabric and wooden tops, and teams the style of designer furniture with strong functionality.
Walter Knoll
Seamless incorporated technology, elegance and flexibility define the Conference-X table by Eoos for Walter Knoll. Combining its classic table elements, users can create tables of different shapes and sizes, from traditional conference setups to rows of tables suited for training or seminar settings. A sleek supporting structure opens up towards the tabletop, whilst technology is completely concealed in the legs. Table legs and tops can be combined quickly and without tools; the patented 'Easy Handle' mechanism clicks in and stabilises the table.
Brunner
The cellular modular office system from Brunner was created to provide a retreat for concentration as well as to assist communicative work. The system can be adapted to changing work life and requirements, providing tailor-made solutions for a wide range of activities. Arrangements can be created for one, two, or more people – either sitting or standing. Flexibility and connectivity are further improved thanks to space provided for integrated for media and hardware.
Senator
Ideal for touchdown areas or collaborative zones, the round Orb desk from Senator was designed for modern workspaces where a pragmatic approach needs to be taken to the planning of spaces. A central column or 'trunk' gives the object an organic form whilst also hosting up to four monitors and power modules. This takes elements away from users and maintains personal space. Desk screens can be added, together with individual or dual lighting by Artemide.
Actiu
The Twist modular desk from Actiu is another product that cleverly integrates connectivity and technology, offering staff multiple solutions for an agile and flexible workplace. The solid aluminium structure, with its central framework, joins the desk legs with a single screw per leg, opening up possibilities. The desk can withstand three workstations in one single three-legged structure; possible configurations include an option for tilting the desk, another for incorporating a flat screen.
Alias
Soft, rounded forms and wide angles recall pebbles smoothed by water in this furniture system, okome, a collaboration between Alias and the Japanese studio Nendo. The fresh, upholstered system includes a family of seats and backs, naturally combined thanks to a sophisticated connector system. The wooden structure, upholstery and layer of memory foam provide both strength and comfort. The modules can be assemebled to form nine different configurations, specially designed to meet the needs of the office.
Product highlights from this year's edition of the biennial German trade show