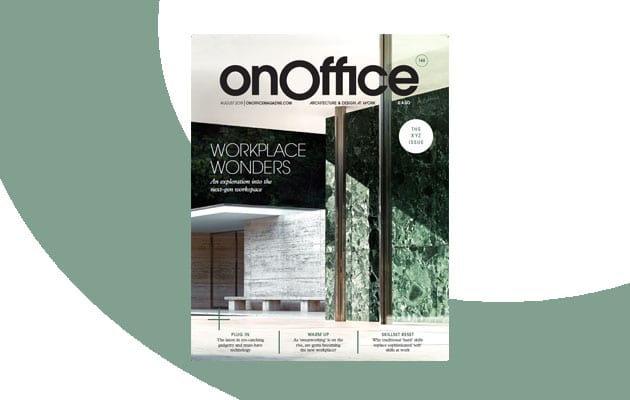 Fundacio Mies van der Rohe|||
Time-travel into the distant future or long-gone past as you flick through our XYZ issue, spanning past, present and future of office design.
Highlighting the latest eye-catching gadgetry and must-have technology, this month we look at daring designs, the 'soft' skills making up the emotionally intelligent office of the future, and we also pose the question whether generational shifts in the workplace truly exist.
We go inside Formgiving, an exhibition of BIGs work in Copenhagen. Photo by Rasmus Hjortshøj
For our cover story, we join the Barcelona Pavilion as it celebrates its 90th anniversary this year. To commemorate their benchmark event, the Fundació Mies van der Rohe teamed up with USM in Pavilion Workplace, a ground-breaking competition that challenges future architects and designers to reimagine our workspaces of tomorrow.
As 'sweatworking' is set to become the latest networking trend, in OnCulture we ask if gyms are the new office, which sees businesses being brought to fashionable fitness classes, while in OnTop, BIG's past, present and future projects are on show at the Danish Architecture Centre (DAC) in their latest exhibition Formgiving. Meanwhile, we revisit an office staple – Michael Graves' 9093 kettle for Alessi – to find out why this design icon is still bubbling away after nearly 35 years, and in OffStage, we discover how watch designers Larsen & Eriksen merge the principles of timeless and contemporary Danish design to create a distinct yet discreet workwear classic.
WPP's Amsterdam office links a variety of coworking spaces in a new way of working for the advertising giant
Favouring cross-generational collaboration in today's multi-generational offices, XYZ highlights the importance of focusing on the qualities connecting rather than disconnecting us. While some millennials must learn how to value the wisdom and knowledge of an older workforce, the latter needs to understand how to attract young talent to their work community and maintain their loyalty long-term. However, it is also true that despite these differences, we all have many of the same desires at work connecting us: flexibility, respect and a better work-life balance are hopes that transcend generations.
Depop's London office has a colourful range of furniture designed by Dean Brown. Photo by Tian Khee Siong
A tribute to the trailblazing figures of the past, present and future, XYZ is a call for all generations to meet equally in order to address the challenges we face more effectively. Paying homage to the architectural masters and enthroned landmarks of today and tomorrow, this issue encourages us to be playful and let our imagination run wild as we reimagine our future workspaces.
Get your copy of OnOffice here, or subscribe so you never miss an issue
This month we look at daring designs, the 'soft' skills making up the emotionally intelligent office of the future, and ask whether generational shifts in the workplace truly exist