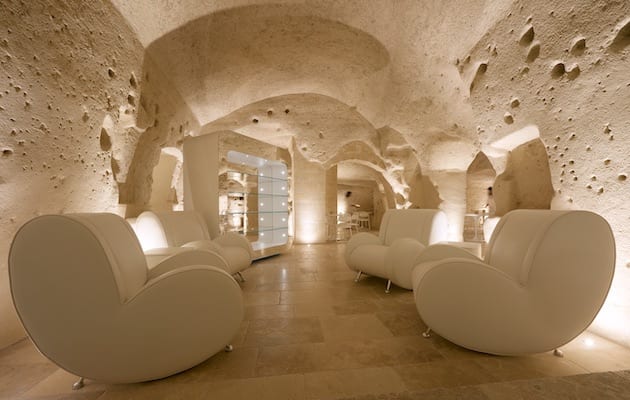 |||
The dramatic spaces in Sassi di Matera – districts in Italy known for their ancient caves – created a unique backdrop for the Aquatio Cave Luxury Hotel & Spa. We find out how the hotel, designed by Simone Micheli, is performing, one year after opening.
Client: Cosimo Dell'Acqua, co-owner, Dierresseti
Aquatio has become a reference point for the whole city of Matera – a hospitable structure of excellence and wonder in which celebrities and locals alike choose to stay.
Exterior context
We managed, despite the site's historic nature, to only architecturally intervene in places already dug into the tuff.
Exterior
To ensure the highest levels of comfort and wellbeing for our guests we have brought in custom-designed furniture and fixtures.
Interior
The result is a beautiful, yet thoughtful, space that encourages total relaxation.
Interior
Over a year after opening, the retreat is doing very well.
Architect: Simone Micheli, architect, Simone Micheli, Architectural Hero
Aquatio is a real work of art to experience.
The purity and sinuosity of the terrain informed the design of all interior spaces, furnishings and lighting.
Everything inside Aquatio was born of the choice to respect this unique and atmospheric place: the Sassi di Matera.
The distinctive nature of the setting was the reason why custom-made white, flowing and minimal furniture was a must.
Each detail has been created specifically for the luxury hotel and spa.
The Aquatio project first opened back in 2018.
Matera, a UNESCO World Heritage Site, was also designated one of 2019's two European Capitals of Culture.
This only added further value to the ambition of Aquatio and now, one year after its opening, it is still one of the most appreciated projects in the city.
Beneath the city of Matera in the south of Italy, the Aquatio Cave Luxury Hotel & Spa has been welcoming visitors for a year