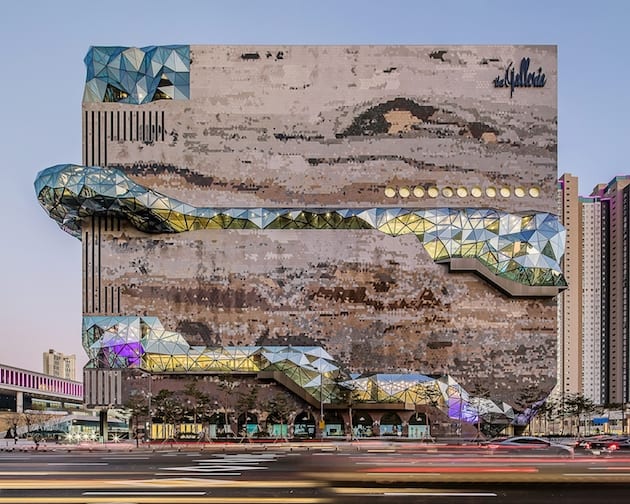 |||
Resembling an upturned block of soil studded with glittering rock crystals, OMA's new department store might be the most eccentric retail building yet erected.
The Galleria is located in Gwanggyo, a planned city outside Seoul. Photography by Hong Sung Jun, courtesy of OMA.
The Galleria in Gwanggyo — the sixth branch of South Korea's oldest upmarket department store chain — is designed to evoke the nearby Suwon Gwanggyo Lake Park. Helmed by OMA partner Chris van Duijin, it features a textured mosaic stone façade. Redolent of a natural rock face from afar, a close-up look shows it to be made of tessellating triangular tiles.
A glass seam runs twice around the building. Photography by Hong Sung Jun, courtesy of OMA.
Gwanggo is a planned new town of largely residential units. It has previously lacked much in the way of architectural interest or an urban core. The Galleria aims to change all this, serving as an identifying structure for the municipality, which lies to the south-east of Seoul.
Inside, the department store spans numerous floors, including a basement housing the food market and deli. Leisure facilities, including bars, restaurants and a multiplex cinema, are clustered on the upper floors.
Shoppers can see the surrounding city from the Public Loop. Photography by Hong Sung Jun, courtesy of OMA.
The store's crystalline glass facade, which passes twice around the building and connects each floor before terminating at a roof garden, stands in visual contrast with the oblique tiling. OMA have named this 540m walkway the 'Public Loop', and hope that it will inspire the public to engage in other activities than shopping.
"The Public Loop," says OMA Associate Ravi Kamisetti, "entwines Gwanggyo and the Galleria by making visible and tangible the activities of shopping typically hidden from the city."
As well as retail, the Gallerie includes a cinema, restaurants and bars, and a roof garden. Photography by Hong Sung Jun, courtesy of OMA.
"With a public loop deliberately designed for cultural offerings," joins van Duijin, "Galleria in Gwanggyo is a place where visitors engage with architecture and culture as they shop. They leave with a unique retail experience blended with pleasant surprises after each visit."
While most department stores — and all those in South Korea — lack windows to keep shoppers focused on consumer purchases, the Galleria encourages customers to look out at the park and the built environment around them. In this, it constitutes a decisive break with the conventions of retail architecture, and may inspire further maverick malls in the future.
Rather than enclosing users in wall-to-wall retail, the department store allows views to the surrounding city