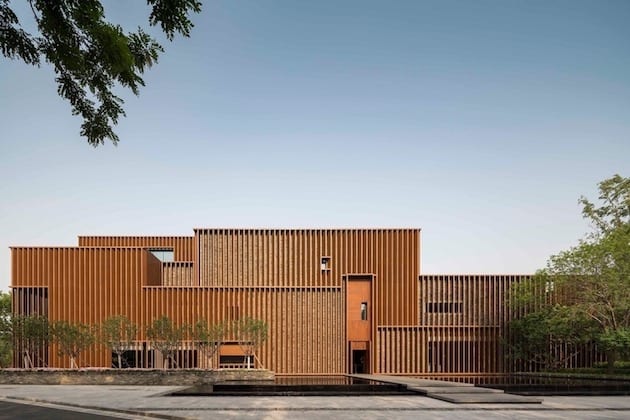 |||
Shanghai—based architects and designers Neri&Hu have transformed an administrative office building into a community centre and clubhouse.
The refurbished building centres around a courtyard. Photo: Pedro Pegenaute
The Junshan Cultural Center, located in the mountainous Miyun district in Beining's north-eastern outskirts, combines the functions of a clubhouse and sales lounge. The project was undertaken for a local developer, who aimed to extend the usual offerings of a sales centre with a mixture of amenities for local residents.
Neri&Hu took the original building's donut-like structure, which centred around a courtyard, and turned it into two sequences of interlocking rooms, one for members and another for guests.
Neri&Hu aimed to blur the inside and outside. Photo: Pedro Pegenaute
Encircled by aquatic gardens, the centre appears to float above the water. Its aesthetics are inspired by both nature and the traditional architecture of China's north.
The building's concrete walls are softened by grey reclaimed bricks, which are then sheathed in wood-patterned aluminium panels, whose gold colouration characterises the structure's appearance. The interior is visually connected by brick and wood panels, with geometric cuts in each space allowing for varied levels of light throughout the building. Each room looks to exterior spaces, blurring the boundaries between interior and exterior.
The interior spaces all have natural light. Photo: Pedro Pegenaute
The Culture Center includes myriad amenities for its members, including a 100-person events hall, a dining room, an art gallery, a private function room, a library, a business lounge, a lounge bar and facilities for families. A rooftop deck provides views over the Centre's dramatic surroundings.
The studio aimed for an unstated luxury. Photo: Pedro Pegenaute
Founded in 2004 by Lyndon Neri and Rossana Hu, Neri&Hu Design and Research Office provides architecture, interiors, planning, graphic and product design services. The studio aims to bridge the gaps between different design disciplines and serves as an incubator for a new global frontier in architecture.
The Center is set within mountainous countryside, northeast of central Beijing. Photo: Pedro Pegenaute
Neri&Hu's acclaimed projects include the textured brick Suzhou Chapel, the water garden-focused Tsingpu Yangzhou Retreat, and the restoration of a 1930s theatre in Shanghai.
Designed for a developer on the outskirts of Beijing, the refurbished concrete building is both sales room and community centre