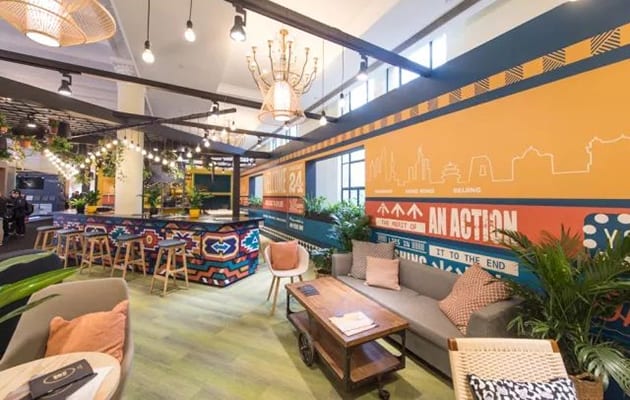 |||
Wellness is undoubtedly one of the most enduring trends in workplace design and architecture. Co-working spaces have long known that investing in wellbeing is a great way to attract new customers and hold onto existing users in an increasingly competitive market.
naked Hub, a homegrown Chinese co-working company, has invested heavily in the wellness trend, and has made it a key selling point of its strategy as it prepares to launch their first international spaces in Vietnam and the UK.
To showcase their philosophy, naked Hub partnered with OnOffice magazine to build a pop-up co-working space right in the hustle and bustle of the Design Shanghai fair. Working Habitat, naked Hub's pop-up, showcased the brand's design concept and presented visitors with a vision of a workplace environment that is more healthy, green, and productive.
Dirk Wynants from studio Extremis address the crowd at naked Hub, Design Shanghai
Visitors experienced the future of workplace in a well-designed area, with a living room, movable desk, and the signature naked Hub plant-wall bar – where green smoothies were available –, Ping Pong meeting room, sleep bar and advanced interactive technologies.
The pop-up also served as the setting for series of talks on building green and sustainable co-working spaces with experts such as Swedish designer Alexander Lervik and Dirk Wynants from studio Extremis.
Alexander Lervik gives a talk at the naked Hub popup in Design Shanghai
The naked Hub space at Design Shanghai also hosted BULA, purveyors of customised office exercises, who invited visitors to participate in chair yoga and sound healing sessions.
Though naked Hub is barely two-years old, it already boasts a roster of 10 co-working spaces in Shanghai, four in Beijing, two in Hong Kong, and is preparing to launch spaces in Vietnam and London before the summer.
With a heavy focus on wellness, naked Hub trials co-working pop-up at Design Shanghai before opening shop in London