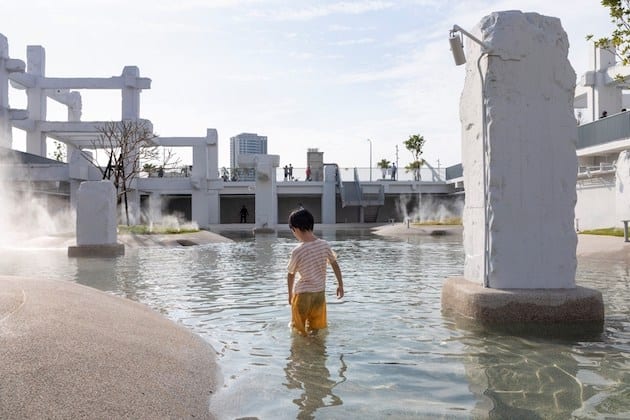 |||
Tainan Spring, in the southern Taiwanese city of Tainan, sees the former China Town Mall converted into a public pool and garden.
The mall was built in 1983 atop the old harbour, cutting the city from its traditional marine industries. After years of decline, Tainan's Urban Development Bureau decide to remove the structure, in doing so reconnecting residents to the waterfront that was once the city's lifeblood.
The pool contains islands of greenery. Photo: Daria Scagliola
Dutch architects MVRDV deconstructed the concrete frame of the mall's underground parking lot into a sunken plaza, centred around an urban pool speckled with green islands. MVRDV transformed parts of the remaining building into a walkway that evokes a modern Roman Forum.
Designed to be inviting throughout the year, the water level will rise and fall with the changing seasons. Mist sprayers will reduce the temperature in summer without requiring air conditioning. A garden of local plants, slated to gain rainforest-like qualities as it grows, surrounds the water.
MVRDV expect the water level to wax and wane over the year. Photo: Daria Scagliola
As well as the new recreation area, Tainan Spring includes enhanced public paths and a reduction in traffic. The space also includes a stage for performances, and follies that can be used as shops and kiosks.
The ribs of the mall's car park surround the pool. Photo: Daria Scagliola
Founded by Winy Maas, Jacob van Rijs and Nathalie de Vries in 1993, the Rotterdam-based MVRDV is a global architecture firm renowned for its research-based processes and eclectic designs, many of which feature irregular stacked boxes.
Elsewhere in Taiwan, the company is currently working on the Taipei Twin Towers, which resemble piles of traditionally-wrapped Christmas presents.
The new public space includes a sunken bathing area, local greenery and improved pedestrian pathways