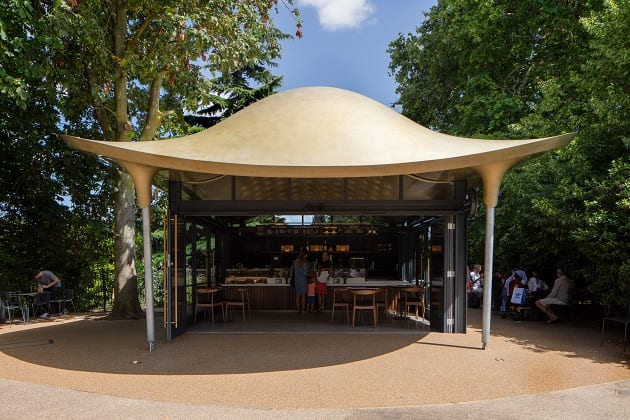 The Serpentine Coffee House, by Mizzi Studio|||
London's parks are some of the most treasured parts of the city, visited by millions of people a year in search of natural respite from the city.
Now, in a projects for the Royal Parks, London architecture firm Mizzi Studio has worked with Italian coffee brand Colicci to create a series of new food and drink destinations, beginning with a striking new café in Kensington Gardens.
Positioned on the edge of the Serpentine, a two-minute stroll from the Serpentine Galleries, Junya Ishigami's Serpentine Pavilion and Henry Moore's Arch sculpture within the park itself, the Serpentine Coffee House takes inspiration from the natural environment in its form and the technicality of design in its creation.
The pale gold, swooping roof has a smooth exterior that hides an interior surface that feels more reptilian, textured with curved, bone-like coffers that meet in the middle like the vertebrae of an ancient creature.
The design concept came from the café's location, on the edge of a manmade lake, but an area that had become home to art, culture and nature – including plenty of wildlife, from geese and pigeons to the surprisingly tame parakeets. In creating the cafe, Mizzi Studio took inspiration of the lake and also moved its opening right up to the Serpentine Bridge road – it's more visible and is, Jonathan Mizzi, founder of Mizzi Studio explains, "like a serpent jumped out of lake, and became a smiling stingray serpent that welcomes you to the park."
The combination of natural inspiration and technological process was also central to the design, Mizzi says. The shape was created using CAD and created in rigid foam, CNC milled in one large piece, then covered with carbon fibre. The shape is self-supporting, propped up on columns to create an intimate café space underneath. "We wanted to combine human and technological aspects. We used CAD to create animated, gestural shapes, an animal-like creature, and gave it the warmth of hand finishing – the hand-patinated colour still has fingerprints in it."
As well as its animalistic reference, the design takes inspiration from a more traditional source – the Japanese pagoda. The shape is most evident from a distance, the lifted corners and horizontal lines across the glass sides referencing at the traditional style. Inside, the curved roof dipps down to give a sense of being enclosed inside the creature, offering shelter from the elements and a cosy space for a catch up accompanied by the appealing scent of fresh coffee and waffles.
The café is the largest of a series of commissions due to be placed around the Royal Parks between now and October, and will remain as a permanent addition to Hyde Park.
The swooping roof is designed to look like a "smiling stingray" leaping from the lake