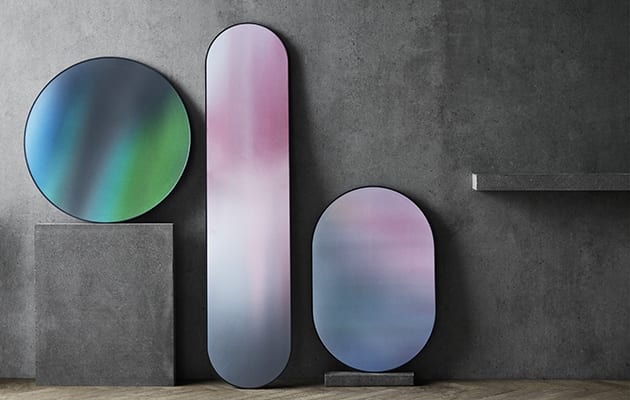 |||
On 15-23 September, London Design Festival returns for its 16th year with a series of installations, talks, exhibitions and product launches throughout the city. Here's what we're excited about from this year's event.
EAST
KW3 Striped Stools
Bristol-based furniture brand King and Webbon will showcase its Striped Stools at London Design Fair. Made using beech ply, the simple stackable frame gives a nod to classic lab stools used in school and is finished with a contrasting stripe and stainless steel bolts throughout. The flat-packed perch stools come in tall and small, and can be used in conference rooms or grouped together to form breakaway areas.
1 Inch Reclaimed by Jasper Morrison for Emeco
As part of SCP's A World of Ordinary Things exhibition, Jasper Morrison will be presenting the newest member of the 1 Inch product range. The Reclaimed chair incorporates life-cycle engineering ideas in its design by utilising 90% industrial waste materials. The stackable chairs are made using recycled aluminum frames and reclaimed wood, polypropylene, plywood and upholstered seats.
Cameron Design House x Geronimo
Cameron Design House is pushing the boundaries of lighting design with its collaboration with Los Angeles-based balloon artist Geronimo. Jihan Zencirli, the artist behind Geronimo, specialises in large-scale balloon pieces and for LDF she will present an immersive installation, alongside CDH's hand-blown glass chandelier that will light up the Old Truman Brewery.
Observatory
Lee Broom has been celebrating his 10th year with a trilogy of shows that began in Milan, then in NYCxDesign and will end at LDF. Each location had a new product drop and, in London, Broom will release a new black edition of his Orion modular tube light, originally finished in polished gold (pictured). The monochromatic palette is reminiscent of his Optical light collection launched two years ago, at LDF.
Inspired by Barcelona
Barcelona has always been a hub for creativity and this year, as part of LDF's county pavilions, five Catalan brands will showcase work inspired by the Spanish city. Participating will be: Toru, which manipulates vegetable-tanned leather into exquisite chairs (pictured); Noem by sustainable practice Nutcreatives, which produces streamlined flat pack pieces; and Sergi Ventura, whose light fixtures blur the line between objet d'art and design.
CENTRAL
King's Cross Design Route
King's Cross has revamped itself into one of the buzziest areas of London and this year's Design Route shows how the much the area has embraced the creative industries. Highlights include: PlasticScene (pictured), curated by Modern Design Review with James Shaw, showcasing new works using waste plastic; House of Illustration's exhibition of 20th century textile designer Enid Marx; and Matter of Stuff's pop-up gallery that will emphasise its forte in expanding the vernacular of marble and ceramics. MoS will also show commissioned pieces together with international brands Bocci, Flos and Wonderglass. Creative Unions celebrates the work of Central Saint Martins' graduating class, and Electroanalogue, hosted by Tom Dixon, explores digital technology through events and installations at its new HQ.
Blown Away
Design research gallery Matter of Stuff will be returning to Sketch this year with a new site-specific exhibition featuring beautiful hand-blown glass products by six international designers. Among the highlights is a bespoke chandelier by Vancouver-based firm Bocci, with spherical pendant lights made by carefully controlling the temperature and airflow into the glass (pictured). Plus a large-scale light fixture by Italian glassblower Simone Crestani, that sees hand-blown borosilicate orbs delicately suspended from a brass structure.
Spin
At Designjunction, Levon Lim will present a modular desk that targets smaller workspaces. Office real estate is often at a premium and Lim's Spin desk builds upwards rather than outwards, maximising the existing space. Lim, a recent graduate from Central Saint Martins, has created a highly adaptable desk that features a slim tabletop with a pivoting shelving unit that towers out. Its configuration is completely customisable, ideal for condensed work environments.
Bill Amberg Print
Leather expert Bill Amberg will be debuting his collaborations with Timorous Beasties (pictured), Tom Dixon, Alexandra Champalimaud and Natasha Baradaran. Each brand will create a graphic that will be digitally printed on to Amberg's bull hides and displayed as part of Tom Dixon's Electroanalogue exhibition. The printed leather hides can be used as upholstery or a wall hanging, and to showcase their versatility, each brand will refurbish a piece of its own furniture with the leather.
Paddington Central Design Route
Paddington Central is the newest addition to LDF's Design Routes, and will be a key hub. Three RCA installations will examine the future of residential, retail and office lobby spaces, and how art influences the way people interact within them. On the underside of the Westway viaduct there will be a multi-hued immersive installation by Liz West, while along the canal is a life-size interactive pop-up book created by Ido Garini, and on Kingdom Street, design firm Snøhetta will unveil a rotating book pavilion.
WEST
The Solid Lightness
Poltrona Frau's 2018 collection explores notions of lightness and it has collaborated with designers including GamFratesi, Jean-Marie Massaud and Roberto Lazzeroni on this theme – including Lazzeroni's woven leather tables and chairs inspired by dancer Isadora Duncan. This year also marks the launch of the Objects lighting collection, with pendant lamps by Neri & Hu, inspired by Chinese lanterns (pictured), and GamFratesi's elongated globe lamps.
Below the Heavens
Sé's collaboration with Ini Archibong titled Below the Heavens was unveiled in Milan earlier this year and select pieces will make their UK debut at the brand's flagship showroom on Fulham Road. Inspired by the threshold between heaven and earth, the collection has been imbued with a sense of ethereality. It includes products such as the Moirai chandelier, which evokes a cluster of clouds, alongside the Circe sofa with its voluptuous upholstered seat atop a rounded steel frame, which would brighten up any reception area.
Flint
Joyce Wang Studio will be launching a limited edition collection of terrazzo furniture and design objects at LDF. The refined collection errs on the side of delicate femininity, subverting traditional ideas of the robust material. Small side tables, with curved tops and tapered legs, and a series of sculpted spherical objects are among the highlights.
This will be the Space
Cassina's Brompton Road showroom is exhibiting a collection of five reissues by some of the industry's most recognised names, including Frank Lloyd Wright and Gaetano Pesce. Patricia Urquiola, Michael Anastassiades and the Bouroullec brothers, who have expanded their Cotone range (pictured), will show these pieces alongside new creations. The Cotone collection will include a large rectangular table that would be a statement piece for any conference room, plus corresponding chairs with an ashwood seat and back.
60th Anniversary Collection of Fritz Hansen
To celebrate the 60th anniversary of Arne Jacobsen's work on the SAS Royal Hotel, the Republic of Fritz Hansen will present a travelling exhibition celebrating the designer's work, and a limited edition collection of Jacobsen's Egg, Swan and Drop chairs with lavish gold-plated bases. Alongside will be new works from the Objects and Lightyears collections including the elegant NO1 chair by Nendo, Paul McCobb's Planner coffee tables reworked with marble tops, and iridescent mirrored wall sculptures by Studio Roso (pictured).
Subscribe to the OnOffice newsletter here to get more LDF news delivered directly to your inbox.
Emerging and established talent converge in the city to celebrate the 16th edition of London Design Festival