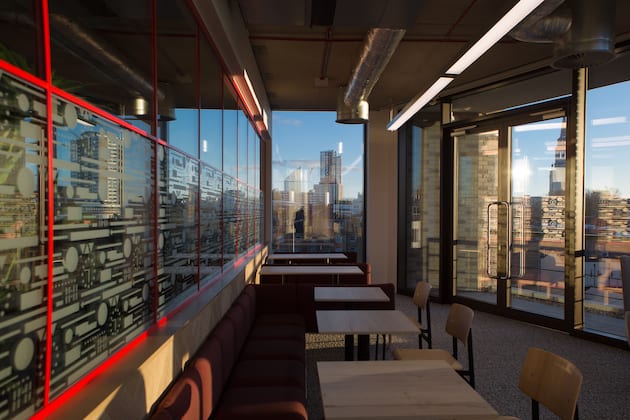 |||
A year ago, LinkedIn decided to move its London headquarters from Oxford Circus to Farringdon, taking over The Ray Farringdon, the former offices of The Guardian. The seven-storey building offers terraces on all of the floors, most looking over the quieter Ray Street at the back of the building.
How Vodafone uses data to adapt its office for optimum staff wellbeing
Though the company has the whole building, they are still planning spaces on some of the floors, adapting as they discover the realities of working within the initial layouts.
Meeting rooms, for instance, currently located on each floor and given themed names – for instance, all themed around inventions – are now simple, glass-walled, connected rooms, compared to some of the themed spaces in the previous office. Each floor has a colour, very subtly incorporated across the frames of the meeting rooms and in the bathrooms in the form of glazed tiles on the walls that reference the old-fashioned pubs in the Farringdon area.
As a company focused on enterprise and the workplace, it's perhaps no surprise that the facilities management team seek to optimise the office based on changing needs. On the floors still being worked on, flexible spaces will be key, offering breakout spaces away from the individual desk. There are several collaboration spaces across the building currently, including semi-private meeting pod chairs, open kitchen spaces and a library – currently featuring the less traditional table football, highlighting the area's flexible use.
Wellbeing in the workplace is also covered off by the facilities available across the office space. On the fifth floor, staff can access a restaurant for lunch and a gym, which holds classes from yoga to guided meditation throughout the week. Upstairs, on the top floor, is perhaps the most visually impressive spot in the building, with a meeting room that faces directly onto a roof terrace with 360º views over the winding streets of Farringdon and the City of London.