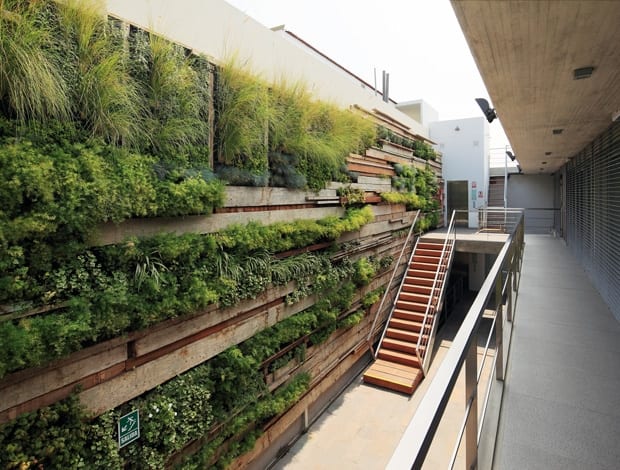 The side terrace, intended to foster a spirit of creativity among tenants|Oscar Gonzalez Moix's Zentro building: his practice is on the top floor|Artist Veronica Crousse's rustic living wall, made from recycled timber||
For its carefully chosen residents, the Zentro building is a welcome oasis of calm from the bustling Peruvian capital, Lima – hence the inclusion of 'zen' in its name. Set back from the road, the structure is
contemporary and minimal with a predominantly glass facade encased in raw concrete, one side of which is separated from the neighbouring building by a two-storey green wall. In between this wall and the building, employees of the shops and offices are provided with a secluded outdoor area as well as an improved view from the urbanised surroundings.
"The front street creates a lot of noise and stress, and the back has a direct view of not very pleasant rooftops. Neither had the spirit we were searching for," explains architect Oscar Gonzalez Moix. "We therefore decided to create a yard to the side – an opening that allowed us to illuminate and ventilate the space, with a vertical garden. The idea was to create a relaxed workspace that was an environment away from the stress, and that focused on design."
Aiming to create a more scenic backdrop compared with the building's other views, Moix commissioned Peruvian sculptor Veronica Crousse to design the living wall, which spans the first and second floors. Her design is constructed from reclaimed wood panels of varying sizes and colours collated haphazardly, with patches of plants emerging through irregular gaps. Far from pristine, the feature is instead refreshingly wild in comparison to the more generic commercial neighbourhood surrounding the building.
"The people here can share this green sculpture visually and spatially," says Moix. "It gives a very special atmosphere and tranquillity." He also hopes the space will be conducive to a more creative environment by encouraging interaction between residents, as well as being used for meetings.
The building itself is formed around an angular S-shaped ribbon of poured concrete, formed with two-inch wood shuttering to give a warmer, less austere texture that also creates a visual dialogue with the vertical garden, according to Moix. The rest of the facade is similarly modern, clean and neutral, mostly glass and white columns, with locally sourced granite flooring and stainless steel details. Floor-to-ceiling windows and open-plan interiors enhance the contemporary feel, and tie in with Moix's intentions to create a calm, creative space. "In the end we wanted a work environment for quiet inspiration, without stress, so we created a space as close as possible to our homes. As we say in Peru, very caserito [homely]."
The mixed-use building lies within Lima's La Molina district, an affluent area where construction is booming, but usually characterised by its residential neighbourhoods. Therefore it is small – on a "friendly scale," as Moix describes it – and could almost be mistaken for a luxury residence rather than an office and retail complex. "Its sensitivity and simple spaces create the image of a courtyard home," he says. The immediate surroundings were once residential properties, which have since been developed into commercial property but with a height restriction, which Moix says has, "created a peculiar language for the area." Such is the success of Zentro, the practice is currently working on two more similar developments next door.
Tenants were given a blank canvas to design their own interior according to their requirements, and, being design companies, this is where the colour and warmth is added. A furniture store occupies the 400sq m ground floor, accessed from a front patio area decorated with pastel-coloured outdoor lights. Above are four 70sq m units, housing a lighting company (over two units), an art gallery and a homeware store, and on the top floor are the offices, taken up by a paint retailer, a construction engineer, Moix's own practice, and a clothing company belonging to the building's owner.
The project originated when Moix was looking for a new workspace, and discovered that his friend (and future client) Anthony Isles Infanta was also looking to relocate his work to be closer to home. "There
were no quality, well-located offerings on the market, so I suggested we look for some terrain for a medium-sized project and turn it local, with a focus primarily on design companies," says Moix.
Despite time and economic pressures, Moix and his client chose to be selective about who took up the space, turning down seductive offers from banks, restaurants and mobile-phone companies in favour of design companies that came on recommendation. Though he admits this was a sacrifice financially, and took a lot of patience, he knew that in such a small development the mix of tenants was a careful balance.
"They would have significantly altered the peace we were looking for," he explains. "We understood that committing to the spirit of the project would give it a long life. In my experience, that relaxes people, allows them to concentrate more and have a more friendly attitude to neighbours and co-workers, which is conveyed to the customers who visit."