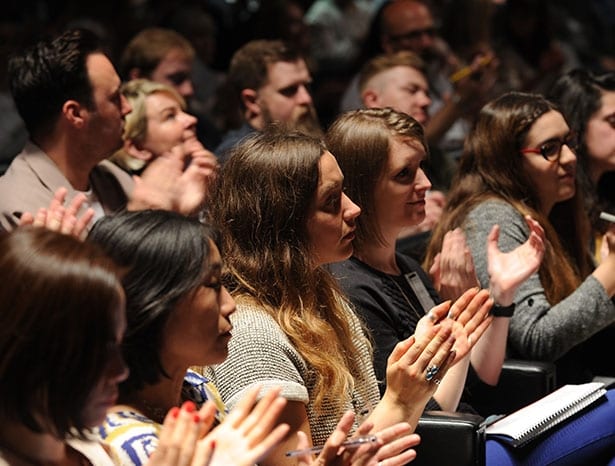 |||
The British Institute of Interior Design (BIID) hosted its fifth annual conference on Thursday 16 June at the Royal Geographical Society. Entitled 'Interior Identities', this year's conference attracted over 250 attendees.
The event program saw an impressive lineup of speakers who explored perceptions of 'interior identities' in relation to designers, clients, spaces and locations. Attendees enjoyed creative thoughts, inspirational ideas and a good balance of contrasting viewpoints from the speakers.
Charles Leon opened the conference by discussing the identity of the designer, asking: 'Is creativity a universal human trait or do designers use their minds differently?' Ariane Steinbeck's talk, 'A Sense of Place? Cultural Identity and Hospitality Design', addressed the challenges of creating a space that upholds brand identity and also reflects the culture and identity of its geographical location.
Laura Glithero of Gilling Dod Architects looked at mental health in design and the ways in which designers can have a positive impact on the lives of patients. Her thought-provoking session displayed how effective designs can influence deeper emotions and wellbeing of those who use them.
The conference also featured the presentation of this year's BIID Honorary Fellowships, an award that recognises the contribution and impact that an individual has had on the growth of the interior design profession in the UK and internationally. 2016's recipients include Alain de Botton, Catherine Croft, Rosy Greenlees (below), Orla Kiely and Karim Rashid.
Karim Rashid, iconic product designer and now architect, flew from New York to participate in a conversation onstage, hosted by Deputy Editor of Homes & Gardens magazine, Giles Kime. Karim shared his inspirations and personal reflections on discovering his love for design. He also explained the struggle for balance in a designer's identity, commenting: "the artist is selfish, the designer is selfless."
Renowned designer, Orla Kiely also joined Giles Kime on stage for another one to one interview. Described as the 'Queen of Prints', Orla's vast experience and personal story made for an inspirational and informative session.
Rosy Greenlees, Executive Director of the Crafts Council held an afternoon session on craft, design and identity. Rosy argued that almost all successful interior design projects depend on designers and crafts people working hand in hand, and shared her hopes for more support for craftspeople in the future.
Mark Robinson of Living Architecture explored the challenges of creating interiors in buildings that are designed to change the mindsets of those who use them, designing spaces that balance relaxation & education and approaching projects that have no client in the traditional sense.
The day ended with an engaging panel debate on 'The Interior Designer's Dilemma: Reverence vs Reinvention'. Catherine Croft, Graeme Brooker and James Dilley participated in this thought-provoking discussion, addressing several topics such as whether the responsibility to respect design intention of should impact the creativity of a designer.
"We are thrilled with the success of this year's BIID annual conference and would like to thank everyone who participated and attended", commented new BIID President, Susie Rumbold, who officially took over the BIID Presidency from Daniel Hopwood on the day of the conference.
"After celebrating the Institute's landmark 50th anniversary last year, we had a hard act to follow, but I believe this year's has truly been the best conference to date. From the inspirational and entertaining discussion with Karim Rashid to the insightful sessions with the fascinating Orla Kiely, the day was filled with a great energy from start to finish. It was wonderful to network with BIID members old and new, and enjoy a day full of engaging, innovative and creative discussion."
The British Institute of Interior Design (BIID) hosted its fifth annual conference on Thursday 16 June