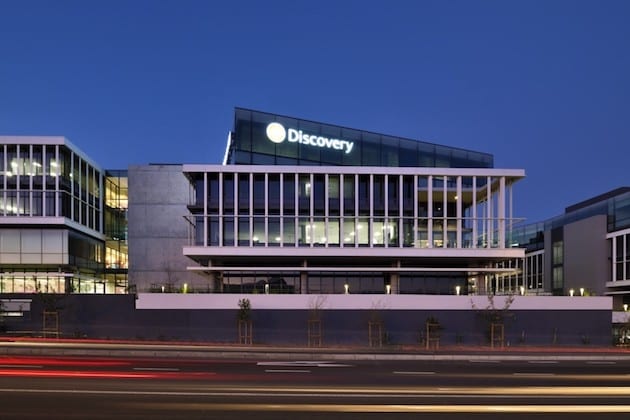 |||
Architecture, interiors and urban design firm dhk has completed its Sable Park office development in Century City, one of Cape Town's northern suburbs. The site boasts panoramic views over Table Mountain, the conurbation's distinctive flat-topped landmark.
Sable Park comprises two buildings, themselves divided into two irregularly sized wings. © Courtesy of dhk.
Comprising two structures of similar size — 8,000sq m and 8,300sq m respectively — Sable Park was designed under the nickname 'macro-chip shuffle.' It earned this moniker partially for its resemblance to the electronic device, and partialy due to the 'shuffling' of its appearance when perceived from different perspectives. From some points, it reads as a single-connected complex, whereas from others four discrete volumes are visible.
The complex has panoramic views of Table Mountain, Cape Town's flat-topped landmark. © Courtesy of dhk.
These illusionistic effects result from the buildings' structure, which play with a set of reoccurring elements. Each building centres around a concrete floor, from which sprout two unequally sized wings. On two of these volumes, the top two floors are cladded in a glass-and-aluminium lattice, with a plainer glass-walled floor below; on the other two, this structure is flipped around, so that the glass box rises to the top. The form of these sections is irregularly curved, granting the whole a kinetic, off-centre profile. "On an abstract level," says dhk associate director and lead architect Henry Abosi, "the spaces are duplicated, and the volumes are inverted."
Both buildings feature a central full-height atrium for abundant light, which can be crossed using bridges, and landscaped courtyards for breakaway space. A wraparound terrace on the upper levels allows occupants to take in dramatic views. There are two subterranean levels for parking beneath each, for the convenience of employees.
Each building centres around a full-height atrium. © Courtesy of dhk.
Sable Park represents a part of the Bridgeways Precinct, a newly-developed neighbourhood at the south-west edge of Century City. It is dhk's second project in the area, following the 18,000sq m office space Bridge Park, and preceding Axis, an under construction mixed-use development. Other ongoing dhk projects include the new HQ for Capitec Bank in Stellenbosch, slated for completion in 2020.
Sable Park is the latest addition to the Brideways Precinct development in Cape Town's northern suburbs