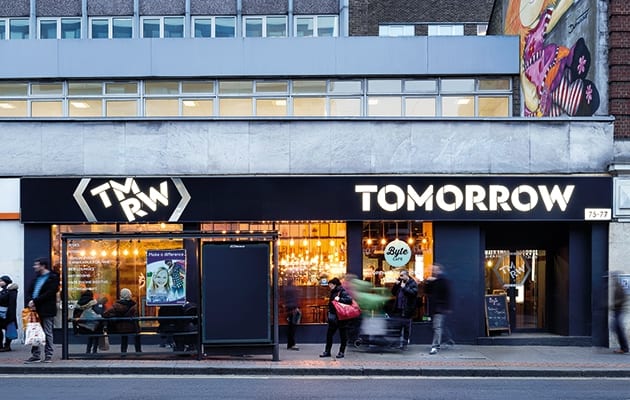 Croydon has transformed into a one-stop hub for businesses|||
Croydon has always been one of those places that never made it into the weekend plans. What with its just-outside-of-central-London location, perhaps its distance is what held it back. Now, to pin sore jokes on the borough would be somewhat archaic, as Croydon is currently undergoing an impressive transformation with thanks to its 15-minute distance to the city centre, plus its various growth in business, tech innovations and new cultural centre within the capital.
An ambitious £5.25bn regeneration programme, funding of new major infrastructure and Smart City initiatives has allowed for the area to flourish. Ranked as the fifth most in-demand town or city in the UK by commercial property real estate agency CoStar, Croydon is soon to be the home of Westfield's next retail and leisure development in London, alongside various other investments that will even see the zone build the world's tallest modular tower – a 546-flat tower scheme conceived by Tide Construction and HT Design.
A spacious and functional layout for TMRW's interior in Croydon
What's more is that Artists Studio Company (ASC) is announcing the launch of their second new permanent building, ASC Art House, located in Grafton Quarter and set to open in July. Plus, Schroder, the UK Real Estate Fund has partnered with developer Stanhope for a £500m mixed-use Ruskin Square development, which has been marked as the new regional centre by HMRC. And property developer HUB's plans for the regeneration of the former council office site at Taberner House, designed by AHMM, will greatly affect the area's perception, marking it as a positive place to both live and work.
It seems that plenty of money has been thrown into this growing nest just outside of the city's centre, and rightly so. By attracting innovative tech hubs, business, commuters and those who are in fact including Croydon in their weekend agenda, it can only go up from here, right? "Croydon has been the butt of more than a few bad jokes for a while," says Fancrois Mazoudier, CEO of Tech Leaders Capital and chairman of TMRW – south London's largest co-working space that opened in the area in 2016. "But dubbed as New York built in Poland by one architect, and the English 'Alphaville,' the location is currently experiencing a genuine revival across many industries and sectors."
TMRW in Croydon offers access to the rest of its co-working community
In light of the changing image of Croydon, Mazoudier has situated his new founding co-working space in the midst of it all. He continues to explain how the escalating prices of central London and the City has more or less pushed large corporations and government departments, such as the Body Shop, Virgin Atlantic, Superdrug and the Home Office to flee south of the river to take advantage of the reasonably priced office space, transport links and vibrant atmosphere. He then describes the transition as what was once a "concrete jungle" turned into a "genuine community", due to surprising innovative projects such as BoxPark Croydon becoming south London's "new home for all things grime and music related".
"It's easy to see why Croydon is booming. Much like the East End was a decade ago, Croydon ticks the same boxes that make it highly attractive to so many," he adds. TMRW adds to this appeal and offers 21,000sq ft of office space split over two floors – as well as a 300-capacity event space with an independent café that's been twice awarded the Best Independent Café in the local area.
The new Artists Studio Company is set to launch in July
Further to this, Opama Khan, who heads up Croydon Urban Edge – Croydon's official Inward Investment service – also accounts for the expanding medley of growth currently happening in the area: "With culture at the heart of its regeneration, Croydon is quickly becoming the place to work, live and play," she says. "From street art to Boxpark, Croydon's diverse offering is attracting a variety of innovative enterprises that enjoy the flexibility and quality of the borough's workspace and cultural offering. Combined with the great support available to businesses to start, develop and grow, it is no surprise that everyone wants to be part of Croydon's once-in-a-lifetime regeneration opportunity."
She adds: "[There's] a pipeline of high-quality commercial developments coming forward, which means that business confidence in Croydon has never been stronger." With the recent announcement of John Lewis and Waitrose signing to become anchor tenants in the new Westfield, mentioned prior, this is just the start of a mass flood of major brands, businesses and various cultural spots coming to the area – perhaps something to note for next weekend's plans after all.
Croydon, the south London district just a stone's throw away from the city centre, is currently transitioning into an up-and-coming hub of work, life and culture