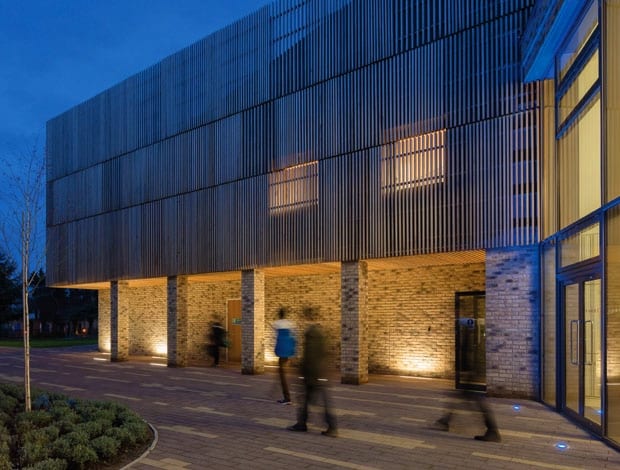 ||
A new music block and boarding house for the City of London Corporation's Freemen's School are softened by a cedar facade that gently suggests musical annotation flowing across a page
Irregularly spaced cedar cladding suggests a musical rhythm
The space between the two new buildings creates a courtyard
Pupils at a public school in Surrey parkland are benefiting from a new music building and boarding house, courtesy of architects Hawkins\Brown.
The pair of buildings are at the City of London Freemen's School in Ashtead, an 890-strong co-educational day and boarding school specialising in sport and music. It's one of three private schools owned by the City of London Corporation – but while the other two have remained in the capital, this one relocated from Brixton to the 23-hectare Ashtead Park in 1926.
Completed last year to the tune of £7.5m, the new structures form the first part of four phases of development, all of which Hawkins\Brown has been appointed to carry out. The site has been added to in a piecemeal fashion over the decades, so the architects' challenge was to complement this eclectic mix; the resulting new additions "share a language on the site", says Hawkins\Brown architect Thom Hudson.
Previously, the music school was in the Grade II*-listed main house, with poor acoustics and no dedicated performance space. While the brief called for a 'black box' recital hall, "we pushed them to think of it with natural light and a flexible floor space with loose seating, so it could be used for different types of performance," says Hudson.
Practice rooms complement the music block's recital hall
The 1,510sq m building comprises a 200-seater hall, a recording studio, classrooms and practice rooms. In order to marry the school's architectural aspirations for the recital hall and its budget, Hawkins\Brown had to make the materials work hard, says Hudson. So the oak panels on the internal walls are perforated for both acoustics and ventilation.
The architects commissioned artist Nicky Hirst, with whom it has worked on several previous projects, to "develop a pattern on the western red cedar timber panels (on the outside of the building), which references the flow of musical annotation", says Hudson. The spacing of the timber, which varies from panel to panel, also creates a softening effect.
The existing 1960s boarding house was coming to the end of its economic life. Sixty boarders and their staff are now accommodated in a 2,050sq m brick building with two pitched-roof wings. Rather than designing a conventional arrangement of dormitories or bedrooms leading off a narrow corridor, Hawkins\Brown laid out the single and twin rooms in clusters off a generous 2m-wide corridor, with each cluster having its own front door.
Hudson took his client to visit a previous project, an accommodation block for the Royal Veterinary College, to show them how effective this type of layout could be. And instead of loose furniture that would need frequent maintenance, the architects introduced robust fixed joinery made from exposed plywood.
Hawkins\Brown is now working on phase two: replacing a swimming pool that burnt down over Christmas 2014.
Study bedrooms are arranged in clusters, not off a single corridor
The cladding will weather to blend with the parkland setting