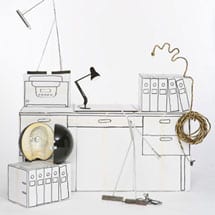 Bosch & Fjord's radical, colour-fuelled makeover of Lego's Development Centre in Denmark has created an appropriate springboard for creative thinking.
LEGO DEVELOPMENT CENTRE
ARCHITECT: BOSCH & FJORD
CLIENT: LEGO
COST: UNDISCLOSED
START DATE: OCTOBER 2006
COMPLETION: MAY 2007
FLOOR SPACE: 695SQ M
Imagine if, after finding the final golden ticket, Charlie Bucket had turned up at Willy Wonka's Chocolate Factory and found nothing but a series of conveyor belts on an industrial estate near Crawley. Instead of Oompah Loompahs, there would be overweight, middle-aged women reading the Daily Mirror and, in the place of amoral and punitive confectionery, Charlie would happen upon greasy hairnets and chipped mugs. He would, to put it mildly, be disappointed.
The hearts of people who visited Lego's old design development centre at the Danish toy company's Billund HQ must have sunk in a similar fashion. And visiting fathers must have had to invent stories about what it was really like where they dreamt up new Lego products when asked by their expectant offspring.
"It was very grey and very dim, with no light coming in," says designer Helle Sager M¯ller. "It looked like a closed-down railway station. People didn't feel welcome, either as a visitor or an employee."
Senior designer Will Thorogood is more cautious in his criticism, but confirms the gloominess. "Where you arrived in a place that didn't look good, it was demoralising," he says. "The weather isn't raining today, but it was quite often raining, so that didn't help."
So who better to cheer up the "interior weather" than colour-loving design practice Bosch & Fjord? From the furniture-less central atrium of the Copenhagen furniture fair and the river of rubbery blood pouring down the stairs of the Maison du Danemark in Paris to packable/unpackable office units, the studio's designs exude playfulness and, equally importantly, bold colour.
"We like to turn up the volume on the colour," says co-founder Rune Fjord Jensen. "Most interiors are boxes and corners. We try to bring a lot of contrasts in shape and colour. It makes it very powerful."
This outrÈ design sense is combined with what Jensen says is the use of space as a tool for development. "All people are different, so we like to create spaces with different identities, to make different people feel good," he says. "If people feel good, they work better."
It was just what Lego's creative director Torsten Bj¯rn, who is in charge of the designers and their environment, was seeking. "The ideal environment was one in which we could reflect our values – spontaneous curiosity, playfulness and quality," he says. "We successfully express this in the products, but we wanted to translate this into our environment and our culture."
The Lego project involved revamping a series of meeting rooms, the reception area and buffet/cafe area. B&F designed 13 meeting rooms and came up with three different types of meetings they would have to cater for – brainstorming, informal and formal. But that only hints at the wild variety of solutions the studio created.
They range from the calming – in the form of the Picnic Room, with bright-green grass and pictures of clouds on the walls – to the disturbing, such as the Ballroom, which has a crystal chandelier hanging against a wallpaper of broad black-and-white stripes. The Cosy and Focus room has a glow light at the centre with a small Persian rug underneath, which is said to be good for focusing on one idea. Another room looks like the set of Big Brother, with chairs, sofas and even a bed. Yet another features four tennis umpires' chairs in a square, to help generate "high-minded ideas", apparently. There is a room with a cross in the middle that can be used for a catwalk – Jensen believes in the value of moving around – while another has a large oval table that functions as an observation space from which to watch and make notes on the "consumers" (aka children) playing with the products.
I use the word "playful" in talking to Bj¯rn about the design of the rooms, but he says this was not the ethos behind the project. Although the designs are, to a degree, fun, they have all been created to fulfil different tasks, even if these are whimsical. And what of the Ballroom? Some people might find it a little disturbing or confusing, I suggest. "It is good for a brainstorm," says Bj¯rn. "It's a provoking room. I am trying to set up the interactions between the different departments to ensure that we have this innovation in the environment."
Bj¯rn hires designers from around the world to give a similar sense of cultural diversity to the proceedings. He says he likes a mix of characteristics. He doesn't like people getting too comfortable.
It is also true that B&F's designs avoid childishness, even while referencing it. The furniture they use is unostentatious and the ideas are limited to one or two per area. Edges are always clear and the bright colours retain their dignity or freshness. We are not in Great Ormond Street Hospital, here. Indeed, the effect of sitting in such brightly coloured surroundings could be almost alienating. Research indicates that such environments can be most productive for creative thought.
Despite its colourful nature, the Development Centre is a highly secretive area. Lego's operating profits in 2006 were £140m and, like Willy Wonka's Chocolate Factory, everyone would like a look around. I am allowed to view only the welcome area and cafe, and two of the meeting rooms. Dreams are being concocted or refined elsewhere.
But such super-secret quarters have a downside: they can be isolating for the people inside who might need to sit down with people from the rest of the Lego campus. The old space made that an unappealing prospect. Even the staff didn't enjoy being inside. "People used to eat their lunch outside," says M¯ller. Bj¯rn confirms this: "We had to change the cafe area – it was not so nice for people to be a part of this, every day."
One stipulation of the new area was that it should share a space with the reception area. "To begin with, we were pressured by lack of room," says Bj¯rn. "But during the brainstorm, it was also conceived as an advantage, as receptions are often boring counters or rooms, without much activity. With this project, we want to show our values when you step in the front door. In that way, you get welcomed by an open environment where you can feel and experience the culture."
But rather than forming a distinction between the reception and buffet areas, B&F created a flowing, blobby table that makes the two spaces one. This peculiar arrangement provides plenty of space within the canteen area and puts the receptionist at the front of the welcome. The surface spreads out like a massive white splotch from the middle of the room.
The rest of the canteen area takes an outdoors theme, with green organic tendrils growing over the wall and a bright-green floor. Three pine podiums encourage different forms of interaction. The effect is fresh and relaxing. Around the perimeter of this area are various types of meeting space and a library, which is, perhaps, the only truly sombre place in the building.
"This design was important," says Bj¯rn. "But there were a lot of challenges in this, because the first time I discussed this with the reception, they said they didn't want to be so visible. Suddenly, they were in the middle of the environment. But we wanted it to be more welcoming, and an environment that projected our values. Eventually, they understood – and they were fine with it."
Other fun elements of the design include a mirror that features recordings of employees' voices telling people they look beautiful when they stand in front of it. There are also the latest designs from the Lego Masterbuilders, crazed yet talented fans who trade research information for free Lego, such as sound effects on opening doors and two chairs perched on top of the porch.
So has this startling transformation had any effect on the designers? "When you came in, there was no one to say good morning to," says Thorogood. "But now the lady in reception is smiling. It makes a difference." M¯ller agrees. "In the coming week, we are meeting some people from the factory," he says. "Now we don't have to be ashamed."
And the internal weather? "There is more sunshine every day," she says. I think Charlie would have approved.