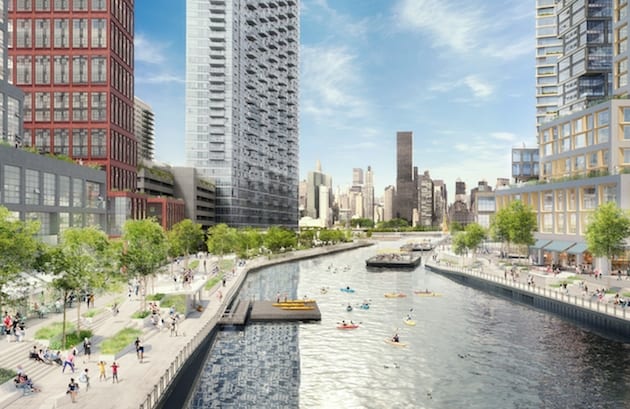 A proposed rezoning of Anable Basin, Long Island City|||
Amazon proved to be quite the tease earlier this week when the company finally announced that it had actually chosen two sites for a second HQ, splitting the workforce and resources evenly between Long Island City, New York, and Arlington, Virginia, a suburb of Washington DC.
Both the lucky locales are seen as ripe for redevelopment and both are handily within short distance of major transport hubs (both are on the East Coast too, which may yet prompt a few dark mutters).
New York has long wanted to up its techie credentials, while the Crystal City area of Arlington has been keen to fill a significant employment hole left when federal government employees upped sticks and moved elsewhere in the late 1980s. It's also pretty convenient for one Jeff Bezos, who owns a sprawling home set in a former textile museum just over the Potomac River in the nation's capital.
With Seattle staying in place as the main centre of operations for the online retail company, Amazon are claiming that the two new locations will reap the benefits of a $5 billion (£3.8bn) investment and the creation of 50,000 new jobs.
According to a report in the Wall Street Journal, interest in buying up property in Long Island City, across the East River from Manhattan in the oft-overlooked borough of Queens, was hitting fever pitch before the announcement was even made official.
A new condominium development was deluged with interest as rumours began to circulate that Amazon was in a New York state of mind. One agent even claimed to have sold 20 apartments unseen via text messages.
The people of Crystal City are bracing themselves – or perhaps hoping – for a similar real estate boom, though a plan by developers to rebrand the neighbourhood National Landing has been met with some bemusement. Apparently New Yorkers have already unofficially dubbed Long Island City the Amazon Basin.
The hope is that both areas will quickly see signs of revitalisation, not just from Amazon, but also via a knock-on effect that brings in other high-profile names, giving their respective economies a substantial boost.
Certainly in Long Island City's Queensbridge Houses, the largest public housing development in North America, some of the locals are looking forward to greeting their new neighbours.
'Not everyone here has a PhD, but anyone eager to work should be able to get a job,' enthused one resident to the New York Times. 'It can't be nothing but a plus.'
Amazon announced this week that its long-awaited second HQ would be split between Long Island City and Crystal City