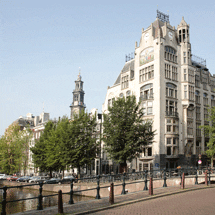 George Gottl likes to talk about the dream-like quality of his work and that of the design agency he co-runs, Uxus. Step into his office – on the fifth floor of a picturesque Art Nouveau-style office building in the heart of Amsterdam – and you will see what he means. "Poetry. That's another quality," he offers. "Poetry and the idea of a space for fantasy where people can let their ideas imaginations roam. We feel that a nice environment really helps encourage creativity at least while you're in it." Nice? It's a lot better than nice this office. The Uxus team must feel like they've died and gone to heaven – quite literally.
Established in 2003 by Californian-born designer Gottl and architect Oliver Michell, Uxus has made quite a name for itself on the design scene. Their penchant for "the mysterious" and interest in "old and new world fables" has captured the imagination of a plethora of high-profile clients and the commissions are coming thick and fast. Hence the redesign and extension of their office, which is now twice its original size. Gottl and Michell's talents combined have made Uxus a force to be reckoned with, tackling everything from interior architecture through to packaging design and branding. Prior to setting up Uxus, Gottl was a creative director for Nike (which brought him to his beloved Amsterdam) and then Mandarina Duck. Michell's CV is just as impressive, boasting time spent in the studios of Rem Koolhaas and Paul Davis Architects, following on from his studies at the Bartlett School of Architecture in London.
Their projects are as varied and exciting as their formidable experience would imply, and all are imbued with the imaginative or "dream-like" quality that Gottl refers to. None more so than the design for their own office, the location of which only serves to feed their enthusiasm for all things fantastical. "The whole area is very fairytale-like," Gottl explains. "We're very lucky – we're right in the middle of the Jordan district of the city which used to be the old Bohemian part of town." It was also the site of the Jewish ghetto, incidentally. Anne Frank's house is a close neighbour, as is the famous Westerkerk (West Church), designed and built in the Dutch Renaissance style.
The office block in which Uxus is happily ensconced dates back to 1910, and despite their overwhelmingly contemporary take on design, they adore the period features that have remained intact, including a golden staircase that leads up from the main lobby and the gilded black granite pillars that make for a majestic entrance to their own office space. But the grandness of the public spaces give way to a more ghostly, mystical aesthetic once inside the office, starting with the glass wall – a simple idea made spectacular with the insertion of a black antique door for a touch of Victorian gothic. This grand illusion forms the entrance to the creative directors' office, furnished sparingly with a bespoke desk (the same design can be seen in the communal workspaces) topped off with the spider-like Dear Ingo chandelier by Ron Gilad for Moooi. White linen ceiling-to-floor curtains, custom-made in Italy, hang throughout the office. "It's very simple and very tranquil," says Gottl of the scheme, "including the diaphanous colours we've used. My favourite element is the floating door, but what you won't see from the pictures is the amazing view that we have here. It's unbelievable. From one room we can see right onto the Westerkerk and down the Keizersgracht [Amsterdam's main canal] with all the bridges lined up. Even people who have lived here all their life say they have never seen the city from this perspective before."
Apart from its awesome outlook, there is something very unique about the Uxus office. It is as tranquil as Gottl claims, but the careful choice and application of objects, bought and found, add interest and a sense of mystery to the proceedings. One of the most beguiling is a 3D artwork left over from a 1960s renovation. Made of cement, it's stuck fast to a wall, and rather than attempt to remove it during the overhaul, Uxus decided to leave it alone. Strange though it might seem, it looks just as at home as the rest of the furniture and furnishings – many of which are satisfyingly rough around the edges, such as the steel postal desk dotted with amber apothecary bottles, and clunky industrial light fittings in the reception space.
The monolithic desks may be appropriately business-like, with serious (but stylish) task chairs to match, but the conference room table is dressed with reclaimed wood chairs by Dutch designer Piet Hein Eek. In the library, meanwhile, luminous floral artworks by British fashion photographer Nick Knight hang above another conference-style table, surrounded by second-hand chairs found in a flea market, painted with white gloss to bring them back to life.
The office, Gottl confirms, is perfectly suited to the Uxus worth ethic. "We get designers who stay here beyond their duty because it's so pleasant. And we have guys hanging out here drinking beer on a Friday – Friday is beer Friday!" he shouts excitedly, before adding, more seriously, "It's really about developing a sense of community in the office." Well, it's clearly working. The workforce has grown to ten people, although that must be down to the ever-increasing workload rather than the lure of "beer Friday", tempting though it sounds. They are currently working on some very exciting commissions for top-name brands including Heineken, Levi's, Nike, Adidas and McDonalds. The latter is going to be big news, according to Gottl. All of which means that they may need to expand further into the building. "If we keep growing at the rate that we are we'll probably take another floor," he laughs, "and actually our conference room connects to a staircase that leads up to an amazing, beautiful vaulted space." Rapunzel, make way.