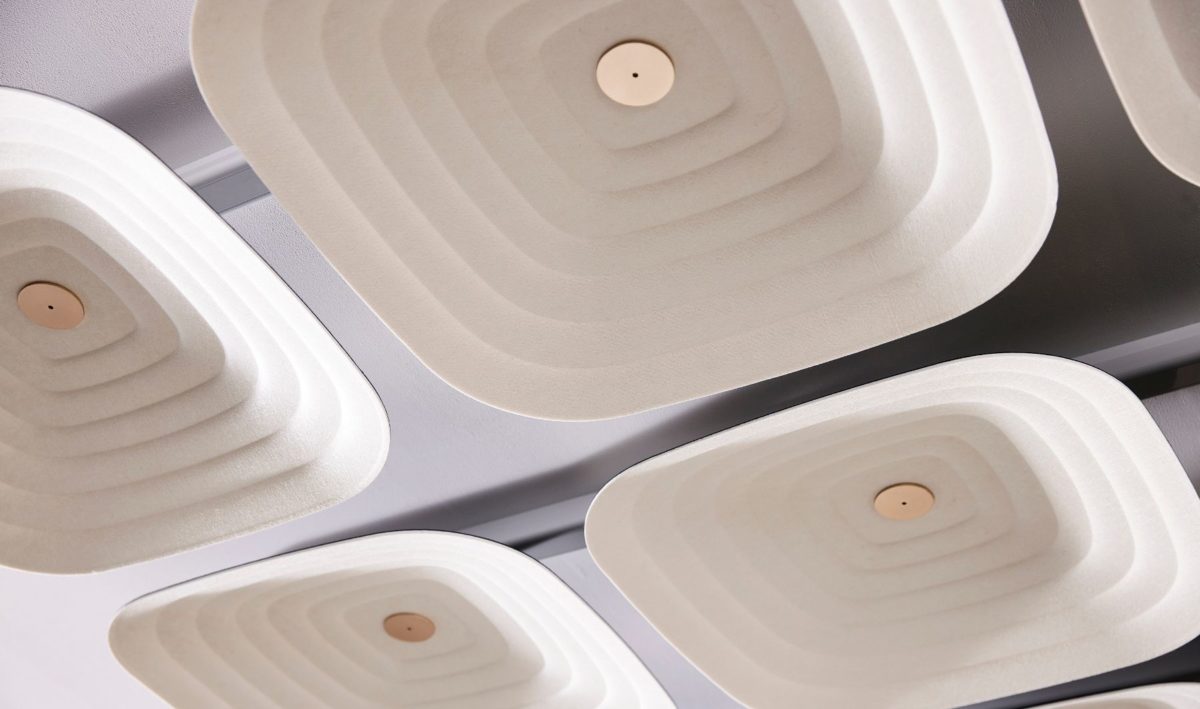 Woven Image welcomes their latest 3D acoustic ceiling solution Fuji in multiple sizes and colourways, making a unique contribution to both ceiling aesthetics and the acoustic comfort of shared spaces
Woven Image's Fuji design is inspired by modern Japonisme alongside art deco trends. Its applications range from small scale suspended installations over conferences tables, to wall-to-wall acoustic ceiling solutions for large public spaces across workplace, to education and hospitality settings.
As a 3D tile, Fuji helps manage sound reverberation in a beautiful display of form and colour; standard colourways include duck egg blue, cream and onyx. Fuji tiles integrate with other colourways in the range of acoustic finishes, including Mura and EchoPanel®, and the design language co-ordinates with EchoPanel® Ohm and Zen acoustic panels.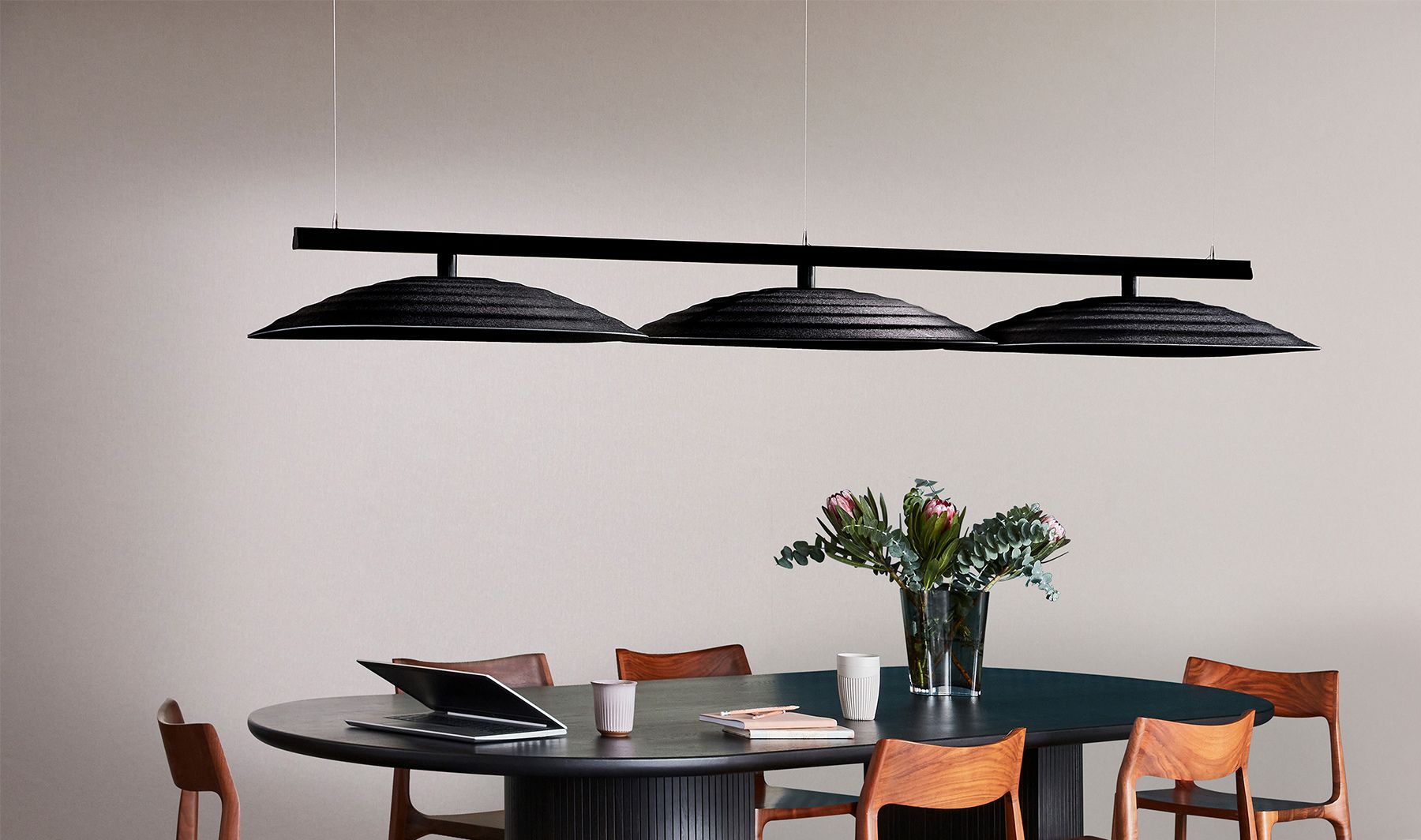 Fuji has specifically been designed for quick and easy installation; its unique barrel kit integrates with the same minimal hardware used for Array baffles (available in black and white).
Barrell kits are designed to match the linework of the Fuji tile, with a functional easy-to-grip textured surface. They come in various finishes including white, onyx and onyx with gold.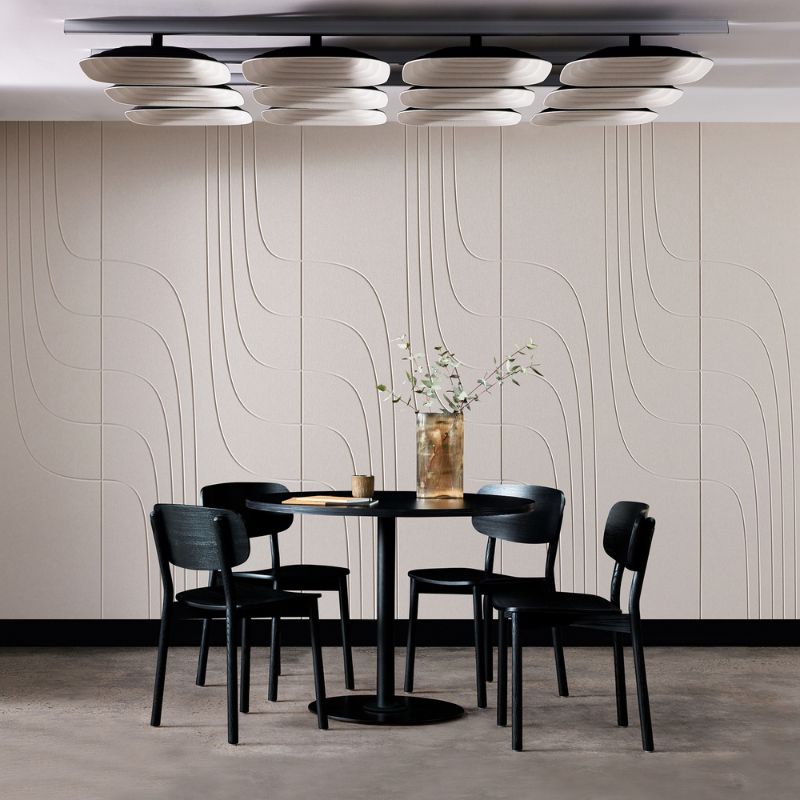 The tiles are available in two square sizes, Roku and Ku, and a third rectangular design, Juni. Their modular shape allows off-the-shelf lighting solutions to be easily integrated into the installation.
In line with Woven Image's rich history of sustainable design, Fuji tiles are manufactured utilising solar energy, 64% recycled PET content and have a host of environmental certifications, including Global GreenTag GreenRATE level A and a Platinum Product Health Declaration.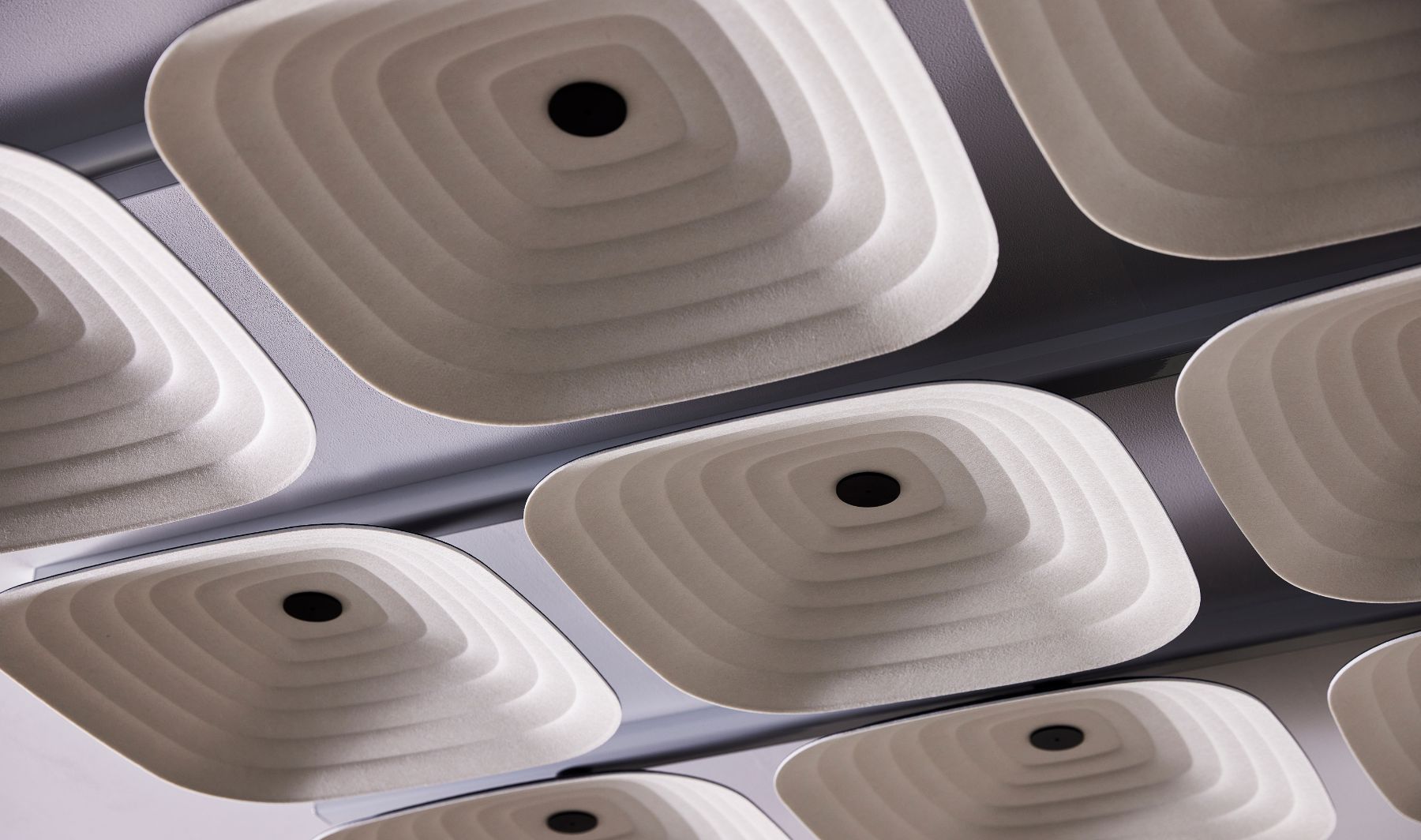 Fuji has been tested in accordance with global standards, ISO and ASTM. As a 3D product with suspension capabilities, the best indication of Fuji's acoustic performance, are by its equivalent Absorption Area indices measured in Sabin's.
Sabin performance show Fuji's exceptional ability in absorbing mid-high frequencies sounds, making it perfect for office environments where conversation, typing, clicking and music all pervade.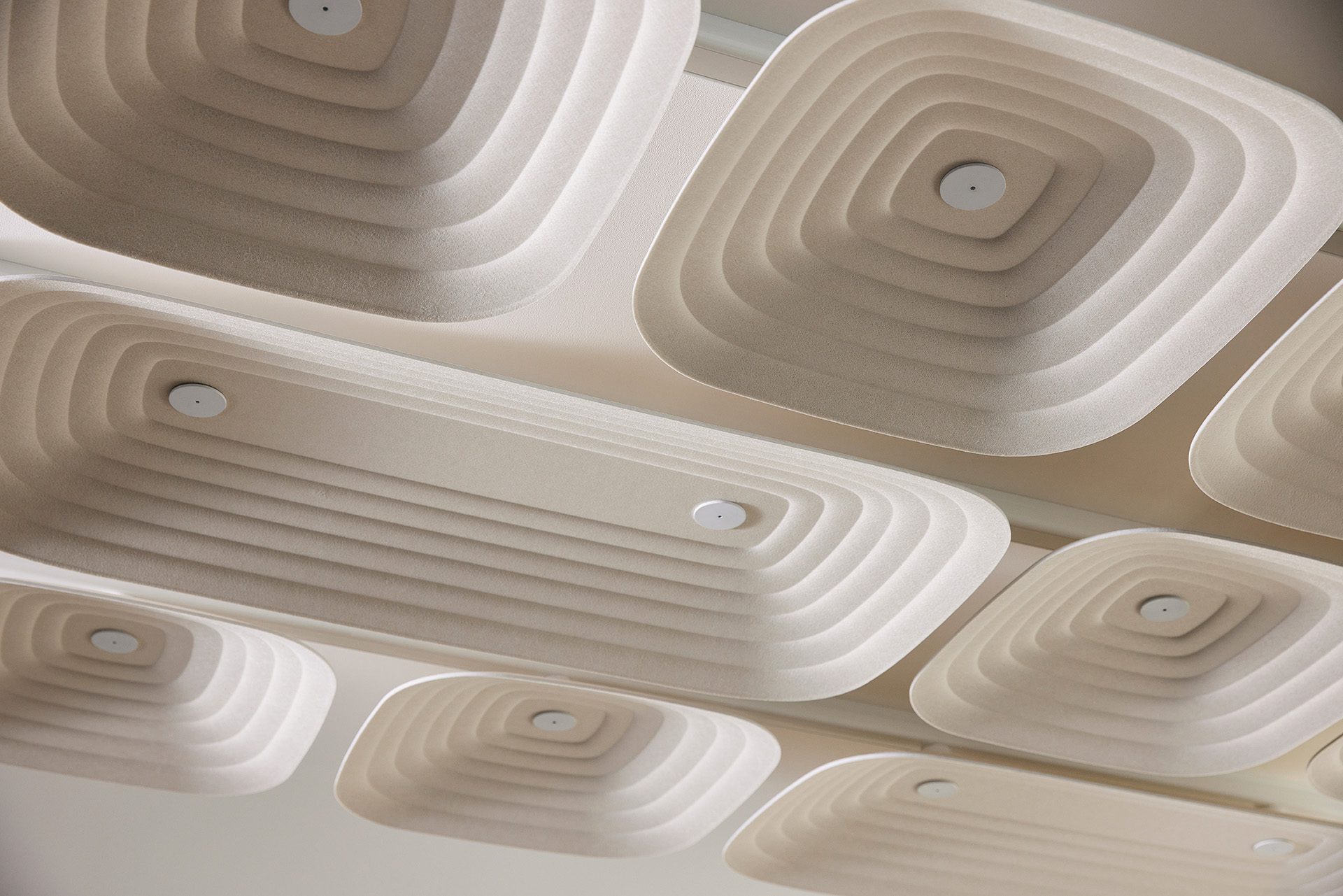 Fuji delivers its highest acoustic performance as a suspended installation. A simple drop from the ceiling creates an air gap above the product which significantly increases its sound absorption potential.
This gap, with the top and bottom of the product exposed, provides around 30-40% better acoustic absorption than when directly fixed to a substrate.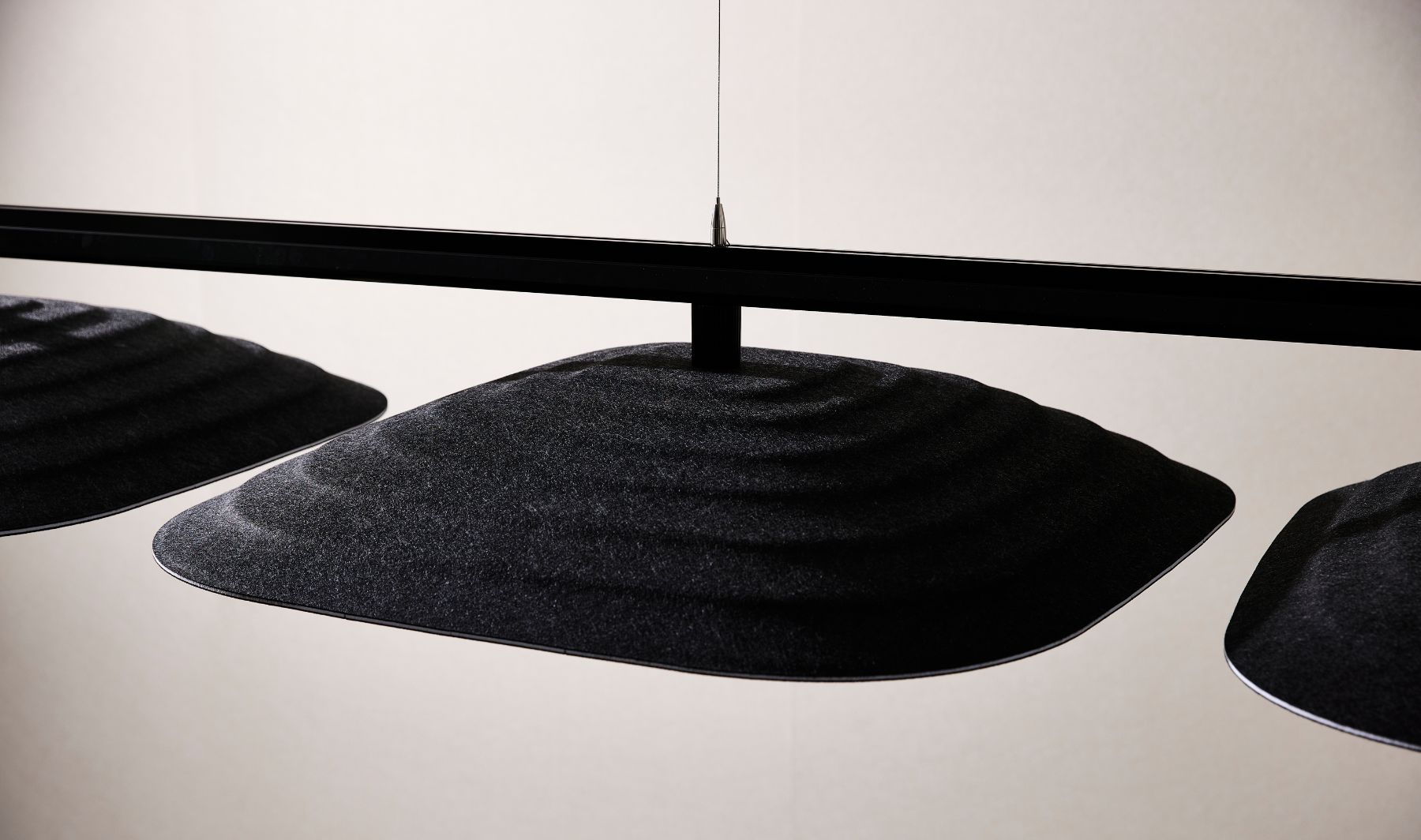 Fuji achieves an impressive Weighted Alpha (αw) rating of 0.70 which, as a measure, is the best representation of how the human ear perceives sound – making it the most reliable and trusted acoustic performance measure available.
Delivering design-led acoustic solutions in a sustainable manner is at the heart of Woven Image. Unique installations can be achieved through varying configurations of Fuji's tile size, colourway, hardware finish and suspension height to deliver the optimal look and acoustic comfort.
The design potential is near endless with the combined creative minds of our inhouse design and technical teams, alongside interior architects and designers around the globe. Full acoustic performance information can be downloaded from Woven Image.
For more information, visit: wovenimage.com/en-AU/Products/array
Images courtesy of Woven Image