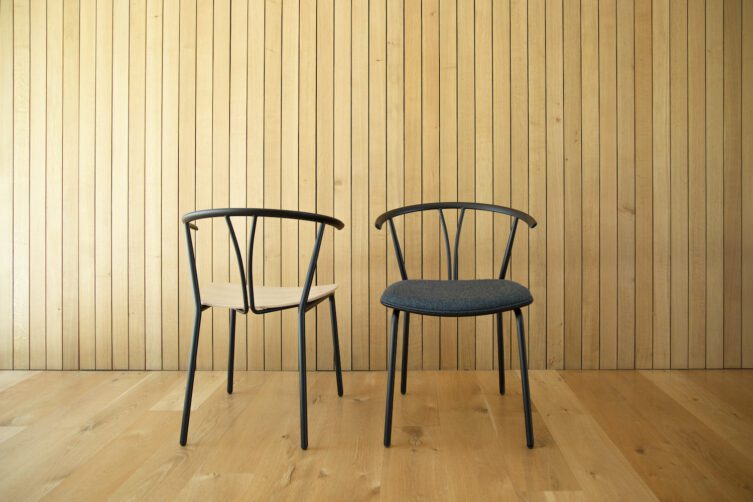 Naturally inquisitive, Frövi pushes the boundaries of what's achievable when designing beautiful furniture that creates harmonious environments where people love to work.
Their vision is to create exceptional furniture through intelligent designs and innovative materials to revolutionise workspaces across the world, inspiring the creativity and productivity of its users. They do this by travelling the world seeking out new, different, interesting materials, identifying emerging trends, and embracing colour and space theories, before meticulously designing beautiful products that complement the overall vision for a space in their own unique and distinctive style.
Focussed on elevating the customer experience, Frövi's recently redesigned showroom in the heart of Clerkenwell, London, is the perfect place for customers to see, feel and experience their beautifully designed products. Guests are encouraged to explore and engage with products as they journey through each of the 16 specially designed and carefully considered scenarios that make up their showroom.
Each space has been carefully designed to appeal to the senses, giving an immersive experience, whilst allowing visitors to enjoy the functionality and style of their products. The showroom is a testament to Frövi's commitment to innovation, creativity, and careful consideration for its customers.
Frövi is launching two new products, which have been carefully crafted by their team of talented designers. The first is 'Bae'. A modular seating system that is designed for modern spaces. It comprises five modular units that allow for endless configurations, while its soft organic shapes enable the creation of a chain of united environments. Its unique features, including enveloping relaxed comfort, functional divisional surfaces, and endless composition freedom, make it an ideal choice for architects and designers looking to enhance their space planning capabilities.
Bae's side-pressed bamboo baseboard is a testament to its commitment to sustainability and the product is designed for easy deconstruction at the end of its lifecycle. Bae is a highly sustainable, adaptable, and versatile seating solution that enables seamless integration into contemporary design schemes.
Frövi is also expanding its award-winning Bamboo range at Clerkenwell Design Week by launching the popular shelving system with two different radius curves. It can be built and configured in the same way as the existing range and used in conjunction with the straight zoning units that are already available.
The curved addition has been designed as a response to the emerging popularity of a more organic and fluid style of landscape within the workplace and has been designed in tandem with the Bae sofa system as it complements in materiality and in form. Alternatively, it can be used to create spaces alongside curved curtain walls and soft lounge-style seating.
Frövi is also making the prestigious Floor 11, Suite 101 of The Merchandise Mart, Chicago their North American home. Opening their doors for the first time at NeoCon 2023, visitors to the stunning showroom can expect a fully immersive experience.
Frövi's showroom designer, Matt Coules, carefully considered the plans for the space, keeping the human experience at the heart of his designs. By carefully dividing up the area, and intelligent placement of Frövi's furniture, Matt has created nine separate zones each offering a different scenario for which the furniture has been originally designed.
With floor-to-ceiling windows, the experience starts outside the showroom. The mystery of not being able to see everything aims to entice customers, and a simple route through the zones encourages guests to explore further and experience more.
The wide-ranging selection of products on display has also been carefully considered, and the vast majority will be stored locally and shipped to customers in just 6-weeks. This bold move strengthens Frövi's ambitions to support North American customers by significantly reducing lead times and supporting projects that require quick turnarounds.
This approach also means that their environmental impact is also significantly reduced as it removes the need for products to come from European suppliers, aligning with Frövi's company values.
They are immensely proud knowing the products they've designed and the services they provide are enriching the experiences of people's everyday life and use it as a catalyst to do more and go further creating long-lasting, and meaningful relationships with customers, partners, and each other.
They're on an incredible journey and would love for you to join them.
To find out more, visit frovi.co.uk
All images courtesy of Frövi