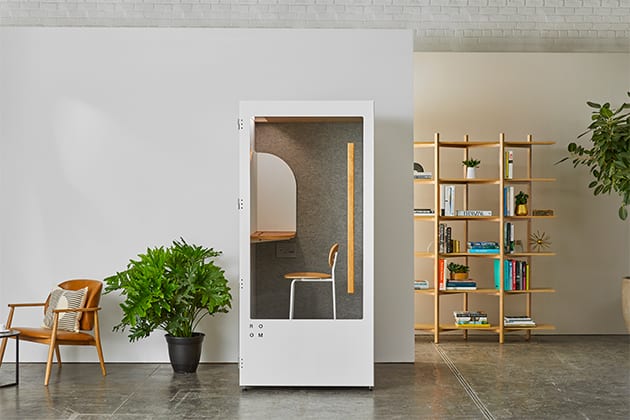 |||
We have arrived in a new year, and a new decade, one where the workplace looks markedly different than it did ten years ago. And there's no doubt that the co-working movement has played a major part in where—and how—we work today. Flexible workspaces now cover more than 11.5 million square feet in London alone. Yet there's still huge potential for growth, according to Colliers International, as flexible offices still only account for 1.5% of all office space in the major European cities.
Open-plan design was the preferred option during the co-working boom that followed the financial recession. This has seen the average amount of square feet devoted to office workers decline, according to research in the U.S. The co-working movement has brought about countless benefits for organisations and workers. But we have also learned a great deal about unintended consequences of modern office spaces and how we can design better working environments.
These lessons will continue to inform the changes we're expecting to see in the year ahead.
Prediction 1: an increased demand for dynamic working environments
The rising demand for flexible workspaces has changed the way we invest in building offices. Whilst co-working spaces have offered the freedom to rent without the burden of long leases, they can no longer rely on traditional construction to suit the requirements of all businesses. Introducing modular architecture (from sound-proofed phone booths to meeting rooms) into the workspace will minimise up front costs and make it easier to adapt to workers' needs.
Modular creations are flexible, sustainable and quicker to put in place. Modular furniture can be transported, re-used and modified, reducing typical waste from cycles of building and demolishing, offering additional environmental benefits. Bricks-and-mortar office construction isn't going away of course, but a wide range of modular approaches to office design will continue to make waves this year.
Prediction 2: businesses will start creating more "micro-spaces"
Over the last 20 years, the time employees have spent working collaboratively has increased by 50% or more. Open-plan offices were designed with the aim of encouraging productive communication and the sharing of ideas between colleagues. However, recent research supported by Harvard Business School found that taking away physical boundaries, such as walls and doors, actually led to a drop in communication between workers, with face-to-face interactions decreasing by 70%.
Another study by the Université Catholique de Louvain in Belgium found that workers in open-plan offices with shared desks were more likely to feel like "a robot" as a result of their working environment. At different times of the day our needs change. Portable technology devices such as laptops or smartphones have given us the freedom to swap our desks for an alternative working environment. The realisation that the open-plan office doesn't suit every business, coupled with the need to better accommodate neurodiverse employees means that businesses will start to implement multiple spaces within the open office.
Giving employees choice is vital. Research carried out in 20 countries revealed that people were more engaged and satisfied when they could decide where to work. We will begin to see micro-spaces empowering and supporting the overall layout, endorsed by the likes of Google and Facebook in recent years. These areas will harness the ability to host a range of activities, from video conferencing, meetings, socialising, team-work and wellness exercises. They will ensure that individuals can work and relax free from the noise and unhelpful distractions of the open office.
Prediction 3: businesses investing more into their workforce
Stress is "the health epidemic of the 21st Century", according to the World Health Organisation, with stress-related health conditions placing a huge strain on public health services. Workplace stress, according to research by Stanford University research, leads to collective spending of approximately $190 billion and almost 120,000 deaths per year in the U.S. While almost 60% of U.S. workers have never spoken about mental health at work, the vast majority (86%) say it's important for companies to focus on the issue.
Even a small change to our workspace, such as introducing a plant, can make a big difference to how we feel. Participants in a study published in the journal HortTechnology by the American Society for Horticultural Science were found to experience a slower pulse when they could see their plant, alongside a decrease in self-reported anxiety. More than half also gave positive feedback on the psychological, physical, social, and work environment-related benefits while the plants were on their desks.
Improving mental health in the workplace has rapidly moved up the list of priorities for companies in recent years. A survey by Aon found that two in five (41%) of UK businesses already have a mental health strategy in place and 43% are planning to put one in place. At ROOM, we partnered with Calm to create a limited edition Calm Booth for in-office mindfulness, available only in the US currently. The booth comes with 12 complimentary premium subscriptions to the award-winning meditation app.
Childcare is a particular source of stress for a large proportion of the workforce that is now a keenly sought-after employee benefit. This has proven to be a successful business opportunity for companies such as Kinside, a platform that enables families in the U.S. to get the most out of their child care benefits. In just a year, it has enrolled over 1,000 employers in the programme. Effective training is another perk that—advantageous to organisations and staff alike—we need to see much more of.
The number of adults who have developed their skills through training has fallen by 4 million over the last ten years—the lowest level since records began. Businesses will need to be even smarter with the employee benefits beyond extra remuneration and office gimmicks in 2020 if they want to attract the best talent and create happier, more successful companies.
Co-founder of ROOM, Morten Meisner-Jensen, outlines the key workplace trends for the year ahead