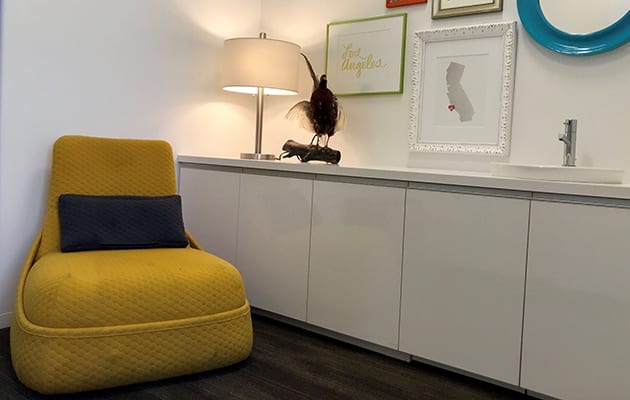 |||
The long-held perception of burnt coffee smells, sleeping under desks, and strewn pizza boxes to feed a deadline-driven 24×7 architectural staff is no longer. With the on-going talent war among design firms, much like our corporate clients, workplace amenities are a factor in hiring and retaining the best and brightest employees. Currently almost 50% of architectural school graduates as women, family leave guidelines, and on-site parental support services are important influencers for identifying firms with progressive gender equity policies.
Mandated by corporate and individual state regulations in California, lactation rooms are considered necessary space dedicated to the use of a nursing mother. However, other than a commitment to a private space that is "not a bathroom", no criteria are defined. At P+W Los Angeles, the dedicated space is designed with consideration to enhance the experience beyond this primary criteria, to promoted wellness and dignity for the working mother.
Comfortable furnishings, wireless speakers with sound acoustics, and adjustable lighting allows the user to personalize the space for optimal relaxation. A sink with hot/cold water and a small refrigerator allows the mother to discretely clean equipment and store expressed milk away from the more widely shared lunchroom appliances. Bright and sophisticated artwork cover the walls for visual interest while a large mirror provides a quick opportunity to "double check" before heading back into the office.
The "Mothers Room" at PW LA has enhanced engagement of the working moms in the office, promoted a sense of overall employee well-being, and has proven to increase the average breastfeeding duration from the national average of 6 months to well over 1 year.
Alice Hricak is the interiors practice leader at Perkins+Will's LA studio
Gone are the all-nighters and pizza fuelled deadline chasing, progressive architectural practices.With more women joining the industry than ever, it's time to start embracing lactation rooms instead, says Alice Hricak, interiors practice leader at Perkins+Will's LA studio.