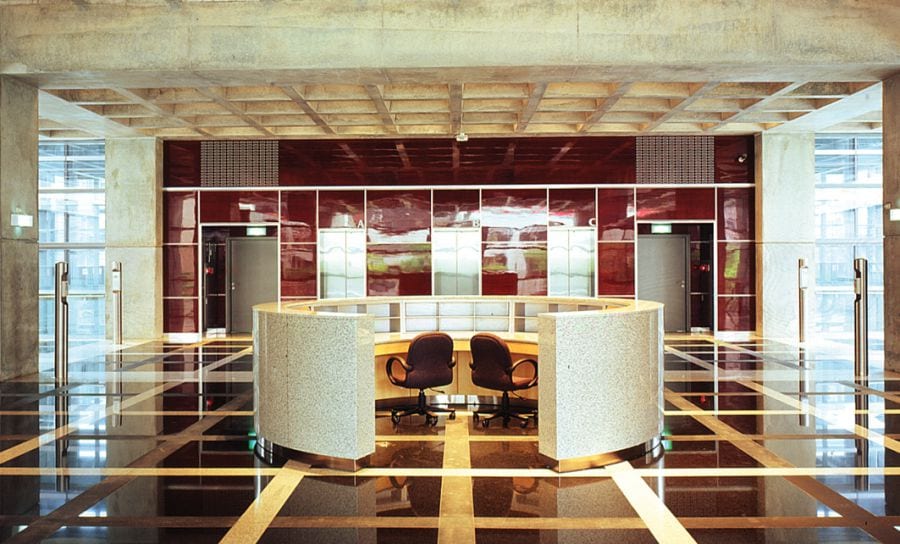 Taipei has been described as the 'ugly duckling' of Asian capitals. Kris Yao is at the forefront of a generation keen to turn the reputation of Taiwanese architecture around – starting with the nation's office.
Next to nothing is written about Taiwanese architecture in the western press and what is written is often damning. The Far Eastern Economic Review, a subsidiary of the Wall Street Journal, bemoaned the state of Taiwanese architecture; Taipei has a population of 2 million, it said, "none of whom appear to be architects". Fortune and Newsweek both concluded that Taipei was the 'ugly duckling' of Asia's major cities.
Culturally, housing is not obsessed over like it is in the West, nor can it be used as an indicator of wealth. Taiwan expert and founder of the travel guide www.taiwanese-secrets.com, Ugo Ortolano, told me "the Taiwanese are wealthy, but their spending priorities are different, housing doesn't feature. Su Chang of Su Chang Associates said "By Confucian standards to live 'well' is a sin, you should always be worrying about the state of things, not dabbling in art."
Government buildings are also lacklustre, and the attitude of the Taiwanese government towards architecture is somewhat ambivalent. Kris Yao, the founder of Artech-inc, often acknowledged as Taiwan's leading architect went so far as to describe it as 'shameful': "When you land at the airport it is really shameful, that we have such a terrible airport. Lack of exciting, wonderful architecture for public work is always a problem." Su Chang said "For a long time the government wouldn't dare build fancy public buildings for fear of being criticised."
At present, architects aren't as celebrated in Taiwan as they are in the West. When good buildings do get built they aren't publicised, certainly not internationally. It's very difficult for Westerners to access websites from the region, where they do exist almost all published material is written in Chinese.
The Taipei Fine Arts Museum is an outstanding building but it took me two weeks to find out who designed it; the museum press office didn't know, the curators couldn't tell me and I couldn't find any magazine articles that mentioned it. This would be unthinkable if the museum was in a medium-sized European city, let alone a nation's capital.
Since he founded Artech-inc in 1985, Yao has designed headquarters for almost all of Taiwan's major companies. He is part of the vanguard of architecture in Taiwan who believe that excelling in the one area of design that is currently available to them is the best way to influence the government to adopt a more progressive approach when commissioning public buildings.
They are succeeding slowly, things are changing.
At last year's Venice Architecture Biennale – the bi-annual global gathering of architecture's great and good – there were two very strong exhibitions of new Taiwanese architecture. Taiwan doesn't have a permanent pavilion at the Biennale; these were allocated during a different political order. Instead it was forced to rent spaces in the town. One of the spaces it hired was directly opposite the entrance to the Arsenale; metaphorically Taiwan stood at the door of the ruling countries and demanded to be seen. The second space it hired was a palazzo on the boardwalk next to the main tourist destination of St Mark's Square, effectively taking its product direct to the public, bypassing the architectural chattering classes. The exhibition at the entrance of the Arsenale was Next-Gene 20, an innovative housing development where 10 Taiwanese and 10 international architects were given carte blanche to build whatever they liked. The models on display are diverse, exquisite and innovative.

Yao is one of the few Taiwanese architects whose work is recognised in the West, though not as much as it should be. Although the majority of his work has been completed in Taiwan, he has projects ongoing in Paris and Vienna. Yao's attitude to his work might be a contributing factor as to why he is not as well-known as he should be. He doesn't have a recognisable style. You could never clap eyes on a building and think, 'That's by Yao.' He told me: "I design company headquarters with the attitude of trying to tell their story instead of my own. Every corporation has its special characteristics and its special visions. Continental Engineering company is a construction company, so our design uses architectural concrete, steel and glass; the most basic materials for a construction company. Architectural concrete may not be unusual in Western Europe or the States but it is rare in Taiwan. The design we did for Continental Engineering is an exoskeleton project, when it was finished I got two responses: some people called me and said 'hey Kris, that's a great building, we don't have these kinds of finishes in Taipei, I really like it' and the other people said 'when are you going to put tiles on it?' We had to do a lot of research and development for the project ourselves because the contractors didn't know how to do it, but it was a success. [It won numerous awards including the prestigious Far Eastern Award] Since we completed it many more buildings in Taiwan have used architectural concrete."
I asked Yao if Taiwan had a acknowledged architectural style or group of practitioners. "My approach is not to hang on to a form or motif, in architecture there is something more important, there is space and interaction with people, architectural space needs to support and enhance what we do. If we keep on looking as architecture as an independent thing it is so boring and limited. Without the actors the setting is meaningless. What I find interesting about architecture is how it supports the thing going on inside.
One of Yao's favourite projects to date has been the Hsinchu high speed rail station, because it is one of his first public buildings. "For some reason we [Artech-inc] don't get to do big government projects, the government does not appreciate good design. I was very happy with the project – it became a site-seeing destination, people who were not travelling on high speed rail came along on buses to look at the station."
The tide may now be turning. Yao is currently working on designs for two more train stations, in April the Lan Yang museum in Yilan will be completed and Artech-inc has just won, in partnership with OMA, the Taipei Performing Arts Center project. In 2007 Yao became the first practicing architect to be awarded the National Award for Arts in Architecture – the highest honor available for cultural disciplines in Taiwan. The office designers who have won the hearts of so many workers may finally have a say in how the city looks as a whole.
www.artech-inc.com
onoffice asked architecture professors Yi-Wen Wang and
Liou Ke-Fung to name some up-and-coming talent
Kyle Chia-Kai Yang
www.arctangent.com
Tower of Light, Taichung; Far Eastern Telecom Building, Tao-Yuan; The School of Liberal Arts, Tunghai University
Hoya Associates
Ching Fu HQ, in partnership with Richard Rogers
Albert Ho
www.hohou.com
Office fit-out for Saatchi & Saatchi HQ in Taipei
Kao Er-Pan
Taipei Fine Arts Museum