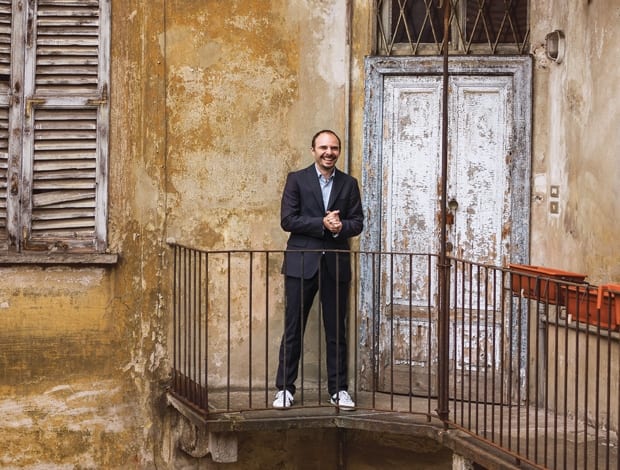 Frechman Emmanuel Gallina in his adopted home|Tapparelle, for Italian brand Colé, inspired by an English secretaire|The roll-fronted then continues for the Tapparelle storage cabinets|Poliform's oak and leather Grace chair|The Concorde table, also for Poliform, with its ultra-thin marble top|LED lamp from Forestier's elegant and angular Birdy collection|Sketches for Lampion, a contemporary update to the paper lantern|Temaris, a tree-like screen for Clen: "It puts you in an organic universe"|Nouvelle Vague, named for the new look it presented for its trad manufacturer|Soft, rounded details make for "non-aggressive" workplace design||
French designer Emmanuel Gallina adopted Italy as his second home 15 years ago; opportunity and acclaim followed, along with a portfolio of work that nods to the past, but is fit for the future
"Flying is a kind of dream and the plane is a strong industrial object. I think it would be very exciting," says Emmanuel Gallina when asked what his fantasy design commission might entail. "Concorde was my favourite machine."
Gallina's enthusiasm for this virtual project leaves you with the unyielding impression that aviation is the Holy Grail for industrial designers. Inspired by the romance of flight, but more importantly the need to understand the technology underpinning it, his choice is very revealing about the nature of his field. "For me, it has to be something practical; art on its own is not my way."
But we are racing ahead of ourselves. Compared to the industry's elder statesman, the Milan-based French designer is a relative newbie, only setting up in business for himself five years ago.
Gallina has fine pedigree though, serving a seven-year "apprenticeship" under the measured eye of Antonio Citterio. During this time he became a true believer in what he refers to as the Italian's 360-degree vision. "I learned everything from Citterio: how to communicate the product, how to understand the market and the identity of your client. A good product with bad communication will fail," he says, as if reciting a mantra.
Gallina inhabits a small office just off lively Corso Garibaldi.
It's an unfussy white space, devoid of clutter, with an extensive library encompassing one wall.
As we speak he thumbs though his sketchbook, which reveals inky traces of tables and lamps. The designer confesses that many of these designs never made it past the doodling stage, falling foul of his own strict standards.
"If I am not completely convinced by something I will not do it," he says. Still, Gallina's portfolio, while not bursting at the seams, is nevertheless long and varied, proof that he is not in a state of permanent scepticism. In fact, he is willing to have a stab at pretty much anything. Kitchens, the workplace, outdoor furniture and even carpets figure in Gallina's milieu.
At Milan this year, the designer has turned his attention to the home office, launching a collection called Tapparelle for Colé, a very young Italian firm.
According to Gallina, it was the company's interest in high-quality craftsmanship that led to the collaboration. Tapparelle is the Italian word for a rolling shutter, and as the name would suggest the collection takes its cues from classic English bureaus.
"I wanted to do an intimate product with historical references," he says. "When I was doing the sketches I was thinking of a writer, alone in his office; you need a warm atmosphere to be very relaxed in order to work."
Made from oak, the beautifully balanced desk has a nostalgic air about it, despite it being compatible with 21st-century electronics. Tapparelle seems apposite for a moment in time when many are seeking reassurance and familiarity. Gallina agrees: "No one wants cold futurist designs; they want things that make them feel good." As if to hammer home the point, company and designer are negotiating with time-honoured English institution Farrow & Ball for a special painted edition.
"In France we have really good designers – Starck, Matali Crasset, the Bouroullecs – but we don't have companies on the same level"
Originally from Bordeaux, Gallina has lived in Milan for 15 years. Well turned-out with a neatly clipped goatee, he could pass for a native but for the strong French accent that colours his fluent Italian.
Like many budding designers, Gallina was seduced by the city's charms on a visit to the annual furniture fair when he was a student and eventually returned to study at Politecnico di Milano (where he now teaches) under the tuition of Alberto Meda. It marked something of a homecoming for the then-24 year old.
His family originates from near Venice, but his grandfather fled to France during Mussolini's rise to power and, eager to assimilate with his adopted country, rarely spoke Italian. Though the connection to Italy was severed for a generation, Gallina has clearly enjoyed resurrecting family ties.
The designer's relaxed manner is a good fit for a city that likes to appear more refined than its hectic southern cousins, and since arriving the Frenchman has carved out an enviable niche.
His office and apartment are within spitting distance of each another on the outskirts of the city's Brera district, home to a myriad of furniture showrooms and potential clients.
"The Italian way of living is really very nice," he says. "You really live outside, you can have an apertivo …but it is very hard to become a big-name designer here. The design picture in Italy is very strong, and they are the leaders."
Regardless, Gallina says he has built up a large network of contacts in the industry. Right on cue he pauses to take a call from the Politecnico di Milano's president. "They like to use me as the link between companies and the students," he explains.
Although Gallina divides his time equally between France and Italy, he is undoubtedly better known in his adopted country. The designer laughs as he recounts passing through the French design exhibition at this year's Milan fair as if clad in an invisibility cloak.
In Italy, his reputation is firmly established thanks to an award-winning table, Concorde (2009), for super-brand Poliform (the name, if anything, is a bit more proof that he's in to aeronautics).
Falling back on the lessons learned under Citterio, Gallina pitched a simple idea to company head Aldo Spinelli: "I thought Poliform had lost the richness of artisan woodworking. You have to respect the materials you are working with. I explained my vision to Mr Spinelli and we worked on a collection where the wood pieces have real sensibility. It was a good intuition at a good moment."
Concorde has two incarnations, a writing desk and a marble-topped dining table. Gallina says he likes to use marble in surprising ways, and this table has a razor-thin contour to make the material appear lighter than it is.
With Birdy, a lighting series for Forestier launched at this year's Maison et Objet, Gallina constructed the base from marble, using what he sees as the stone's history ("humanity has used it since the beginning of time") to counterbalance the ultra-modern LED technology. Birdy has four variations but the components are the same: a thin white metal tube and stone base.
It owes a little to Castiglioni's space-age Arco lamp, a debt that Gallina embraces. "It is a modern light with this base, which is very heavy with the past." Indeed, there is a familiar undercurrent to much of Gallina's work, a simplicity that follows a lineage begun by Jean-Michel Frank and continued by Jean Prouvé.
"I learned everything from Citterio: how to communicate the product, how to understand the market"
For Gallina, working in Milan carries with it certain kudos, affording him a great deal more leverage with French companies compared to Italian brands. This proved to be the case with Nouvelle Vague (2011), a workplace system designed for Clen, a French office furniture company based in the Loire Valley. Clen had a conservative outlook, which the designer shook up.
Gallina plotted out a modular office system from sheet steel, which can be as stripped down or as complex as required. For Clen it marked a radical departure. "I really like the [New Wave] film period," Gallina grins. "When Godard and Truffaut were making movies in the 1950s it was a symbol of changing roles. It was the same with Clen, which was a historical company; when I arrived I really changed everything."
Nouvelle Vague is inspired by craftsmen's workbenches, with paper trays and printer shelves replacing vices and tool racks.
But, in keeping with Gallina's ethos, the final goal was to create a sense of wellbeing in the workplace. "You don't have any sharp details, everything is round. The screens are made with fabric and soft colours and we used wood on the tabletops. It is not aggressive."
The designer also cooked up a series of eccentric-looking acoustic room dividers, Tamaris, which resemble overgrown leaves. "It is a fake forest but you can feel the energy of the tree, I think. It puts you in an organic universe."
On this occasion Gallina was working with a company willing to step outside of its comfort zone, but this remains the exception rather than the rule.
He says that France's design talent outstrips the quality of its brands: "The puzzle in France is that we have really good designers with strong visions – Starck, Matali Crasset, the Bouroullecs – but we don't have companies on the same level," he says. "In Italy there 
are thousands of companies and they are really aggressive at exporting themselves."
Recently, however, there seems to have been a greater effort to look beyond France's own borders. There was a major Gallic presence at 100% Design last year, which received a puzzled response.
In Milan this year, the French Chamber of Commerce staged an exhibition of homegrown talent in Zona Tortona.
While Gallina broadly welcomes his government's willingness to inject cash into shows like these, there is a part of him that would like to see his compadres sell themselves harder. "Our companies are discovering what design and innovation can give to them, but it is a very slow process for them. I hope in the future they can do it by themselves."
You sense that Gallina is in a pretty good place at the moment, but change could be just around the corner, prompted by the birth of his son, Arturo. The designer is pondering moving his family back to his hometown, away from the pollution and noise of Italy's second city. The horns of this dilemma are not uncomfortably sharp though. After all, when the choice facing you is between the home of vin rouge or the home of design you can be sure you are doing something right.