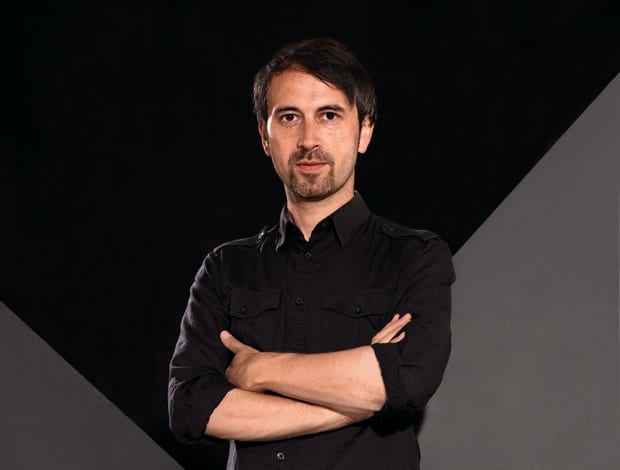 Robin Lee, photographed in London: his new practice will have a studio in the capital as well Dublin|Wexford County Council's generous, Irish limestone-clad headquarters|A double skin of glass helps to protect the new building on its exposed site|Floorplates have been optimised for natural ventilation and lighting|NORD's acclaimed stand-alone extension to the Bell-Simpson house (2004)|"Anti-architecture": Lee gives presence and dignity to the Olympic Substation|Clad in cement panels, the rebuilt annex of Glasgow's Destiny Church||
Robin Lee's first completed building since splitting NORD, the acclaimed practice he co-founded in 2002, is a monumental career milestone. Newly installed in London, even he doesn't know what's next
Robin Lee is standing at the gate of a grotty east London mews. He's squinting up at the address, presumably trying to figure out where the hell he is. (Meeting the onoffcrew for a photo shoot under the arches of a railway line, as a matter of fact, but he's a bit late.) When we wave him through, Lee's anxious look melts away and he extends his hand. "I'm Robin, I'm so sorry I'm late," he says in a soft Glaswegian accent. "I really hate being late."
The architect has come straight off of one of those horrific 7am flights from Dublin (where he now lives), although it's a route he ought to get used to. The London hub of his new practice – Robin Lee Architecture – has now officially opened its doors.
Though the occasion marks the beginning of an exciting chapter in Lee's career, it also comes in the wake of a messy split from ex-business partner Alan Pert, with whom he founded Glasgow practice NORD (Northern Office for Research & Design) in 2002.
The rift is shocking news for anyone who tracked NORD's progress from the beginning. Almost straight off the mark, the pair were considered "ones to watch" – a status validated by a YAYA win in 2006 and a subsequent slew of important commissions including the Olympic Substation and a just-completed €40m office complex for Wexford County Council in the Irish Republic.
A steady flow of smaller jobs, like last year's Shingle House in Dungeness (part of Alain de Botton's Living Architecture project), the striking refurbishment of Destiny Church in Glasgow in 2005, or 2004's stand-alone extension to a 1950s bungalow (the Bell-Simpson house) had also built up NORD's reputation as one of the most exciting young practices around.
But eight years in, Lee and Pert have decided to go their separate ways. Terms like "acrimonious" and "irreconcilable differences" were bandied about in the press, but no one really knew for sure.
"No, I think those descriptions are a fair way of putting it," says Lee, now sitting in the Geffrye Museum café post-photo shoot. "I have to be careful here but I suppose I'll just say it like it is." He pauses to choose his words.
"The partnership was exhausted. As the practice grew, our ideas about how things should run, and about architecture, diverged. We established NORD when we were just a couple of youngish guys," he explains.
In fact, NORD LLP was established first in 2002 and then a separate entity, NORD Architecture Ltd, later in 2009. The two entities ran in parallel for two years and now NORD LLP has been rebranded as Robin Lee Architecture, while Pert will trade under NORD Ltd.
Apparently the cracks started to show when larger projects like the Wexford scheme came through in 2006 because the firm had leapt incredibly quickly from £50,000 house extensions to a €40m HQ.
"It's a huge jump in scale and responsibility, complexity and management – of how you control design with a building that size," says Lee, who ran the project from the firm's Dublin office. "All of those things put huge pressures on individuals within the practice."
"I like to go backwards to understand why a site is the way it is in order to go forward with an architectural proposal. It has to connect at some level"
It seems that the heat was on Lee most of all, because he had been instrumental in winning the international competition, as well as being the partner responsible for seeing it through to completion in the midst of Ireland's economic meltdown. To appoint such a young practice had been a leap of faith for the council.
"For the first year I was travelling back and forth [from Glasgow to Wexford] every week, and it was gruelling because the project is in the south of Ireland, right down at the bottom," he explains.
A move to Dublin seemed inevitable because the project was a full-time job, which meant that Pert and Lee were virtually working independently of each other. The strain took its toll.
"There are great partnerships out there, but ours wasn't one of them," he says, matter-of-factly. Are the two friends anymore, at least? "I wouldn't say so, no."
Lee nibbles on his cheese sandwich and shares that this is the first time he's had a moment to reflect on any of it, let alone plan for the future.
A whirlwind 18 months of managing the final stages of Wexford, plus negotiating the legal side of the NORD split, has kept him totally occupied.This is only the second time he will have gone to his London office space even though it's been rented for two months.
"People keep saying, what's next? What's next? But I'm just arriving at this moment, and that's enough for me," he says. "I'm not going to sit here and tell you I've got five projects lined up or a huge staff. I don't. But the Wexford building is finished and I want to promote it, and things will develop from there."
Lee couldn't have timed it better, really, because Wexford is already being celebrated by critics. "It captures all of the ideas that we have about architecture. Its quite a pure example, in a sense."
The modernist building, designed for 350 staff, is organised around a series of courtyards from which six freestanding departmental blocks are accessed.
As a civic building, public space was a priority: "It was important that it didn't feel as though staff are roaming around in luxury and the public have to walk down a small corridor to pay their motor tax. There is a generosity to it – yes, it's a building for staff, but it's really a building for the county."
And unsurprisingly it was vital that it "connect to context".
"There are a lot of big buildings where context isn't really interesting to the architects. They're object buildings designed in a vacuum for a kind of idealised neutral site. I'm talking about Zaha Hadid and architects like that, whose work is very much about the brand," says Lee. "I like to go backwards to understand why a site or a place is the way it is in order to go forward with an architectural proposal. It's not just about making traditional buildings or ones that are rooted purely in a place, but it has to connect at some level."
The starting point for Wexford was the town itself (a mile and a half away from the site) but the architecture isn't a pastiche, he's keen to point out, it goes somewhere else.
The main building has a double-skin facade of glass to represent the transparency of the organisation and its relationship to the community, but the inside is constructed of a sturdy locally mined blue limestone that was used in civic buildings in the Georgian era in other parts of Ireland.
In Lee's view, there is a responsibility to make buildings fit where they are, but its also about protecting their legacy – making a building feel as though it has a value.
The Olympic Substation, for example, isn't clad in metal panels that can be dismantled at the end of the Olympics – it is made of bricks because it will have a presence after the games are finished. One of the first buildings to be completed on the Olympic site in 2009, the substation posed a whole new set of challenges for Lee.
"It's anti-architecture in a sense because…what is it? How do you define it? It's mute, you don't engage with it except visually, whereas Wexford is all about engagement," Lee muses.
Bringing the point round again to context, the substation is significant in a different way, he feels, because it will serve the Olympic site as a whole, connecting it to all of the old power stations in London.
"It was about taking the history of utility buildings and recognising that they had dignity and presence and their place in the city. I think that was the starting point for the substation, it having that quiet sense of importance," he says.
In a sense, both Wexford and the substation are trying to hold their own within difficult environments. The Olympic site was (and still is) in development, so the substation needed to have a strong sculptural presence to avoid getting lost amongst whatever was to come along later. Quite similarly Wexford was built on a greenfield site sitting on a very difficult slope. Lee knew the surrounding areas would be developed but he didn't know in what way.
It is striking that Lee rejects the idea of "brand architecture" because, though it's more subtle, a sparse, monumental and linear language runs through the Bell-Simpson house and Destiny Church extensions, the Olympic Substation, and now Wexford. Does he agree?
"Reflecting on the last eight years – now that I have some critical distance – yes, there is a body of work that relates to one other. I can sort of see that now," he says.
He reckons the similarities could be down to his post-graduate training in sculpture, fitted in between stints at the Mackintosh School of Architecture in the 1990s.
"I didn't have any fixed or specific ideas about what I wanted to do in architecture, so I was drawn back to the fine art department," he says.
It's a period that affected him enormously, so much in fact that he pursued sculpture as a career for four years before returning to architecture. He met Pert while making models (to support his art) at Zoo Architects in Glasgow. The pair then joined forces and the rest, as they say, is history.
"Studying sculpture was really valuable for me – putting a building together after that process seemed much easier," says Lee. "It helped me distil what I thought about materials, form, space and relationship to context… It also helped me to understand that every building doesn't have to be different from the last one, or related to one next door or one you saw in a book. It could relate to a previous piece of work you made."
Looking back, and despite the fate of NORD, Lee has a real affection for those first projects – the Bell-Simpson houses and Destiny Churches of his career.
"They gave me confidence in my ability to articulate ideas in a way that makes sense and connects to people. I'm not a sculptor making a piece of art – it's about how you negotiate the design with all parties involved." Sitting back at the table, looking relaxed, Lee appears to be quite pleased with how things have turned out.
"It feels like I've worked out a lot of things about myself, how I see my practice, and how I do things. But now I'd like to look forward, not back."