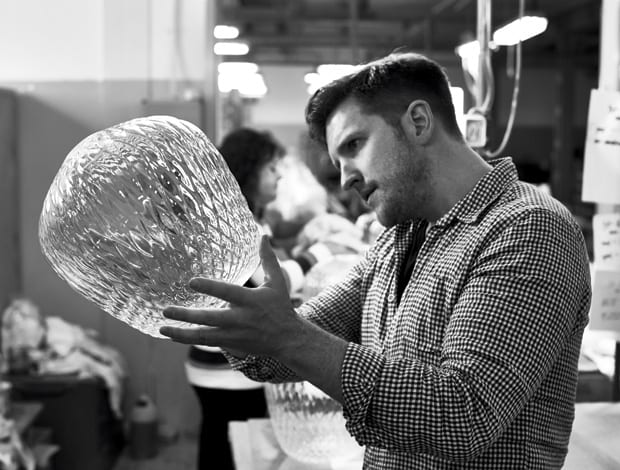 Sam Wilkinson with the Blown pendent – traditional manufacture meets 3D CAD|Decode's Vessel shade with a groundbreaking Plumen energy-saving bulb|L'arbre de Flonville, a piece of street furniture in Lausanne, Switzerland|Colour and tactility come to the fore in Lexon's Babylon desk accessories|Case's Mantis desk is intended to look good both in the office and at home|Pendola; the whole clock acts as a pendulum, swinging once a second|Lightweight stacking chair Grace, part of a wider outdoor range for Emu|The sturdy-looking Rock chair for Decode works on its own or in groups|&Tradition's Hoof tables have feet that look like giant sharpened pencils|Cloak, an elegantly asymmetrical wood and metal table for Versus||
Best known for his curvy Plumen bulb, industrial designer Samuel Wilkinson has got plenty more bright ideas – as well as the practical skills needed to meld tradition with innovation
Whether designing his latest die-cast aluminium range for Italian furniture brand Emu or the Plumen 001 lightbulb that gave him his first big break, London-based industrial designer Samuel Wilkinson is never very far from the production process. Get him talking about redesigning the latter's tooling machinery or the weeks he spent in &Tradition's eastern European factory developing his Blown light, and he immediately brightens, animatedly talking about the intricacies of fusing 3D CAD with handmade glass.
This interest in manufacturing no doubt stems from Wilkinson's passion for setting and solving problems, as well as developing new ways of doing age-old things. For example, Blown's shape was digitally rendered first, but the product is traditionally mouth-blown; its metal mould has a zig-zag-shaped seam that perfectly follows the pattern of the glass, so when it emerges, you cannot see the join.
Similarly when working on Pendola, a wall-mounted pendulum clock that will go into production at the end of the year, Wilkinson and design engineer Joe Wentworth challenged themselves to create a clock that could swing, seemingly unaided, for a whole year using just two batteries. Gauntlet laid down, they then devised a smart, cheap electronic circuit that uses a sensor, internal magnet, and slight negative pulse to create enough inertia for a perfect one-second swing.
"I learnt that approach from the Plumen," says Wilkinson. "You have an idea and think, 'Can I do that?'. You don't know whether it's going to work, but you're not scared of that. It helps you innovate that bit more."
Plumen 001 was Wilkinson's big career catalyst, both in terms of media exposure and, more importantly, exposure to the repeated failures, redesigns and tweaks of developing something truly innovative. Starting work on the project as a freelancer (initially in an unpaid capacity), he soon took on the responsibility for dealing directly with the Chinese manufacturer – a steep learning curve and rare introduction to million-unit scales for such a young designer.
"The bigger companies we work with now, they often aren't used to you wanting to be there for every decision"
Now based in Hackney, his studio consists of two full-time members, with further temporary expansion as contracts as projects require. Decode – with whom Wilkinson developed the Hatcham chair and Vessel glass shade (both of which will have new additions this year) – is based in the same space, which has kindled a relationship that he deems one of his most fruitful.
"I can work with them in a softer manner," explains Wilkinson. "We can develop things together, have frequent conversations and create products in an iterative way that reduces the cost for them. It allows them to grow too." It's an approach that Wilkinson tries to implement even with much larger manufacturers. "The bigger companies we work with now, they often aren't used to you wanting to be there for every decision," he says. "You have to annoy them a bit, but that's part of trying to make it a better project."
Hands-on innovation has long been a signature of Wilkinson's career: after initially studying maths and physics, he was drawn to Ravensbourne's course in furniture and related product design, because of the university's vast workshops. But even then (before a time when universities decided to close their making courses left right and centre), there was pressure on students to focus on presentations, marketing and creating models, rather than full-size pieces. Unsurprisingly considering his fascination with process, Wilkinson defied his tutors and stayed late to craft perhaps the biggest thing he could: a fibreglass sofa with leather touchpoints that acquire a patina with age.
"Grades matter for a while,' says Wilkinson, "but the experience of making things, and testing stuff, especially in furniture, I think is invaluable." It was an approach that paid off – he not only won RSA and D&AD awards on graduating, but those sofa designs have just been put into production by Casamania and will launch at Milan's Salone del Mobile this year.
Post-university stints at agencies Fitch, Tangerine, and the "boot camp" of PearsonLloyd have also clearly made a lasting mark on Wilkinson. Brand-led projects at Fitch have bestowed him a keen interest in photographing and promoting his own products, while designing aviation interiors for the likes of Virgin and British Airways propelled him into thinking overtime about functionality (definitely a favourite buzzword), and taught him to strip back objects to their essential properties before reformatting them in his own way.
It's an approach visible in his debut stationery collection for Lexon, which features six desk essentials rethought both in terms of aesthetic and function. Each has been created from injection-moulded ABS and skinned with tactile ridges – inspired by the Coyote Buttes rock strata in Arizona – that tie them together as a group and make them easier to hold.
"If you can make a project that's aesthetically beautiful and democratic that's ideal"
Wilkinson also thanks his consultancy years for his ability to lock on to a company's business strategy and design accordingly – something that has been particularly useful for his recent collection of outdoor furniture Grace for French manufacturer Emu. Comprising a lightweight stacking chair, armchair, stool and folding cafe table, Grace involved rethinking the die-cast aluminium process and components to reduce the need for welding, making each product more flexible, easier to transport and less costly. The collection, Wilkinson explains, is about Emu centralising its business on competitive products (most retail at under £200), while capitalising on its heritage in metalwork.
Working with tight budgets has also been key to his first office interior, created for 'alcohol incubator' Distill Ventures (backed by drinks multinational Diageo, the firm invests in and helps launch new spirits brands). The space, in London's Warren Street, includes multi-functional desks that cantilever off shelving units – both made out of ply to keep the cost low and bring a bit of warmth to the industrial shell.
"Interiors are definitely interesting for me," says Wilkinson about the prospect of similar commissions. "When you design objects, you think about the context and how they can be used, so it feels natural to design the whole area around that experience."
In terms of future projects, the chance to experiment within new fields is high up on the list, as well working on concepts that make design more democratic and sustainable. He's worked on recycling bins, app-controlled mini-ecosystems and inclusive public architecture in Switzerland, and currently in the pipeline is a tree-like solar shelter (largely inspired by a previous Swiss project, L'arbre de Flonville, a public shelter in Lausanne) that uses energy from the sun to power an internal kiosk or low-level lighting. Plumen, too, was all about bringing design-led sustainable products to as mass audience.
"I've always come from a functional background, so being responsible and sustainable all fit into a similar category," he says. "If you can make a project that's aesthetically beautiful and democratic that's ideal. Those are the projects I'd like to do most."