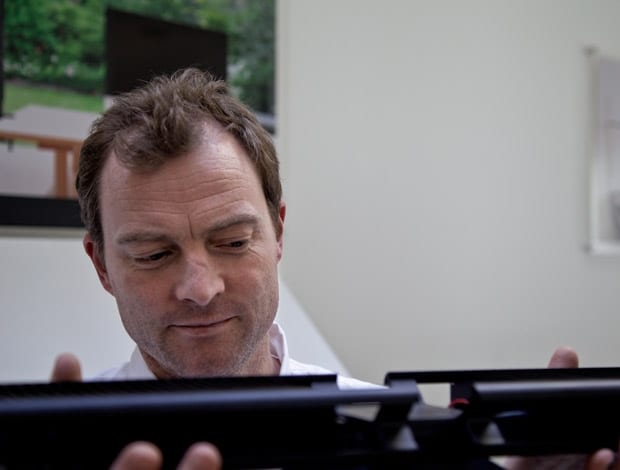 Jake Dyson with Ariel, his latest ultra-long-lasting LED light|Motorlight's beam angle adjusts from eight to 80 degrees|Arieal. A tube with a vacuum inside carries heat away from the LED|The CSYS. Tall, engineered to last 37 years with daily use||
From his small London studio, Jake Dyson is creating groundbreaking lighting technology that's making the corporate giants sit up and take note.
Jake Dyson's Clerkenwell studio is an apt metaphor for the man himself. The ground level office is a calm, composed and quiet space where he, his two designers and the rest of the 11-strong team run the business, overseeing everything from development and testing to manufacture and supply.
Downstairs, however, reveals the inner workings of his inventor's brain. Here, workshops house machinery – a lathe, a mill, a 3D printer – for Dyson to try out design tweaks as soon as he's CAD modelled them; he can produce components to an accuracy of a thousandth of a millimetre.
Tests are set up to measure the lux output, thermal behaviour, current and efficiency of his and competitor products (incidentally, his results exactly match the data found by an established industry association). Boxes filled with computer parts, disassembled electronics, lamps, bulbs and other gizmos line the shelves. Here, Dyson is like a kid in a sweetshop.
"We're hardcore engineers rather than flamboyant stylists," says Dyson, rummaging through a box of computer cooling systems. "We get to the science of things in our own laboratory."
He plucks out a device that is instantly apparent as the muse for a new LED pendant light, Ariel. The contraption, which was once part of a computer processor, features a ring of slim metal blades that serve to evacuate heat away from the semi-conductor in the centre – a mechanism that Dyson has adapted to do the same job but on a larger and more efficient scale.
In the middle of Ariel is a high-power Cree LED; from this, heat travels through six branches of heat pipes, out along two long rows of thin aluminium fins. Heat rises from these, drawing cool air up through the fins through convection, and dispels the heat as fast as it is being produced.
The entire design (parts of which are made by the manufacturers of Apple components) is shaped around the need to keep the LEDs cool, because by doing so, Dyson estimates Ariel will run brightly for a staggering 37 years minimum. It also puts out a strong enough lux reading to light a bank of eight desks, in a perfect rectangle.
The design is an evolution of technology developed for Dyson's CSYS task lamp, launched in 2011. Realising that most existing LED lamps weren't living up to expectations for either lifespan or light quality, he travelled to Malaysia to ask Dr David Lacey, head of R&D for Osram, advice on how to make an LED last for life.
"He said you'd have to run it at -200°C – but that would require some liquid nitrogen," he laughs. "Basically the bottom line is, you keep it as cool as possible. In the wrong casing they'll cook too hot."
Dyson then worked with a Chinese manufacturer to develop a component that would evacuate the heat as quickly as possible. The result is an incredibly high-tech bit of kit, involving a metal tube with a vacuum inside, which carries heat away from the LED, hence lengthening its life.
Built from the inside out, the design of CSYS was based around this technology, taking inspiration also from architectural drawing boards. The super-lightweight arm glides fluidly up and down, and stops wherever you leave it, thanks to a cantilever system. Similarly Ariel, named after a 1960s British satellite, takes its form from its function, with its components stripped back to an absolute minimum.
Dyson's view is that, in the late 1980s, companies like Artemide were making lights that were beautiful because they were engineered. Now, he says, too many products are just about aesthetics – sparkly things made to shock you – rather than abiding by 'form follows function'.
"Look at a Le Corbusier or Eames chair; they're still popular now because they're functional, not fussy, and architectural in their structure. Our principle is to expose everything we do. So this," he says, holding up Ariel, "is a raw, blunt piece of engineering. An instrument that becomes beautiful when you see how it works. There's no excess fat; every single thing is doing a job."
Architects love this quality, quite often because contemporary buildings call for more "aesthetically honest" products, he says.
Dyson's studio is grounded in research and innovation, and determinedly averse to the trends and constant product churn-out of its industry peers. Being small and independent, the studio is free of the pressures of its corporate competitors, like expectant shareholders, profit margins and trade show stands to fill with new products.
Tellingly, even though the company was set up 2004, it has just three product ranges to its name – Motorlight, an uplighter launched in 2006, CSYS and Ariel, which will be ready for market later this year. Such spans of time between products would be a massive no-no to the big brands, but this time has allowed Dyson to get to the crux of LED technology, and produce some genuinely pioneering results.
Understandably this is threatening to the bigger players, whose business model relies on a regular output of new designs. Dyson tells of various encounters with household-name companies picking him apart.
"I had a senior engineer from a global lighting company come up to me at Frankfurt and very politely ask why I was bothering to make lights last so long, when they're just going to be ripped out and replaced after 14 years," he says incredulously.
"It's not in their interests, when it should be. LED technology was invented as a sustainable light source, and now people are making them disposable. Our entire impetus is to prove you can make a light last for life."
For Ariel, Dyson's studio has designed its own lenses and even its own electronics, so every tiny detail is engineered to perfection.
"It's an insight into the obsessive detail I go to sometimes," he admits, hinting at his fanatical side. "I don't do this because there's a gap in the market. We're kind of freestyling. But it seems to be working."