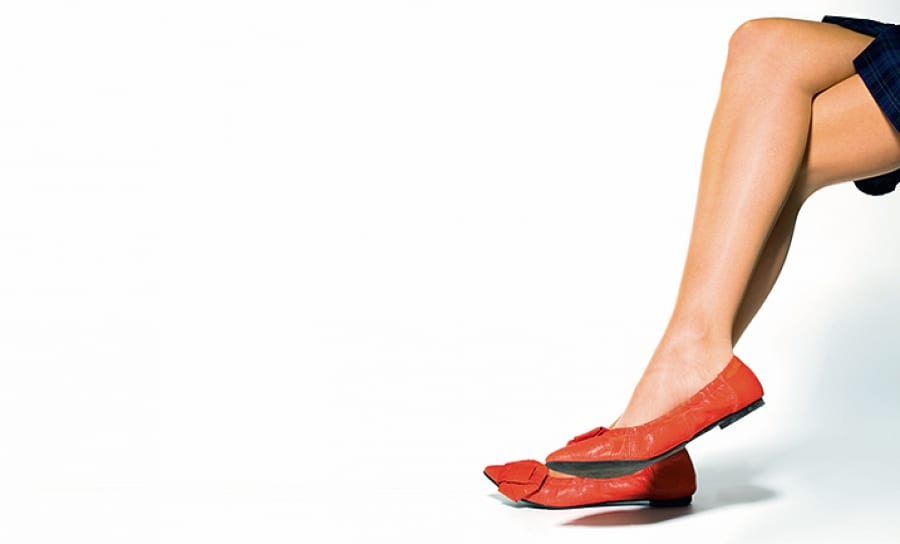 Products designed especially for women normally make me a bit sceptical. Probably because in most cases it means a bright pink version of the exactly the same product that's already on the market, softly rounded at best.
Yet the new task chair 'Lei' designed by Monica Förster for Officeline, which launched at the Stockholm furniture fair earlier this year, actually addresses office chair design from an as yet neglected angle: it is the first task chair designed for the female body and its particular seating habits.
Ergonomist Ellen Wheatley was behind the research that led to this venture and says: "It's a tense subject, designing for women. Some ask 'why design a chair that differentiates between male and female when society has been trying for so long to achieve gender equality'. But the point is things are only truly equal if both men and women can sit comfortably at work."
Being a woman I must confess Wheatley's research does ring true. The main difference between female and male sitting postures is that women are more likely to lean forward, and when they do traditional task chairs do not offer any lumbar support. A typical male tends to lean back in his chair and the lumbar support of most chairs kicks in at that point.
As the editor of an office design magazine, I've spent many a trade show roaming around stands in my charcoal grey business dress and every time a salesman or a press person encourages me to try out the functionalities of the newest task chair, I come to the same conclusion. While they're demonstrating the chair saying, 'See how you can lean back and lock' I'm impressed by the technicalities. Yet when it's my turn to recline, I self-consciously press my knees together asking myself: 'Why in God's name would I ever lean back like this on my work chair in the office?' It certainly doesn't feel like a natural position to me and now I know my anatomy is to blame.
Or is it? Similarly to the way men comfortably sit with their legs wide, while women have this seemingly inherent reflex to keep their legs together, one does wonder if it's a psychological or cultural phenomenon rather than truly medical or physical? "Research shows that women naturally remain upright when sitting, only slightly rotating their pelvis posteriorly," Wheatley explains, "over time however they tend to tilt the upper body forward, in contrast to men who do the opposite. That is due to physiological differences. A woman's erectus spinea contains a higher frequency of type one muscle fibres, which means they have a greater endurance. They also experience greater discomfort when their joints deviate from their neutral posture, especially in the hip joint."
So when women move forward in a standard office chair their backs are unsupported while with Lei a cushion props out of the backrest. It's the same effect as placing a cushion on your chair or one of those strap-on supports you may have seen a female colleague add to her chair back. The patented technology solution (LumbarFlex system) used in Lei offers an inbuilt support for the lumbar vertebrae and the curve of the spine. Designer Monica Förster explains: "That support is important because after a while we don't have the energy to keep our back straight, so our shoulders go up causing tension and back pain. Sitting in Lei your shoulders fold down."
In terms of shape, Förster aimed to design a chair with a "warm and humanistic feeling" that doesn't look like a tool. "Also women are more pear-shaped so the armrests come from the back of the chair rather than up from the seat, giving you enough space for your thighs. Even if you are wide around the hips it's still comfortable." Personally I'm not convinced by the padded look but other manufacturers such as Vitra have also noticed a female preference for upholstered chairs such as the Bouroullec's Worknest or Citterio's Skape. Lei's fabric, which was specifically designed for this project by Danish textile firm Kvadrat, holds more than meets the eye. Its
highly technical structure is both elastic and pressure-relieving. It is designed for optimum heat ventilation and, last but not least, it is lovely to touch. Förster designed the colours (lemon, burgundy, dark pigeon blue and warm grey) for the Lei chair but Kvadrat will launch the material separately this summer and make it available in a new range of colours.
Aesthetics aside, when you think about the time we spend sitting at our desks at work, it is quite alarming that a woman's physique and seating habit is not specifically accommodated in an ordinary office chair. Legislation calls for so many strict rules when it comes to office furniture, how can this aspect that effects 50 per cent of the workforce have been overlooked for so long? Historically ergonomic studies aim to find a unisex solution that fits all humans, then adding as many modifications and adjustments as possible to cover the differences. "Studies focusing on the female body aren't new," Wheatley says, "but there has never been a corresponding product." In the market place a one-size-fits-all chair is popular for obvious reasons, it makes the specification process much simpler and guarantees a wide range of end users. Currently certain chairs may be specified with females in mind, such as RH Forms Logic 300/400 which is popular with pregnant women due to its above-average forward-tilt. Yet producing a women-only chair like Lei is a brave move by Officeline because essentially you're excluding half the population as potential buyers.
In my quest to uncover the reason behind these ergonomic shortcomings I turned to Niels Diffrient (onoffice issue 2), the Godfather of ergonomics and designer of many progressive task chairs for Humanscale. Despite being in his early eighties his Diffrient Work chair, launched at Orgatec last year, is one of the sleekest, most intelligent and best looking chairs on the market. "We also noticed the same phenomenon of women tending to sit forward on their chairs, especially when operating computers," Diffrient says. "They're not the only ones, walk around a large corporate office and you'll find some men tending to do so too, but not so many as women. Yet special use chairs such as Lei for women presents a dilemma in most offices: keeping the correct mix of the chair total to match those who want it to those who don't."
This point is one of the key issues with this chair and the concept of chairs for women as a whole. Just imagine the 'abuse' in a typical English office: 'Ugh John's sitting on a 'ladies chair'!' While the reaction in Stockholm was very positive, the majority of people who came to test the chair were women. Wheatley says: "Women are very susceptible to the concept, saying: 'So this is what it feels like to sit comfortably'." But in search for male reactions, some blogs show an outcry about differentiating between men and women, and male bloggers were provoked by the insinuation that male preferences are taken as universal default in design.
There are some areas where this differentiation is commonly accepted. Wheatley talks about saddles for bikes that are designed specifically for the gender of the user without anyone questioning why. "No one really thinks about it, but it's the same observation: women's saddles are wider and more cushioned because of the female pelvic floor, so why is the same logic for an office chair so absurd?"
Designer Monica Förster hopes that health & safety regulation will incorporate the physical differences. "After learning so much about ergonomics through this project, I'd like to think that one day specifiers will go for one chair for women and one for men."
But Niels Diffrient believes that architects prefer a uniform look. With staff turnaround so high in most offices, it would be tricky to decide how many women's chairs to buy.
Diffrients' answer to this dilemma was launched in the States ten years ago and in the UK in 2001: The Saddle Seat by Humanscale. "It has no backrest, but the seat shape resembles a three-sided saddle. The reason we did this is because of a well-known phenomenon occurring when seated with your thighs angling downward, much like sitting on a horse: The thighs in this position tend to rotate the pelvic cage top forward which in turn tends to direct the lumbar segments of the spine into a more appropriate concave curvature."
This works for men and women but the Saddle Seat never really took off because without a back it's not a long-term seating option and it is therefore seen as an extra purchase, complicating the standard specification of one chair model for all. So the argument that a chair for women is only valuable for half the population wins the battle in whether sex sells here; but could things be different? Considering that a standard office chair is uncomfortable for most women (and yes, we're aware that we've been generalising a lot here to make our point) then can damaging our backs be the alternative just in case a man may be teased for sitting on a ladies chair? At least they don't come in pink.