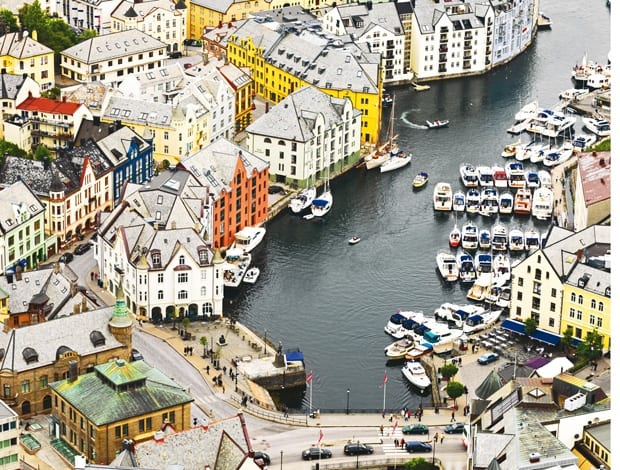 Picture-perfect Ålesund on the west coast|Dina, a chair from Stryn Møbelindustri that edges away from traditional Scandi influences|L-R: Espen Voll and Torbjørn Anderssen. Lurking/working in background, L-R: Petter Skogstad and Hallgeir Homstvedt|Eva, a design based on a kubbestol (a traditional chair carved from a tree trunk)|A crop of Kikut mushroom containers|Hallgeir Homstvedt's Undercover light|Risør, where seafaring is more important than speaking to journos|Hødnebø's Relax chair, still looking good at nearly 50 years old|Tor Arne Skjævestad from Hødnebø with a Spinnaker chair, upholstered with sailcloth|Alf Sture's Chair 1036 for Tonning, an archetype of traditional Norwegian furniture-making skills|Your editor, flanked by (L) Stryn Møbelindustri's Svein Nore and (R) designer Olav Eldøy|Traditional skills endure at Tonning, including hand-finishing|Juvet Landscape Hotel (which is full of Norwegian design, if you can tear your eyes away from the view)|In between the chocolate ice cream and the cured moose meat, there was some nature to be admired|Made in the forest: Variér's just-launched chair, Pause|The game-changing Balans Variable office chair, by Peter Opsvik|LK Hjelle's Break sofa, designed by Norway Says||
It's never hogged the spotlight like its Scandi neighbours, but Norway has its own design traditions to shout about. onoffice payed a fjord-filled visit to find out the lie of the land
In the grand scheme of Scandinavian design, Norway has generally taken a back seat. Denmark, Sweden and Finland pushed ahead in the region's golden age of the 1950s and 1960s with the likes of Saarinen, Panton and Jacobsen, whose designs defined an era. Of course, in the 1970s and 1980s Norway turned out success stories of its own – Peter Opsvik's Trip Trapp chair has sold in the millions and he also redefined office seating with the first kneeling task chair for Variér. But on the whole, Norway has quietly got on with design in the shadow of its neighbours, building on a unique heritage that goes back almost 100 years.
Yet something has clearly changed. With a newly powerful presence on the contemporary design scene, suddenly all eyes are on Norway. In the last decade, a talented crop of young designers has stepped into the limelight and, in the process, reinvigorated some of the country's oldest manufacturers. Exhibitions such as 100% Norway (the 8th edition to be held during September's London Design Festival) do their part to feed the flame internationally – with this year's exhibitors bringing over a clutch of new and classic pieces geared toward the retail and contract markets. Amid all the excitement, though, onoffice is still left wondering what characterises "Norwegian Design"?
To answer the question, I'll set off on a trip around Norway – traversing fjords, forests and snow-capped mountains with my trusty tour guide, Knut, from InsideNorway. The plan is to visit as many designers, factories and showrooms as we can pack into three days. Five flights, three ferries and 550 miles of driving later, I hope to have a decent snapshot of what our Nordic neighbours are up to…
Oslo
It makes sense that my first stop after landing in Oslo is the studio of Espen Voll and Torbjørn Anderssen. The pair have been the country's most prolific and well-known designers over the past ten years, and in 2000 they helped form the seminal collective Norway Says, kicking off a design renaissance. When the group exhibited that year in the Salone Satellite in Milan, it was the first such outing for up-and-coming Norwegian designers at a major fair. The international furniture industry was keen as mustard because the products were very good, and as a result Norwegian designers started to look outside the country's borders for work. "When we started out, 'Norwegian' was very exotic, the last frontier of the Scandinavian design thing," says Voll.
The millennium also marked the start of a period when established, family-run furniture companies like LK Hjelle saw value in collaborating with fresh talent. Young Norwegians have been inspired to pursue design ever since, and the country now exports more than ever. "We're in a transition period at the moment," Voll continues. "Ten or 15 years ago most Norwegian designers were constrained within the boundaries of Norwegian industry. But we started this outgoing movement through Norway Says. We pointed out the way of establishing yourself outside of Norway and finding the manufacturing partners that would be most suitable to individual style or ideas."
So if it's all about individual style, is there a thread that links this new generation's work together by shapes, materials or ideas? Is there something "Norwegian" that can be picked out? Anderssen and Voll are suspect. "Of course we are Norwegian designers because we are from Norway and we work from Oslo, but we're not so concerned about a Norwegian design identity," says Anderssen. "It tends to be more of a marketing tool," Voll adds, candidly. "If we say we're Norwegian then we're differentiating ourselves in a very easy way. People want a label."
Both designers balk at the suggestion that Norway's design language is influenced by nature, an idea that is comprehensively hammered home in the press. "Historically, the Finnish have been much more inspired by nature than the Norwegians. The Norwegians have been more inspired by rational production and hardcore, strict, almost crude language," explains Voll. (Apparently a strong link with the United States in the early 20th century meant that some Norwegian furniture companies adopted a Henry Ford approach to manufacturing versus a more craft-based approach.) Anderssen agrees: "This nature thing is just something that young designers feel obliged to fulfil. And the strange thing is that we haven't done anything nature-inspired until the last year or two." Which sort of defeats the point, in a sense, because obviously there is a subtle influence – at least in terms of materials (wood versus plastic, for example). The duo recently produced some little containers shaped like mushrooms, which almost seem like a joke, and a swivelling chair called Eva for the Juvet Landscape Hotel (more on that later) inspired by a kubbestol, a traditional Norwegian high-backed seat carved out of a single tree trunk. So maybe they can't see it, but it's there.
Norway Says disbanded in 2009, but Anderssen and Voll went on to set up their own eponymous studio in the disused technological institute on the east side of Oslo, across from the city's oldest cemetery (where Ibsen is supposedly buried). The pair shares the space with proteges Hallgeir Homstvedt and Petter Skogstad, the four of them making a kind of Norwegian super team – fostering new talent was part of Anderssen & Voll's ethos from the beginning. Homstvedt worked for Norway Says before breaking out on his own – this year launching pieces for Established & Sons (a resin and aluminium lamp that looks like a mushroom) and Muuto. Skogstad, though still technically working for Anderssen & Voll, will exhibit a new chair at 100% Norway and has garnered a fair bit of attention on his own for Hay, a modular sofa system inspired by the dimensions of hay bales. So, to recap, on my first day in Norway the country's top designers have told me that there is no such thing as a contemporary "Norwegian" style of table, chair or sofa. That could be true. But I'm not totally convinced.
Risør
Heading south out of Oslo, I'm treated to my first glimpse of rural Norway. Lakes, flower meadows and rolling hills covered in pine forest whiz past the car window as we head down to Risør – a charming coastal community known for its fishing, wooden boat festival and furniture factories. Knut tells me it's a popular place for Oslo residents to have their summer cabins. Our first stop is Hødnebø, established in 1904 by furniture maker Stian Hødnebø. The factory is just outside of the town, and we're greeted at the door by Stian's grandson, Stig, who is now in charge of the contract business, which is primarily geared toward hotels and conference environments. The company has launched a new brand called Spinnaker, a range of luxury chairs incorporating cotton sails into the frame. Hødnebø's values, I'm told, are based on history, tradition and Norwegian culture, and while the Spinnaker chair plays on the area's sailing and fishing heritage, it's hoped that it will also provide a long-needed image update for the company. "Up to now we've been looked at with old-fashioned eyes," says Tor Arne Skjævestad, who heads up the new division. "We all love to go sailing and fishing and be on the sea, so it was impossible for us not to have that link." When we leave I see he's got windsurf boards strapped to the top of his car, so he's telling the truth.
Moving into the centre of Risør makes it abundantly clear that boating, fishing and general sea-related shenanigans are the main (read: only) activity to be had, in case there is any doubt. In the sun, the colourful little wooden houses look like a candy-box, and at Hødnebø's shop (which used to be the founder's home) I sink myself into a Relax chair – a design classic held together by a leather strap and rope, first launched in 1962. We are scheduled to visit a boat-maker, which I am unbelievably excited about, and then Nora of Norway, a furniture manufacturer established in 2008 known for combining modern design with traditional craftsmanship. But it seems the good weather has worked against us. With a heavy heart, Knut breaks the bad news. "They've gone fishing for the rest of the day," he says. "Both of them?" I ask. "I'm afraid so." I'll have to come back for the Risør design festival, which happens every few years. It's back in the car to drive three hours further around the coast to a town called Kristiansand, where a hotel in the shape of a pirate ship awaits us. Apparently it's a big deal in Norway. My room is leopard-themed.
Stryn
The next morning sees a 5am start to catch a flight back to Oslo, where we transfer to a tiny plane going to Sandane in western Norway. Careening incredibly low over the water of the majestic Nordfjord and onto the runway of this dinky, postage-stamp-sized airport is both exhilarating and terrifying. I must admit that I'm glad to be back on terra firma and on our way to a major hub of the Norwegian furniture industry, Stryn. This remote part of the country is home to a bulk of the furniture manufacturers in Norway. As we drive alongside Sognefjord, the longest and deepest fjord in the world, Knut fills me in on the region's design heritage. At the beginning of the 20th century, design was a way for the farmers and fishermen to make extra money. The story goes that a lone travelling teacher taught local people the craft of weaving rattan, which quickly bloomed into small commercial ventures. The industry around the marine sector – ie machinery and boat-makers – was already in place in the area, so opening furniture and textile factories was a natural evolution. It was cheap to make things, plus, unions were weaker and the workers didn't demand very high wages. Around lunchtime we pull into the valley of Stryn and the showroom of Stryn Møbelindustri AS, established in 1939 by skilled craftsmen working mostly with wood. The company trundled along producing furniture and parts, using local materials, until the late 80s when new owners decided to take a more design-based approach. One of Norway's most prominent designers, Olav Eldøy, is here to talk us through the recently launched Dina range, which combines typical Scandinavian form with a dark, Italian styling. Like Anderssen and Voll, Eldøy isn't sure whether there are distinct qualities in Norwegian design. "There is something living inside me that is Norwegian," he says, "but I get influenced from Italy and other places around the world as well." Is he influenced by nature?
"I design furniture first without thinking and then I make the story afterwards," he says, chuckling. "But I do think nature is influencing us in some way. It's impossible to only draw circles and straight lines when you've been born and bred in nature." (Eldøy grew up on a small island off of the west coast). You can see what he means in the swoops and swings of the chairs he's designed for Variér, another company we'll visit tomorrow.
Before leaving Stryn, we call in on Silje Vollan, who is part of the founding family of Tonning Møbelfabrikk, established in 1946. Best known for designs by Alf Sture – Ola Windsor and Chair 1036 – the furniture, like the other local manufacturers, uses solid oak and birch paired with local textiles and traditional craft techniques. On the factory floor I meet Rune, 43, who has been sewing the finishing details by hand since he was 16. But as with any business, Tonning is concerned about keeping the product lines fresh. In 2009 industrial designer Johan Verde was drafted in to create a modern work chair with laptop table, called Surf, as a shot in the arm for the business (it will be featured in the press lounge at 100% Design this year, I'm told). One thing I'm noticing is that these companies are not maniacally producing new ranges as a PR stunt, as you see so often. They're taking their time.
Valldal
We have much more to see before I can lay my head on my pillow at the Juvet Landscape Hotel, conceived of as part of the National Tourist Route's scheme to explore Norway's breathtaking nature. So it's into the hatchback and over the Trollstigen mountain pass we go. Knut is very obliging and pulls over for me to gawp at the scenery, which shifts from snowy, barren peaks to lush pine forests, before opening out to a vista of the Geirangerfjord, with its mossy granite canyon walls. All of it is staggeringly beautiful, so thankfully there is a place where I can stop for chocolate ice cream to collect myself before boarding the ferry.
After arriving at the Juvet hotel, designed by Jensen & Skodvin, I'm almost too worn out to appreciate the minimalist timber pods perched on stilts beside the river Valldølla, at the bottom of an immense mountain gorge. But there is the local delicacy of dried fish and cured moose meat to eat for dinner, and I can't help but sit up until 2am, in full daylight, watching the water slosh by underneath the glass wall of my bungalow.
Sunnmøre
It's time to head out closer to the sea, Knut tells me over a breakfast of smoked trout. We jump in the car and drive one-and-a-half hours to Skodje, forested home of the Skokke and Variér factories. Both used to operate under the name Stokke, a company established in 1932 by Georg Stokke, until they broke into separate entities in 2006. They still share the same building though. Stokke spokesperson Janne Strommen reckons the western fjords hold so much of the Norwegian furniture industry because of the entrepreneurial spirit of the people in the area. "Starting out with empty hands, and then building businesses, that's what it's all about here. It always has been. All the big families with a lot of money now, they came from nothing," she says.
Variér produces all types of seating – from task chairs to more design-led pieces for the office or home – but the legacy of Peter Opsvik's Balans revolution is what is most potent here. In the early 1980s, Opsvik and like-minded designers publicly rejected "Scandinavian design" because they felt it was ideal for industrial production but hadn't reconsidered the concept of sitting. So, giving two fingers to Scandi style, they applied new ideas of ergonomics, balance and movement patterns to their products, and the first kneeling office chair, the Balans Variable, was born. (HÅG is another Norwegian office chair manufacturer developing Opsvik's Balans concept). Here in the Variér showroom I get to try one out for myself.
It's comfortable but it sure ain't pretty.After another stretch of driving and a ferry crossing the Storfjord, we arrive in Sykkylven – "one of the ten most beautiful cities in the world" according to various travel mags. At the foot of an alpine mountain range, Sykkylven's bay is dotted with factories related to the furniture industry ie foam, cardboard wrapping etc. The headquarters of Ekornes, makers of the hugelypopular Stressless chair, can be seen across the water. But we're heading instead to LK Hjelle, a small family-run company started in the 1940s that has made the most of Norway's recent international design momentum, though its business is based wholly on local subcontractors and all production happens on site. The founder's grandson, Dag Hjelle, meets us out front of the modern, white building. Glancing into the showroom on the way to the factory, I catch a glimpse of what the company has become known for in the last ten years – modern sofas and seating designed by Norway Says. It's been a fruitful partnership. Ugo, a modular system from 2003, is still a bestseller, but there have been about a dozen other projects since then including colourful poufs, the Eva swivel chair and the OK sofa, all of which are featured at the Juvet Hotel.
Hjelle sits in his office surrounded by prototypes, talking about the future. "If we want to continue to exist, we can't make easy, cheap furniture," he says matter of factly. He adds that he'd like to collaborate with more designers outside of Norway and target other markets, because right now only 10% of business is exports. After a tour of the factory, it's nearly time to leave. The last ferry ride, with sun on my face, is bittersweet, and to mark the end of my tour I eat a sweet pancake with brown cheese. Knut heads for the airport for a final internal flight to Gardermoen, but not before stopping for lunch in the picture-perfect town of Ålesund.
Have I learned what Norwegian design is? I know that nature plays a part no matter how many times Norwegians try to deny it – it's in the lines, the materials and even a preoccupation with poking fun at it. There is a rich history of craftsmanship that pervades the production of modern furniture, and most Norwegian companies manufacture locally or in their own factories. But unlike the Danes, the Finns and the Swedes, the Norwegians have a bit of freedom when it comes to style. They have fewer design legends to live up to, so in many ways, it's an open book. To all who contributed to the journey – tusen takk!