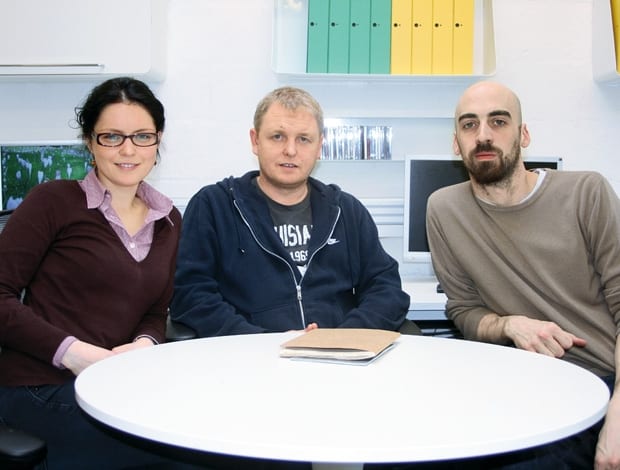 The Craig Jones Design team, from left to right: Rasa Malinauskaite, Craig Jones and Frank Sasia|Early render of modular break-out seating concept Eclipse Bench|The multi-functional Nomad storage unit – one of the company's products currently in development|The company's bread and butter: platform desk produced for Techo|Storage units designed by Craig Jones now being used in his own office|Orange acoustic wall panels designed for Acoustic Comfort, on display at a Harley Davidson showroom|Jones has meticulously restored this original gothic harp. Will Guinness come knocking?||
Office design stalwart Craig Jones Design is looking to steer the company into more creative waters. We meet the skipper and his crew to find out more…
Deep in south London, in the slightly rough and ready Battersea Business Centre, is Craig Jones Design. The business' home since 2007, it seems a natural habitat for a company recognised for its unpretentious, practical designs. After negotiating a couple of flights of stairs plus a wander down a dimly lit corridor, I find the door. After a gentle knock I give it a shove, nearly knocking out Rasa Malinauskaite, Craig Jones' admin bod and latest addition to his team.
Dressed in jeans and a shirt, Jones cuts a no-nonsense figure and his firm handshake (not a bone crusher) does nothing to dispel this impression. The office itself is all business. Uncluttered desks line the edges of the square room and a serious-looking designer type stares intently at a large computer monitor. Jones later admits the place is usually awash with rogue nuts and bolts, but for now he is more eager to talk about what he sees as the business' image problem.
This is a little surprising. Founded by Jones in 2000, the company has a well-deserved reputation for well thought out and successful workplace designs for bigwig clients such as Humanscale, Cosco and Herman Miller. The company can do it all too: from concept to development, manufacturing and production tooling. So it's all tickety-boo, right? Well, not entirely.
"I think we have a perception problem," says Jones, his Welsh tones diluted somewhat by 15 years of London life. "We want people to understand that we are not just a solution provider, we are about the creative side as well."
As we chat, it soon becomes clear that the desire to flex his creative muscle has been a driving force throughout much of Jones' career.
"We just sit round a table with a pen and paper and invent a project"
As a young designer he cut his teeth working for office furniture manufacturer Senator, and the now defunt office furniture supplier Project, but despite becoming a design manager at the latter he resigned in 1999.
"There was no creativity, just banging out products. Maybe I was a bit cocky, but I thought I was better than that," says Jones.
There then followed a burst of freelance activity, which saw Jones design sculptures for artist Anish Kapoor and take on interior design work for Jemima Khan. Exciting times indeed, but towards the year's end he once again found the corporate world beckoning, this time in the form of a job offer from furniture giant Herman Miller.
Not wishing to become a company man, he instead decided to go it alone, and with a solid and varied foundation it wasn't long before he built up a client list that's a who's who of office design. Of late the company has been working hard on a series of more offbeat products due for release in the summer. These, you sense, are the key to unlocking more diverse avenues for the company, but for now they are playing the waiting game.
"I sort of feel that we are just peering over the wall looking at the other side," Jones says.
To unblock the creative juice ducts, the design team, which comprises Jones and Frank Sasia (the aforementioned serious designer type), have set up what they call the Friday Afternoon Club.
"We just sit round a table with a pen and paper and invent a project," explains Jones. The concept has so far born fruit in the form of two new products: the Eclipse Bench, a break-out seating system, and the restoration of an original gothic harp.
The Eclipse Bench is very much Sasia's baby, so it's probably for the best that he doesn't see me narrowly avoid putting my foot through the £1,500 polystyrene model delivered the day before. The initial prototype was handmade by Sasia from profiles cut from plywood arranged to make a latticework and then skimmed a bit like an aircraft wing.
"The process was a lot more free flowing because we were doing it off our own bat," he says.
"We want people to understand that we are not just a solution provider, we are about the creative side as well"
The team has also been developing a portable storage system, Nomad, for a well-known US client who wanted something a little subtler than a portable safety deposit box. Made from moulded PVA foam, it combines smooth rounded lines with the practicality the company is known for.
However, these products would not have been viable but for Jones' extensive reinvestment in the company, both in terms of technology and training. This has not only allowed boundary-pushing in design terms, but also ensured a product range that includes acupuncture pods as well task chairs. Diversification is clearly important for the firm.
"I don't ever want us to be in a situation where we are designing a chair for two companies at the same time," says Jones.
The man himself is currently working on his own little pet project, converting an original gothic harp into a sculptural piece featuring fibre optic lighting in place of strings.
"Craig's foray into the world of modern art," deadpans Sasia.
Whichever way you look at it, the project is an odd one, especially when you consider the conventionality of the company's previous work. But Jones is quick to point out that it is very much a one off and more an illustration of their design capabilities rather than indicative of an ethereal new direction.
That said, the new technology has undoubtedly freed up the company to develop more interesting products and coincides with a significant shift in Jones' markets.
"Three years ago every product we were doing was being exported," he says. "Now everything we are doing is for UK manufacturers."
The underlying factors are varied, but according to Jones it's a question of economics rather than jingoism. Unfavourable exchange rates have resulted in much greater demand for UK-manufactured products. "We used to be flying off to New York for meetings – now we drive to Rotherham. It's not quite so glamorous," he chuckles.
Not that this bothers Jones, who seems perfectly at ease with the company's homegrown appeal. The recession, too, has had a positive impact on business. As clients have cut back on design teams, Jones has seen a rise in demand for firms that can offer the full monty. It's a niche that he and his gang are only too happy to fill.
"The end game for us is always that the product is in manufacture and sells lots," he says.
Admirable pragmatism in an industry that produces its fair share of concepts, but not always tangible designs. However, Jones still believes the company has yet to achieve its full potential.
The fire in the belly still burns though, albeit less fiercely than the early days.
"I am still quite determined to succeed because I don't think we are anywhere near success yet. We are quite relaxed here and I am probably not as aggressive as when I worked ten years ago. Rather than be the boss with the big stick I want them [the staff] to take control of their own destiny." One suspects it's this faith that will ultimately determine whether or not Craig Jones Design will finally scale the wall it feels it has been peering over for so long.