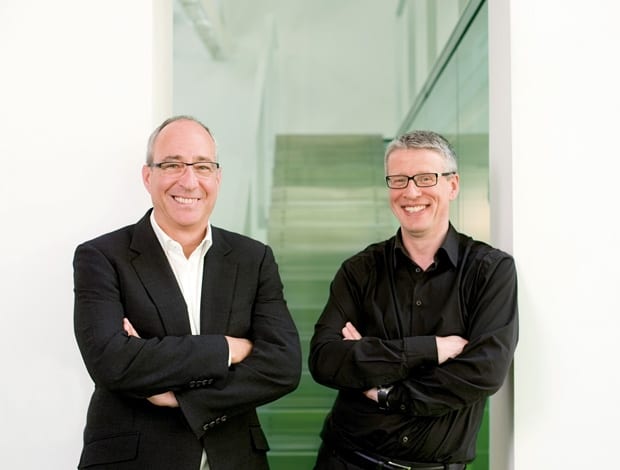 Principals Alex Lifschutz (left) and David Sandilands (right)|Proposed plans for 120 Moorgate, with Lutyens' Britannic House next door|Furniture adds a few extra curves to the already shapely Asticus Building|The practice's own HQ, the former Island Studios building in Hammersmith|The Asticus Building, trickiest of all tricky central London plots|The Charlotte Building, recipient of BCO's Best Commercial Workplace award||
Lifschutz Davidson Sandilands understands the nuances of the capital's office market – and, crucially, the way we've also evolved as workers – like few other architectural firms
Alex Lifschutz jokes that Paul Sandilands, his voluble co-director at architects Lifschutz Davidson Sandilands, barely lets him get a word in edgeways. True to form, when Sandilands joins us at a meeting in their west London offices, he obligingly mocks Lifshutz's new iPad.
Yet it's clear that the two principals thrive on their lively office banter. The practice has grown to 110 staff, and work is about to begin on one of its most prominent projects to date, 120 Moorgate in the City of London, which sits next to Lutyens' Grade II*-listed Britannic House.
Some architects promote a signature style but Lifschutz Davidson Sandilands is proud to be hard to pigeonhole, both in terms of building style and building type.
Its portfolio encompasses infrastructure, health, housing, offices and leisure, ranging from the crisp rigour of the award-winning Charlotte Building in London's West End to the sensitive facade retention of the Davidson Building in Covent Garden, claimed to be the first low-energy speculative commercial office building in the UK.
The practice's many projects on the capital's South Bank include the creative reuse of the brick-clad Oxo Tower Wharf and the Hungerford pedestrian bridge spanning the Thames.
"We're very curious. We don't have a style or brand that's imposed but a process that takes a building need and comes up with a solution," explains Lifschutz, who founded the practice 25 years ago with the late Ian Davidson after they met while working at what was then Foster Associates.
"We design by consensus. It's impossible to put a finger on who did what," adds Sandilands, who became a director of the practice in 1992. Yet, he says, the trick is to make this look seamless and effortless, as if designed by the same person.
Both directors are engaged by the evolving nature of the office as it responds to changes in working culture and technology.
Nowadays, they say, office design is all about creating the right backdrop for social communication – in other words, since technology has made remote working viable, the whole point of working in an office is communing with others.
"People are looking for different values – much more interesting values than they ever were before," says Lifschutz. "For architects, it's no longer about creating the biggest trading floor, like in the 1980s, but about how congenial, creative and exciting we can make the environment. It's about social communication and intellectual exchange."
This means using the workplace environment to create and manage social encounters within the office, whether through a ground floor cafe, for example, or by consideration of where to place the kitchen, as well of course as providing an appropriate variety of core working environments.
Within this more city-like environment, facilitating human interaction is far more important than creating innovative design styling that can quickly become monotonous, says Lifschutz. With the increasing overlapping of work, leisure facilities and the public realm, firms like Lifschutz Davidson Sandilands that work across multiple sectors hope to be well placed to pick up workplace projects that interact more with the public realm.
The elegant 120 Moorgate, for example, will provide ground-floor retail as well as eight floors of Grade A offices for developers Redevco, while the ongoing Hanover Square project will incorporate the Bond Street Crossrail ticket hall. This 30,000sq m project, for Great Portland Estates, houses new offices with flexible floorplates behind new and retained facades.
"It's about how congenial, creative and exciting we can make the office environment"
Building longevity and loose fit is also a priority for the practice.
"In a way, the building has become the client," says Lifschutz. "You have to create buildings that are capable of change. When we convert a building, one of things that interests us is that it isn't the last conversion. We've created offices out of residential and vice versa. There's a greater possibility of flexibility of use than ever, partly because of technology. You don't need huge server rooms – you could have a hedge fund working in a former domestic building."
The practice's offices are in its own conversion of the former Island Studios headquarters in Hammersmith, which were themselves once a laundry.
Having worked extensively in the borough of Westminster for clients such as Derwent London and Great Portland Estates, Lifschutz and Sandilands are intimate with the nuances of different West End locations from Mayfair to Soho, and the very particular offices that suit those environments; 120 Moorgate will be their first foray into the City of London. Lately, they've noticed an overall trend for densification, routinely designing for 8sq m per person compared with a previous norm of 14sq m.
In 2006, they completed the ten-storey, circular Asticus Building for IVG Developments on a site that had been vacant for a generation. And the Charlotte Building, designed for Derwent London in the capital's "Noho" district, has been one of the practice's most successful recent projects, winning BCO Best Commercial Workplace in London 2010.
Lifschutz Davidson Sandilands created a dainty, L-shaped building with glazing deliberately kept to just 40% of the facade to reduce solar gain. The vocabulary of materials is clear – black for the windows, gold aluminium casing to express the offset structure, and glazed shadow box spandrels, with a dotted pattern that creates shadows and depth. Inside, the space is simply finished with exposed concrete soffits and floors and openable windows.
Having grown into a very sizeable firm, the practice is not particularly interested in getting any bigger and is instead mindful of nurturing its client relationships, many of which are long and fruitful (120 Moorgate is another Redevco collaboraton, for example).
"We're a good size. It's important that we know people and provide excellent service for clients in an old-fashioned way," says Sandilands. Nowadays, he adds, clients want to enjoy the journey of creating a building. Gratifyingly for Lifschutz Davidson Sandilands, many indeed do so – and come back for more.