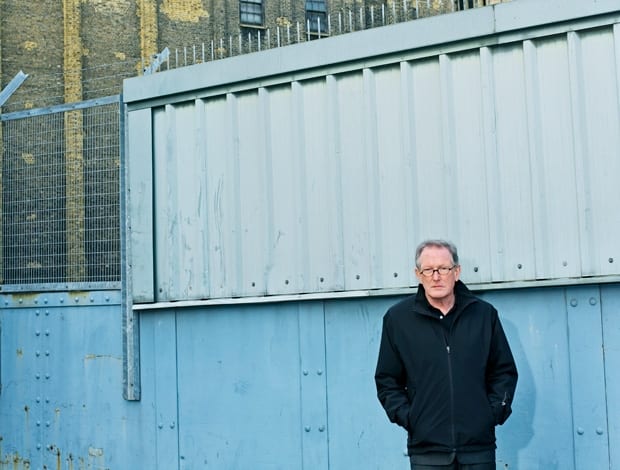 The understated master of London architecture|CGI of the flagship art'otel building in Shoreditch|The 11-storey Unison HQ on Euston Road, which aims to fit in with surroungin Grade II listed buildings|The revived Chesham House office building on Regent Street|Mixed-use office and residential development for Mitsui Fudosan on Hanover Square|Gallery space in Howick Place, Westminster|Illuminated cladding at the London HQ of clothing firm Reiss|CGI plans for a mixed-use development at Potters Fields|An office project replacing two post-war buildings in Baker Street|The Dover Street office development, which integrates with a listed streetscape dating from 1683|Inside the Portland stone Belgrave House building, near Victoria station, London|An early masterplan for the controversial Chelsea Barracks development||
After years of 'rather polite' designs, architecture's quiet success story is trusting the next generation to make a little more noise
Michael Squire isn't bothered about building icons. Over 30 years his architectural practice, Squire & Partners, has amassed one of fattest building portfolios in London, but the average person on the street would struggle to name any of their creations. That's because historically the firm's architecture has been preoccupied more with fitting into its surroundings than standing out – a departure from the shape-making razzle-dazzle we see from so many of Squire's more widely known contemporaries.
In the architect's own words, his body of work – a mix of office, residential, hotel and masterplanning – is "generally rather polite".
With the exception of a handful of new projects spearheaded by a younger generation of partners in the firm, including Squire's son Henry, his buildings have not been the kind to attract one-word nicknames in the press.
The muted Chesham House, a refurbished office in Regent Street, or even the Unison HQ, due to complete on Euston Road this month, are a testament to the gentleness of a classic Squire scheme. At 64, the architect has managed to fly successfully under the radar and, based on the few interviews he's given over the years, he seems to like it that way. He is keen to stress, however, that the younger chaps in the practice "keep things fresh".
"It's really good because we haven't got that sort of logjam that an awful lot of firms have, where you've got a long, impossible pecking order. Here we go straight down to the next generation," he enthuses. "These guys [Henry Squire, Tim Gladstone and Murray Levinson] are really interesting – they've kept our history and our way of doing things but they moved us on. I think we are a little more adventurous than we were and it's been lovely and exciting."
In the past three years, a new crop of Squire buildings have caused a splash – starting with the award-winning illuminated office building for Reiss in central London in 2008 (onoffice October 08).
More controversially, proposals for a cylindrical (and some might say slightly impertinent) structure for art'otel in Hoxton were approved last year. These, plus high-rise mixed-use schemes in Vauxhall and Potters Field near City Hall stand out for their departure from the firm's usual architectural language. Still, the bulk of the practice's past and existing projects could be described as unobtrusive and subdued – and there is a perfectly good reason for that, he explains.
"There has been quite a long period of architectural practices who saw their buildings as objects. They made them beautifully, detailed them beautifully, but the building would have been the same whether it was in London, Hong Kong or Moscow. We are the reverse of that," he says, sitting in the firm's office in King's Cross. "The process is always the same – we think about rooting a building in its environment rather than the other approach, which tends to be 'This is my object – I have a typology and a philosophy of what a building is and it doesn't matter where it is.'"
"There has been quite a long period where architectural practices saw their buildings as objects … We are the reverse of that"
It continues to be a Squire speciality to design modernist buildings in sensitive contexts – something developed early on when most of the practice's work was based in Westminster.
Currently, a mixed-use office and residential development for Mitsui Fudosan on the south-east corner of Hanover Square, and a smaller office scheme nearby on Hanover Street show the finesse with which Squire works within tricky settings, in this case the Mayfair Conservation Area. Both projects are under construction and use materials that relate to the area's history – black/grey bricks in the former and a suggestion of brass and military tailoring in the latter.
Although the Unison tower makes a statement on Euston Road, it doesn't scream "Look at me" as other high-profile developments in London do. Unison's brief asked for a "landmark", and while Squire acknowledges the building is tall at 11 storeys, he says its height is consistent with its surroundings.
"I find the landmark thing quite a difficult subject because everybody seems to say 'my building is a landmark'. I would only say that this building is on the Euston Road, a street that tall buildings have occupied for many years. Love them or hate them, it is not an unnatural thing to do," Squire explains.
The overall impact of the office tower, integrated with a group of Grade II listed buildings, previously the Elizabeth Garrett Anderson Hospital, is a rather low-key campus for the trade union.
"I quite like the fact that it's a small floor plate," Squire adds. "I really enjoy buildings that are slender. It not normally really being practical, you can only really build them for bespoke projects – and these dimensions were exactly what Unison needed."
The building's Portland stone cladding is a signature Squire flourish – a detail that can be seen in other projects including new office projects on Baker Street, Piccadilly and Dover Street, the latter a delicate integration into a streetscape dating back to the late 17th century.
"Quite often for us, a building should be polite. It's not always the cathedral. If you take a Georgian square, maybe you've got a church at the end that is something completely different to the others. I find it equally interesting and exciting to do either of those but I think it gets a bit silly if everybody is trying to do a strawberry. Everywhere – they're all trying to make a shape. One of those in a key place, for a key reason, like Reiss, is correct," Squire says.
"I really enjoy buildings that are slender"
Is politeness in architecture a good or a bad thing? Clearly it depends who is being asked. Squire was met with a typhoon of negative publicity last year following his involvement in the latest masterplan for Chelsea Barracks – a scheme that has been criticised for bowing to pressure from the Prince of Wales following his misgivings over Lord Rogers' original designs, and which has become the crucible of a war between the defenders of modernism and its perceived threats.
Interestingly, Squire seems unruffled by any of it. He doesn't religiously read his press and, though he's quite happy that Cabe and the Royal Borough of Kensington and Chelsea have responded positively to the plan for the site, he understands there are wider implications within the drama. He also acknowledges the architectural profession's hostile response last year to comments about the barracks by Prince Charles, whose habit of looking to the past was summed up by the 1984 speech in which he dismissed a planned modernist extension to the National Gallery in Trafalgar Square as a "monstrous carbuncle".
"I think there is a natural underlying war that has been in process since Trafalgar Square and the carbuncle, and it's a war between the kind of Buckminster Fuller architecture of Rogers and Foster – the real starchitects of that language – and Prince Charles. It's a silly war, really," he muses. "I think what happened on this site is that the architectural profession probably said, 'let's protect what is being attacked'. But the scheme that we've done was not designed by Prince Charles, we haven't met Prince Charles, we don't talk to Prince Charles, we don't know anything about what he thinks it should be. This is what we and Dixon Jones believe is right and I think it's a really lovely scheme. One day I think everybody will see that for what it is. But at the moment, it's part of the war." The new scheme has been submitted for planning approval, and Squire is confident that it integrates with the surrounding environment in the vital ways that were needed. The problem, he says, is that at this point it is still only a masterplan – meaning people are jumping to criticise drawings of buildings that haven't been commissioned or designed. "When we illustrate anything it has to be vague, and then people put their own interpretation on it and say it's neoclassical. Well it isn't anything, it's not meant to be anything yet."
Michael Squire was born "right in the middle of London" and began his career in 1976 from a basement in Pimlico, a third-generation architect starting out by doing bathrooms, kitchens and extensions.
As the business expanded over the following decade, he made the move with business partner Paul Harrison to a town house in South Kensington, and began taking bigger commissions – including a number of projects in Docklands and small office fit-outs – then on to large-scale building projects in London, Manchester, Eastern Europe and Singapore. How have things changed since those early days?
"Well, there was a project of ours on the Isle of Dogs in the 1980s called Sufferance Wharf, and it is a little group of buildings at the back of the pavement. They are crisp and neatly detailed but conscious of trying to make urban spaces. And I think we are doing exactly the same thing now," he says.
"Quite often for us, a building should be polite. It's not always the cathedral"
In 2000, when staff numbers at Squire's operation passed 100, the practice moved from South Kensington to a converted warehouse in King's Cross.
"It was a little bit of a culture shock at first," he admits. "When we came here it was hypodermic needles and blowjobs, it was really rough. You know, it was King's Cross at that time."
It turned out to be a sensible move nevertheless, but for now there are no aspirations to grow much bigger.
"We're a family. We don't want to be a factory. When you get over a certain amount of people you don't know all of their names, you don't communicate, you don't have the focus about what you do because you have to delegate so much," he explains.
Which is why it is so impressive that Squire and Partners remains one of the most prolific practices in London, with nearly 20 sizeable projects on the books at present – like them or not. He remembers a journalist saying 20 years ago that he was the guy who keeps on doing buildings that nobody shouts about.
"And I think that is true – but I think my younger partners will shout a little louder. And it's not that I don't want to have the respect of my peers, because I do, but I think we've always been focused on delivering buildings to the highest possible standard that we can. If someone will wave a flag about it, that'd be nice, and if they don't, we'll go on and do the next one."