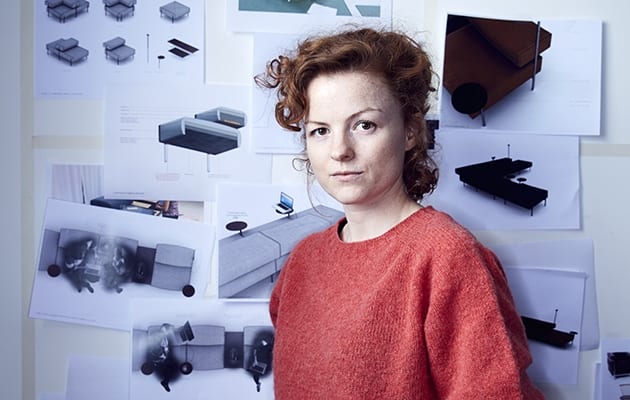 |||
Enter the mind of designer Lucy Kurrein and you realise what a complex, sophisticated form of seating sofas are. They mirror different needs, aspirations and tastes of mind and indicate what kind of environment they are intended for, be it a workplace or home or, in some cases, both.
A good example of a truly multivalent sofa is Kurrein's modular Lucy for Offecct – named after her by this Swedish company specialising in furniture for working environments. Launched at the Stockholm Furniture Fair this year, it was conceived to suit a hotel or workspace lobby and has domestic and office connotations. Of course, the term "working environments" is ambiguous today given the blurring of boundaries between office and domestic spaces and Lucy encapsulates this.
The Lucy sofa for Offect combines domestic softness and workplace structure
The sofa's form, reveals the London-based designer, isn't accidental. Not slouchy like a sofa you might find in a living room, it is very structured yet incorporates elements that invite lounging. It has deep seats you can sprawl on and horizontal backrests you can lean against – rounded on one side, straight-edged on another. Lucy incorporates upholstered platforms, tables you can rest laptops or trays with drinks on, a coatstand and USB ports.There's the option of inserting spacer tables in lacquered steel between the cushions. You could describe this self-contained piece – in a wide array of colours, from utilitarian grey to luscious lipstick-red – as an alternative workstation.
"I did my research at the lobbies of Ace hotel and Shoreditch House in east London. I live in Bethnal Green so they were on my doorstep," recalls Kurrein, who woke up one day thrilled to find an email from Offecct that said: Hi Lucy,We like your work. Would you like to work for us? "Offecct said to me they feel that domestic furniture is increasingly relevant in working environments. Originally, my design was more domestic, looser, then we tightened it up. I'm pleased with how it's turned out. When you get close to it and touch between the seams, it's rounded, amorphous. But at a distance it looks square. So it feels both architectural and human."
Lucy's nuanced character reflects Kurrein's extensive experience as a designer – and long- standing love of art and design. "I was always drawing as a child," she recalls. "I wanted to be an artist." Having grown up in a "leafy suburb" of Leeds, she did a foundation course at Leeds College of Art. She speaks with pride of its artistic pedigree – its alumni include Barbara Hepworth and Henry Moore – and fondly remembers the city's "buzzing" music scene. "I didn't know whether I was going to be a graphic or fashion designer but my tutors were convinced I was a 3D designer."
She then did a BA in Contemporary Furniture and Related Product Design at Buckinghamshire New University. "I loved it," she says. "I had brilliant tutors like [designers] Carl Clerkin and Alex Hellum.The students were taken on a tour of Italy, visiting Edra's showroom in Milan." And, in 2006, she took part in SaloneSatellite, the showcase for young designers at the Salone del Mobile in Milan.
In her third year, she took part in a project set by Ercol, whose factory is in nearby Princes Risborough. "The students presented their ideas to Ercol, which then chose its favourite designs to prototype. It was very exciting."
At her degree show, Kurrein exhibited Ercol's prototypes of her designs for a dining chair and table, a shelving unit and a bent plywood stool. In 2007, she participated in New Designers, the design graduates show in London, where she displayed her Ercol pieces and stool.
The Rondo armchair's backrest was inspired by a boxing punchbag
By now she was hooked on furniture design. Why did it appeal to her? "I'm attracted to its human scale – to anything that relates to the body and ergonomics. I'm less drawn to making small things; I'm not a natural product designer. I'm not a gallery designer either – what makes me tick is knowing, or hoping, that what I design will be used."
A mix of serendipity, initiative and sheer dedication have driven Kurrein's career to date. After college, she secured a two-month internship with Matthew Hilton, who was working with Ercol and had spotted her prototypes. She moved to London, staying with a cousin in Greenwich. She then briefly worked as an office administrator for Chris McCourt, director of furniture manufacturer Isokon Plus, but Hilton took her on full-time soon after. "Matthew, who was also designing for [London retailer] SCP, would give me a sketch, then I'd draw it up in CAD," she remembers. "He'd tweak it and together we'd develop it for production. It was a very good way to learn to design for industry."
From 2009 to 2013, Kurrein worked at London design studio and consultancy PearsonLloyd. "I worked on everything from workplace, retail and healthcare to public realm and transport projects for many of the international clients, including Modus, the NHS and the Vienna Tourist Board. It gave me the opportunity to expand my experience beyond domestic furniture."
Kurrein's steel Lily table was launched by SCP in 2013
The association between Kurrein and PearsonLloyd lives on: she showed her 2016 Rondo sofa for Molinari Living along with PearsonLloyd's 2015 Towards New Workplace Paradigms furniture collection for Teknion at the recent exhibition Designers Select Designers at the Aram Gallery in London, which paired the work of established designers with emerging ones.
At one point, however, she had an itch to go freelance. "I wanted to do my own work," says Kurrein, who set up her own studio in 2013. "I spent the rst month building a portfolio of rough concepts." She then made a beeline for the Salone del Mobile. "I marched up and down the aisles of the Rho Fiera, iPad in tow, approaching companies I thought could be up for working with an unknown. I was mostly dismissed by sales reps."
But she had one fruitful encounter with Spanish brand Capdell. "I was sitting with its design director and the CEO, who pointed at one of my renders and commissioned the design on the spot." The resulting Panel chair has a slender folded felt or leather seat. "It was about deconstructing upholstery," she says.
The year turned out to be a busy one for Kurrein. Thanks to working for Hilton, she had links with SCP and sent founder Sheridan Coakley a proposal for another design – her Lincoln sofa. "I was interested in a high- backed sofa supporting shoulders and maybe your head. It's like a lounge chair that's been stretched into a sofa – streamlined yet reclined. Fashion designer John Rocha bought one in lime green – a nice accolade." But she admits that it's not her best design: "Perhaps it's confused about which market it's for – it may be too firm for the domestic market. But, as a designer, you learn on the job." In 2013, SCP also manufactured her powder-coated Lily table, available in a spectrum of funky shades, and her super-squashy Elmer sofa in 2014.
That year, she moved into a studio near East India Dock, and loves it. "It's south facing, catches sunbeams and overlooks the river," says Kurrein, who is also a visiting lecturer on the BA Product and Furniture Design course at Kingston University. "It's quiet. It's useful to be away from the Shoreditch design scene and not be influenced by it."
In 2015, SCP put her unequivocally domestic, canvas-backed Tepee sofa with duck feather- lled cushions and oak legs into production. "It was SCP's 30th anniversary and the company commissioned several designers to create pieces for it. Others included Michael Anastassiades and Konstantin Grcic. It was daunting showing alongside these maestros! I'd just been travelling to Mexico and the sofa was inspired by hammocks people sleep in all night there. I like its back view: I thought the canvas would stay taut at the top but it sags slightly and forms a scalloped line."
Kurrein at her desk in her Docklands studio with a model of Rondo. Photo: Allun Callender
That year, Kurrein's profile was considerably raised when she won the Homes and Gardens Young Designer of the Year award. The same year she created her dressing table-desk hybrid Aponi for Joined + Jointed. Independently, in 2016, she produced a dressing table incorporating a mirror called Perch.
Technically, perhaps her most challenging design has been the upscale Rondo sofa and armchair, made by Italian company Molinari Living, and now stocked by the Conran Shop. "Molinari Living approached [London Design Fair] founder Jimmy MacDonald to suggest designers to collaborate with, and he recommended me.'
The Rondo's "sausagey" backrest, as she describes it, is inspired by a boxing punchbag and made of vegetable tan leather. "It's a very friendly backrest that encourages you to drape yourself over it," she says.
The Panel chair was commissioned on the spot by Capdell
"I was free with its shape as Molinari Living weren't afraid to invest.There's a lot of craftsmanship to it. Its rounded shapes are hard to achieve.The back isn't totally cylindrical. The front of the arms are highlighted by a top stitch, which helps to sculpt the sofa." The slender front legs also push into the sides of the arms, emphasising the leather's soft form. "It was an unconventional approach."
Although Italian-looking – it's reminiscent of classic, 1970s leather-upholstered furniture, for example by Mario Bellini – the grown up-looking Rondo "draws comparisons", she says, "with British Chesterfield sofas because of its low back and streamlined outline".
Where next? "I've started doing lighting too. I'm interested in branching out, seeing what opportunities arise." Even so, it's hard to imagine her drifting too far from furniture. Earlier in our conversation, she told me: "Seating is my favourite thing.There are so many ways of sitting and it comes with so many different types of support that I think that's a nice boundary to work with." And, given her constant experimentation with seating ideas, it seems inevitable she will continue to devise other innovative ideas.
Lucy Kurrein's eponymous sofa for Offecct made its debut at this year's Stockholm Furniture Fair, revealing itself to be as multifaceted as its up-and-coming British designer