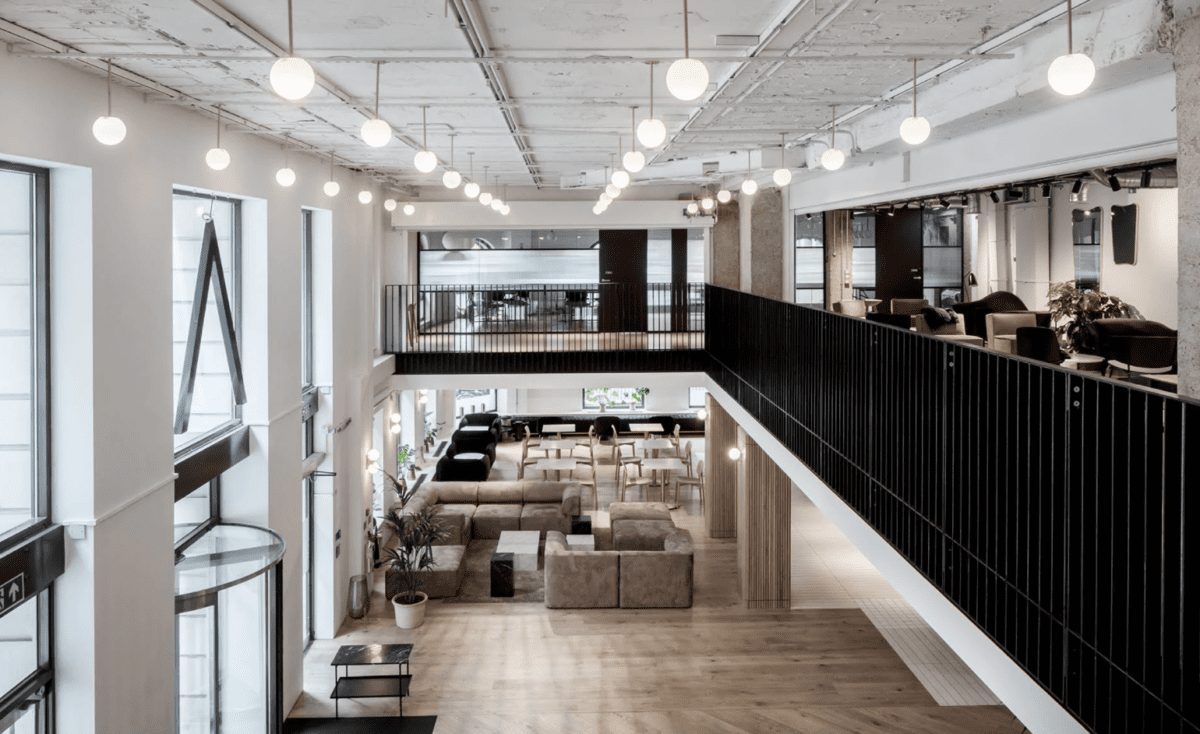 Looking ahead to 2022, OnOffice shares five workplace trends to watch out for this year as chosen by Matt Watts, Chief Commercial Officer at LABS
1. Hybrid Working as a long-term business model
The ongoing uncertainty caused by the pandemic means hybrid working models have become both a norm and an expectation for companies and employees. At LABS, we see many different uses of workspace from people only working in the office one day a week, all the way to full-time use of the space. It is important to note that hybrid working means different things to different people.
Many employees (if given the option) are choosing to work from home on Mondays and Fridays, which means both businesses and the property sector need to explore how to either encourage people to use their workplaces on these days or find other uses for these spaces. Companies will find the best way to manage their spaces through engagement with their teams as to what they want in the space.
2. Demand for bespoke leasing agreements will continue to rise
The pandemic has accelerated the shift in purchasing habits leading to more people/businesses opting to buy space—not desks and chairs. This new way of purchasing is seeing businesses give more consideration to what they specifically need within the workplace and how they create that. We have seen many clients who would have once upon a time acquired space via a lease, however, now move to a more flexible arrangement.
Gone are the days of businesses signing leases for 15-20 years and committing to those kinds of terms. More workspace providers are beginning to deliver high-quality space for companies, providing more flexibility in terms of length signed for, but also having the ability to allow companies to expand and even contract in size where needed.
3. A workplace is not just a place for work
People want more from their workplace to make the commute to work worthwhile. It's no longer good enough to only have a space that's fit for purpose—it must exceed expectations through its amenities, social spaces and ability to foster community, otherwise many users will choose to remain at home.
4. Amenities are not an 'extra' – they are a requirement
Amenities, such as showers, bike storage, cafés, gym, and meditation rooms, are now just 'assumed' as being part of the modern workplace package. Landlords that don't incorporate even the basic range of amenities as part of their offering, will find it difficult to retain and attract tenants, as they will respond to the demands of their employees whose talent they need to keep.
Space is no longer about just having four walls; it is about the space both inside and outside of the office. Amenities include engaging spaces such as lounges, terraces, cafés, gyms, meeting rooms, changing rooms to name a few.
5. ESG continues to be a primary priority
Clients want to know about the quality of services, where we, as suppliers of office space, buy from, right down to where items such as desks are made, what we do with our coffee grinds and what we give back to notable causes.
As we move closer to government target dates for carbon reduction, information such as this will become increasingly important to occupiers as all businesses need to understand its footprint and make conscious decisions that help preserve the environment for future generations.
Image courtesy of LABS
For more 2022 trends read: 5 trends that will impact the world of work this year