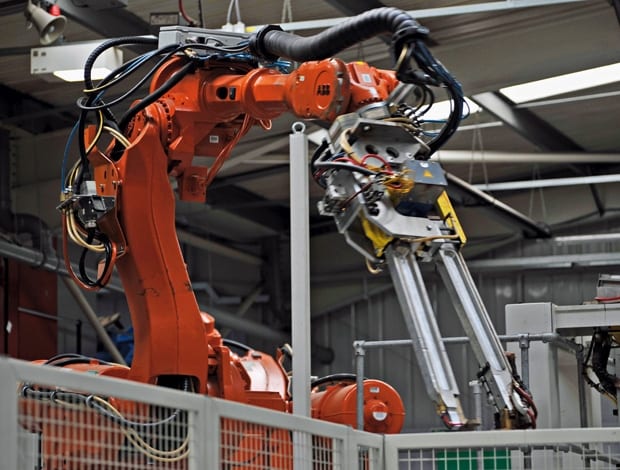 Robots at work in the Bisley manufacturing plant in Gloucestershire|John Irwin||
John Irwin, managing director of Bisley, makes a case for design led manufacturing in Britain
If the recent financial crisis has taught us anything, it is to appreciate the importance of a manufacturing culture. Disillusionment with the banks and the City has prompted many of us to wonder how so much money can be made and lost with nothing to show.
It's not just about the unreal world of high finance, but the virtual reality that we increasingly inhabit with our computers. There is a growing trend toward rejecting these virtual worlds and embracing authenticity – hence the desire to grow your own vegetables or knit your own jumpers.
Hopefully, this will bring fresh appreciation for manufacturing – in particular, for products made locally. It's a straightforward business model: take raw materials, add design, manufacturing, and tooling to create a physical product.
As a baby boomer from the North East, I am part of the first generation not to be employed in the 'smoke-stack' of heavy industries such as ship building and mining. Much of this has been outsourced to developing countries, and Britain has been branded a nation of knowledge workers. With this a perception has arisen that the vast majority work in the service industries.
Yet it's wrong to dismiss British manufacturing as gone for good. In Britain we still make things, and we make them well, using cutting-edge manufacturing techniques and employing local design talent – widely regarded as the world's best.
In our own office furniture industry, you don't have to look far to find home-grown success stories. Not only Bisley, but companies like Senator and Herman Miller retain a major UK manufacturing presence.
It's the sophistication, precision and quality of these manufacturers that is so appealing to designers and specifiers of workplace interiors. In my experience, the quality of the products will largely determine the success of an office scheme. These manufacturers have continually invested in their factories and production technologies, to deliver enhanced products that aren't easily replicated by less-skilled producers.
Manufacturing is often accused of being product led – consumers are offered a product and decide whether to buy it. This may have been true several decades ago, but these days it is impossible for manufacturers to be successful with that attitude.
Technologies employed by British manufacturers have made it much easier to produce individual, bespoke solutions, that can be delivered quickly. And while internal and external designers are employed to create a range of products that you will find in catalogues and at trade fairs, they are also busy working directly with customers on unique solutions.
We have become project-led manufacturers, remaining customer focused and producing solutions to meet their needs. Our industry has evolved into a more consultative format, much more akin to design.
So next time you hear about the UK financial meltdown, take heart that there are real, physical things still being made in the country that gave birth to the Industrial Revolution.