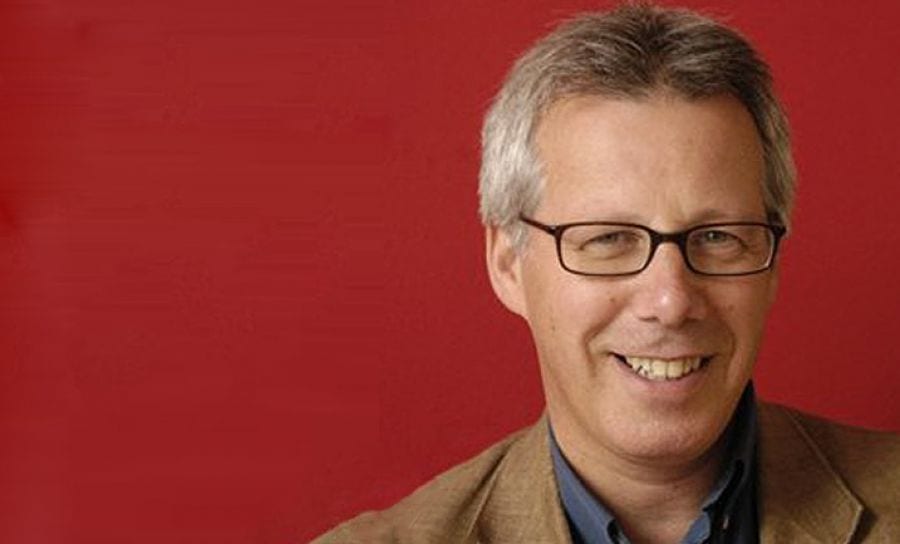 ||
As the ageing workforce becomes more demanding, and the nature of work itself changes, workplace design expert Jeremy Myerson sees the sharp division between home and office breaking down.
I first met Jeremy Myerson in 1985 when he was editing Creative Review. We were sitting on film director-style folding chairs with our names stencilled on the backs, judging the work of hopeful young creatives at an exhibition called The Direct Design Show. I knew him by reputation from the Design Council, where he had been deputy editor of Design magazine. He was an exotic and glamorous figure, inhabiting an industry of which I knew nothing except that I wanted to belong to it. Within a year he had launched DesignWeek, the world's first professional weekly for designers, which is still thriving and whose influence has effectively shaped the British design industry. It's fair to say that without this wryly humorous, self effacing, affectionate and fiercely intelligent man, design in this country would not be what it is.
Myerson would be the first to balk at such a bald statement. Born in Liverpool, he studied English and Drama at Hull University ("I see the office as a stage set") and started his journalistic career on a retailing industry magazine. From there he moved quickly to arts journalism with a job on Stage and TV Today, "covering everything from Grand Opera to the circus by way of dodgy cabaret". He joined the Design Council in 1981 at a time when the UK design industry was beginning to find its feet as one of the drivers of the "loadsamoney" Thatcherite economic and social revolution. From Creative Review in 1984 he moved on to DesignWeek in 1986. By 1989, "riding the Eighties design boom", he had severed himself from regular employment and entered a ten-year period of independent journalism, writing books (his biography of Gordon Russell was published in 1992) and curating exhibitions. In 1991 he took a Masters at the Royal College of Art in London, writing his thesis on The Work Aesthetic – "an exploration of the aesthetic of work based on the ethic of work".
The ethic of work?
"Yes, the Taylorist idea [see page 82] that work should be purposely designed to be different from home. It is there to make you productive, efficient, etc, etc. But that idea was already beginning to break down," says Myerson. For his thesis he worked with a number of designers and companies who were addressing new flexible working ideas (including hot desking, which rapidly fell into disrepute): Geoff Hollington's groundbreaking Relay system for Herman Miller, John Bennet for Marcatré, Perry King for Aqaba, Gerry Taylor for Gordon Russell.
From 1995 to 1998, Myerson was Visiting Professor of Design at DeMontfort University. In 1999, when the Helen Hamlyn Research Centre was opened at the RCA, he was invited to become its co-director ("My first real job") with Roger Coleman, a position he still holds. The job involves exploring and promoting the agenda of socially inclusive design that held many parallels with the work he was already doing.
And then came the books – the trilogy, written with Cordless Group founder Philip Ross, of which Space to Work, newly published this autumn by Laurence King, is the last and final instalment. The first, 1999's The Creative Office "was about big corporations trying to behave like young, small, funky companies in the fashion, music or design business. Using their visual vocabulary." Next came The 21st Century Office, in 2003, which Myerson saw as "tracing a paradigm shift".
"Here, offices are pointers for the future. Technology will completely change how we work. We identified four themes: Narrative, Nodal, Neighbourly and Nomadic. We were also the first to capture the theme of 'brandscape' – brand narrative in office design [where the design reflects and reinforces the company identity].
"The third book has been hardest to pin down. The previous ones dealt to some extent with 'process work', the boring, repetitive stuff like call centres. But work is not about offices any more. That's why this one is called Space to Work. We're trying to understand the knowledge worker.
"Peter Drucker [the veteran American economist and management theorist who invented the term 'knowledge worker' in 1960] died just as we completed the first draft. In 2001 he had been asked by The Economist to write a piece about the new economy. But he'd refused, and said 'I'll do something about the new society if you like' – which was basically all about the ageing population and its impact on workplaces." Which is precisely what the Helen Hamlyn Research Centre project Office Age is addressing – an ongoing research programme demonstrating the different needs of older workers and dealing with new ways of working, accommodating diversity and recognising experience.
"The book is not about a set of office interiors in corporate campuses. You step away from the architecture and think about the engrossing nature of knowledge work. Basically, everyone has to deal with four sets of relationships: family and friends in the home (which might be a workplace too); your colleagues in an employing organisation; your professional peers; and your customers or clients in the marketplace." Thus the book divides projects into "Academy" – the collegiate model where everyone is grouped with colleagues in the employing organisation's building; "Guild" – a place where you group or are grouped according to your skills, not your employer, such as the BBC Media Centre, where BBC journalists, producers and editors and work with people from other organisations; "Agora" – the open marketplace idea, where work is public and you meet and work with your clients or customers; and
"Lodge" – the home workplace.
Ahem. Sounds a bit like something we've heard before, especially since 21st Century Office also pivots on a four-way matrix of buzz-themes. Are you post-rationalising, seeing what's happening then giving it cute names?
"What we're doing is theorising practice. The Creative Office started with a lot of conceptual stuff, but people in the market said 'We want to know what's on the curve ahead, but we want to see it in finished buildings.' Totally theoretical books are hard to access. We find a body of practice and identify it. The Guild thing, for instance – we saw a whole set of offices driven not by the organisation but by a collection of skills. The office used to be hidden. Now it's out there; and we use the books to push that process. When The Creative Office came out we were saying cappuccino bars and brainstorming rooms would be the norm… and we were laughed at. Now look. Our books are a fashion catwalk. You see a Betty Jackson dress and six months down the line it's in M&S."
So does he see technology as the biggest force for change?
"No. It's social and demographic: the ageing population combined with the availability of technology in the home. The changing nature of work itself. It's less process driven, more and more knowledge driven.
"Helen Hamlyn herself believed in 'user centred' design. User research and user observation are the biggest part of the centre's work – older people having a say in the design process. The Office Age project is always about new products and processes to include older people." In his introduction to a Helen Hamlyn Research Centre book entitled Capture It, detailing a research project with Steelcase, IDEO, Daiwa and DEGW, Myerson quotes the stats: by 2020 close to half the adult population of Europe will be over 50, while 20% of the inhabitants of the US and 25% of those in Japan will be over 65 … by 2025, 290 million Chinese and 160 million Indians will be over 60.
"In the future offices will be more sophisticated, richer. We work with user groups to understand how the knowledge worker works, what he or she needs. The next phase of office design is user-centred. With Taylorism it was management-centred, then came technology-centred – aligned with the management agenda of working faster and cheaper. We've never had user-centred office environments before. We've had design-led from the point of view of style – but many highly 'designed' offices are very uncomfortable to work in.
"The office furniture industry and designers have to understand how to interact more closely with users. Consumer products are developed in close connection with the users, after all. Companies have to become hubs of innovation; the process work goes out of town (or out of the country) and knowledge workers drive design.
"The ageing population is not a problem for office furniture manufacturers but an opportunity. These people are more sophisticated, more demanding. And now at the other end there's a new generation of workers entering the office who have totally grown up in the digital age.
"You as an organisation," concludes Myerson, "will see your employee's workspace as a continuum of home, you'll see him or her working in your client's offices as well as your client's people working in yours." The implications for management are legion; far more trust must be placed in the employee, whose management and assessment are based on outcome, not physical presence. There's an environmental payoff too: less commuting means less travel (and more community), less fossil fuel consumed, fewer people on trains and in cars; a better life for all. Which is what we all – except maybe Frederick Taylor – want. Isn't it?