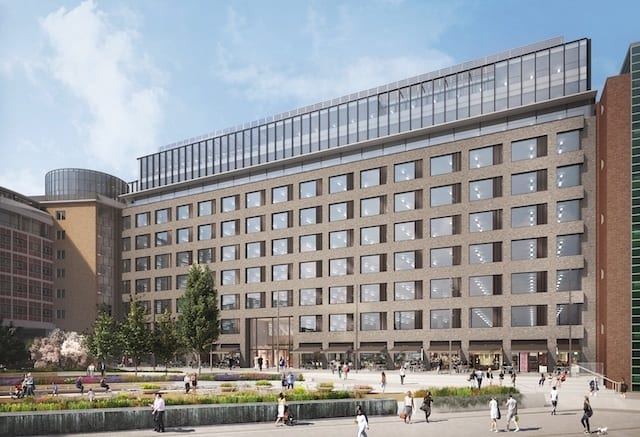 The exterior of the award-winning 2 Television Centre|||
The new year always brings with it a new beginning, but for the British Council for Offices (BCO), January 2020 marks much more than a new year. It marks the year we celebrate 30 years of the BCO. And as we move onto our next chapter, I think it's important we take a moment to reflect on how far we've come.
Read more: AHMM and Foster win big with major office projects
In the past 30 years our industry has continuously challenged itself to find new solutions, create new designs and make possible, where we can, the impossible. This cocktail of purpose and ambition has helped us shape a truly remarkable standard of excellence – and awards have played a central role in that.
Change is not a new phenomenon, nor will it ever be an old one. But as the world around us continues to change at pace, with new challenges across sustainability, wellness and community arising, we can use our awards as an annual checkpoint to hold ourselves accountable for how we contribute to each of these areas.
The interior of the award-winning 2 Television Centre
Amid wider geopolitical uncertainty about what the future holds, awards ceremonies also offer a moment for us to inject excitement into the industry and commemorate the incredible things our people are achieving. It is no secret that recognition helps us all feel valued and motivated at work, but it's worth reminding ourselves that it can also be a tool to attract new talent. Celebrating our existing people helps us share our work with others and in turn, attract and inspire the best people we can.
Awards are also an opportunity for us to learn from, rather than compete against, our peers. No matter how many industry years we may have under our belt, learning from others always gives us an opportunity to see the unimagined and try the unexpected.
You would have had a tough time convincing me when I started in this industry that we would build offices with top-floor swimming pools – and yet here we are, 20 years later, with the BCO's 'Best of the Best' winner 2 Television Centre doing exactly that! A reminder to us all of what we can achieve with new thinking.
The atrium inside 2 Television Centre, BCO's 'best of the best' project in 2019
I've had the privilege of being involved with the BCO's national judging committee for many years – it has been my pleasure to see how the industry continues to challenge itself and grow year on year, and it was my great honour to chair it for the first time in 2019.
Industry awards have played witness to a real evolution in the office space. The offices of today's world are far greater than the four walls in which we work. They are vibrant spaces that reflect something of who we are – and I look forward to seeing what we find in the BCO 2020 programme.
Tony Hordon is chair of the BCO National Judging Committee
Awards may have a competitive aspect, but they're also an opportunity to learn from each other and discover new talent