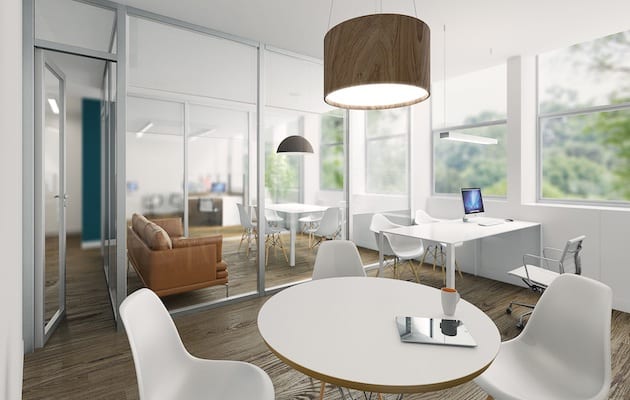 |||
As well as making you more organised and efficient, the right storage spaces can make your office appear clutter-free and attractive. Here are five storage solutions you can try at home brought to by Datadial.
1. Install floating shelves
Floating shelves are a great storage solution that utilises wall space rather than taking up table surfaces. As well as suiting just about any space, they are a great way to add an elegant decorative display into your office.
Eva Leone, Studio Director at Lawson Robb, suggests:
"Sometimes clients like home offices to double up as other rooms such as bedrooms or small family entertainment areas. If you like to collect design objects or other accessories, installing floating shelves is an attractive way to make sure they are put on display without creating clutter and can even become an art piece in their own right."
2. Use built-in furniture
If you are looking for long term storage solutions, or furniture that fits in awkward spaces, then custom built-in furniture is an option to consider. Whether this is a foldaway desk or a built-in bookcase, these designs can elevate your home office to be a permanently tidy and sleek space.
Ivana Allain, Studio Director at Helen Green Design, suggests:
"We like to use built-in furniture to create home offices, particularly as it makes more of the available space. Bespoke desks are a great way to create something functional, as they fit the dimensions of your study perfectly and become part of the room's design with features such as specialist finishes, inlays and marquetry. There's something incredibly personal about desks and people often become very attached to them."
3. Hide your printer into a chest of drawers
Whilst storing your printer may be an afterthought when designing your home office, nothing quite ruins the aesthetic more than a bulky printer overflowing with cables in your neat space.
Lee Penson, CEO of PENSON, suggests:
"Integrating or hiding tech in your home is huge a step towards creating a curated workspace aesthetic at home. As long as the power supply is integrated or hidden to avoid seeing any ugly cabling, this can be a big win. Think bespoke cabinets, cupboards and side boards with added cable management directly to the power supply. Better still, wireless tech is the way to go altogether. This way, you can move printers between spaces and storage."
4. Keep paper clutter to a minimum by creating a filing system
Paper clutter can be extremely frustrating, especially when you are trying to quickly access vital information needed for your work. Creating an efficient filing system can help you to organise important files as well as enjoy a clean space and clean mind.
James Ashfield, Studio Manager at Rigby & Rigby, suggests:
"Our clients tend to lead global lifestyles which means that when they come home, they like to have interiors which are minimalist and well organised. Filing systems integrated within bespoke joinery will hide filing in the most sophisticated ways. This is especially useful when you travel frequently to be able to keep things as simple as possible and avoid unnecessary stress."
5. Fix a task light to the wall
If you are working in a small home office, instead of having a large freestanding lamp, opt for a task light to take up less space. Task lights shine bright light on specific tasks, providing focused light where needed without taking up the additional space.
Georgina Horspool, Lighting Designer at Alexander Joseph, suggests,
"Having a desk light is a great idea, but trailing cables across your desk or taking up the extra room could clutter your table and mind. By securing your light to the wall you not only gain extra workspace, but you will also remove distractions and unnecessary objects. Having a clean and tidy desk space is the key to productivity."
Click here to read how Depop's Shoreditch HQ incorporates innovative storage
Home office storage is key to maintaining a neat and functional workspace feels comfortable to work in. Here, five different interior experts provide creative storage ideas for your home office to maximise space and your productivity.