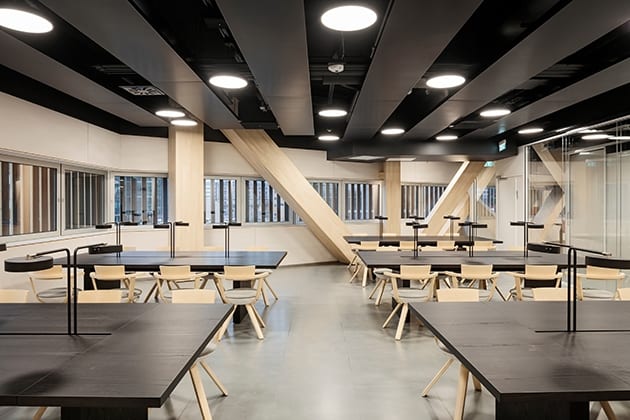 |||
Are Finland's libraries undermining the country's co‑working offers? That's not to suggest that co-working isn't a thing there. Since this column visited Mothership of Work's classy setup in Helsinki three years ago, its opened a second site in the city of Tampere. And business park operator Technopolis now has three UMA-brand co-working spaces in the country. To name a few.
But at the same time, the state is busy supporting complementary and complimentary offers within library buildings. This is in part because in 2017 its public libraries act was updated, establishing a mandate for libraries to promote lifelong learning, active citizenship, democracy and freedom of expression. All traits that any co-working provider would be happy to embrace.
The most high-profile manifestation of this is the middle floor of Oodi – Helsinki's new €98m Central Library by ALA Architects (as featured in February's OnOffice). Coming from the UK and its cash-strapped services, Oodi is a shock to the system. On the spring day I visited, each floor was busy, and the middle floor was heaving. Students had set up camp in closed rooms, open-plan areas, generously deep bleacher seating, wherever, to swot for upcoming exams. This floor is all dark walls and many angled support columns, and with those hordes of users, it almost felt like a victim of its own success.
Oodi: Helsinki's new library. Photo by Tuomas Uusheimo
But Oodi is just one of a myriad of shared workspaces within Finnish libraries. And some of them offer a kind of sanctuary that Oodi (with its current 10,000 visitors a day) is hard pushed to supply.
Of all the libraries I toured during a recent visit, the National Library was the most grandiose. The 1840 neoclassical building by Carl Ludvig Engel, (with a 1903 extension by Gustaf Nyström) is the country's oldest such facility. Renovated four years ago by LPR Architects and Okulus Architects, it's open to everyone and was delightfully quiet. Nearby is Kaisa, Helsinki University's Main Library, a 2012 bright and spacious infill building by Anttinen Oiva Architects.
Perhaps marvellous city-centre venues are hardly a surprise. But the story continues in the outskirts. Like Maunula House, completed by K2S Architects in 2017, and Aarne Ervi's 1970 Töölö Library. Both are multi-functional, well-designed buildings – sure, all these places have sacrificed shelf space to squeeze in more desks, but the book storage system is run by robots.
None of this is possible without generous funding. Finland spent €57 ($65.4) per citizen on library services in 2017, compared with $39.34 in the US, and up from €52 per citizen in 2007. And what goes around comes around, because on average Finns borrow 12 books a year.
In the last 12 months, I took out 33 books from Will Alsop's Peckham Library, which surely qualifies me for citizenship. However, while I can only dream of relocating, I can at least hope to visit the country's next bibliophilic investment: JKMM's doubling in size of the city of Kirkkonummi's library, which completes later this year. Fingers crossed.
Finland's expanding library sector does more than just issue loans, it's also providing the country's freelancers with spacious, well-designed deskspace