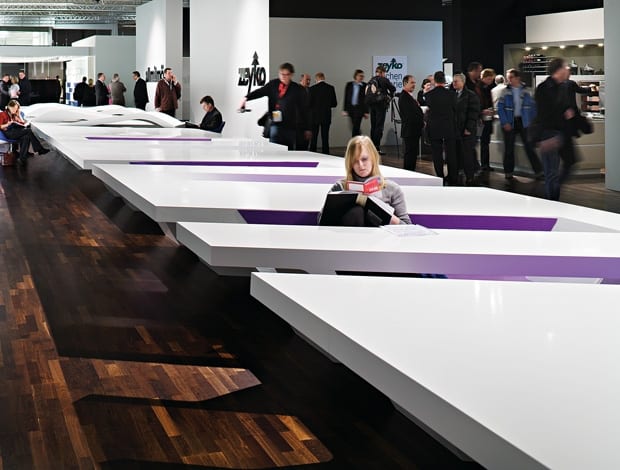 Prooff has collaborated with Ben van Berkel from UN Studio to create SitTable|SitTable is a reworked version of The World's Longest Table for all Cultures|The Ear Chair was the first design by Prooff|The different configurations create an architectural solution to open plan offices: a chair as a room|The Work Sofa encourages a mix of formal and informal sitting and a variety of ways to address people|The workstation is height adjustable and very flexible, allowing for concentrated work as well as collaborations|Work Lounge|The Slow Car, launched at Milan, was designed for the office campus|Illustrated version of the Slow Car||
With change all around us, Kerstin Zumstein asks if Prooff's futuristic vision may hold the answer to the search for a sustainable working environment
They say that in times like these people increasingly turn to philosophy, so where is the philosophical element in today's workplace design?
Theories like Charles Handy's portfolio worker and Shamrock organisation have been floating around in office-thinking minds for years but have never materialised into tangible product solutions.
Any attempt to create experimental office furniture to match the thinkers' hypotheses was soon watered down by the commercial reality of the marketplace.
Yet this year at the Milan furniture fair we found an exception: Prooff, a Dutch-based design collective that set out two years ago to develop products for progressive office projects, not the market. The results are inventive designs that benefit being trialled in a customised approach for one specific project. These products can then be 'discovered' by the market with their benefits and flaws but never compromised to satisfy a broader client base. The enterprise is brainchild of Dutch designer, lecturer and I'd say philosopher, Jurgen Bey and his team at Makkink and Bey Studio.
"The long term goal of Prooff is to get other designers involved like we've done now with Ben van Berkel [UN Studio – creators of the world's longest meeting table] but first we wanted to get the identity right, develop one clear voice we can build on." That voice is best communicated in the elaborate drawings that the studio develops for Prooff. The illustrations show a cityscape in motion, a space for Prooff's ideas and visions to live, a dynamic living society which predicts the end of the static office. Bey is especially fascinated with the working environment as a topic of design because "it's still so undiscovered and there's so much to do." Mobile working, knowledge sharing and other realities are embedded into a wider principle of sharing space: facilities, responsibilities, a communal solution to the current property crisis. "The property market has found its limit at the moment so unless we develop public space into more than filling gaps the whole property industry won't progress," Bey explains.
Prooff's approach to solving these problems is to apply 'scenario thinking'. For instance, take a building site: it's a transitional place, noisy, yet active, why does it have to be dead space to anything but the building process? Its containers or even cranes could function as public meeting rooms for example; allowing people to meet centrally in a hub that once finished will be the new city nucleus and with that help integrate the next generation of build into the given cityscape. It's a form of reusing space, which evidently is very timely given the current climate, yet on a much broader scale than simply recycling building parts.
The idea of sharing space and knowledge is integral to all Prooff's concepts and Bey admits that there's a utopian element in his school of thought. But his vision is certainly not a one-off. Frank Duffy, a visionary veteran, also advocates reclaiming dead space for working purposes. The architect and DEGW founder has been criticising buildings that can only accommodate one function for years. In his recent book 'Work and the City' he presents a student research project that looked at Canary Wharf before the crash (2007). The students were asked to compare Soho, with its dense, mixed, physical fabric to Canary Wharf which is new, mono-functional and cut off from the surrounding area. The question was which one of "the two very different models of urban fabric would stand a better chance of remaining in beneficial use in 2030." Clearly Canary Wharf was associated with exclusion – its stringent security measures dramatically reducing permeability. Only two years later, the site once celebrated as London's glorious Wall Street resembles a ghost town.
"The Slow Car is not competing with the car; it's competing with the office chair"
Like Bey, Duffy believes in the mobile worker, yet points out that this flexible way of working, albeit vastly enhanced by technology nowadays, is not as new as most think. Duffy highlights how Samuel Pepys diaries contain examples of mobile working in the 17th century. He quotes Trease Geoffrey's 'Samuel Pepys and his World': "Pepys was always on the move – leaving his house near the Tower to go to his office next door [nearly a home worker], visiting his uncle in the country; down the river by wherry to supervise victualling at the Naval Yards at Deptford; by carriage down the Strand to wait on his superiors and to be accessible to the Duke of York in Westminster," and, as Duffy adds, he worked in coffee houses in-between.
As a result Duffy focuses on the need for places between places, interstitial spaces not owned by one person or company in particular, neutral shared spaces, much like Prooff's building site idea. The problem he sees is that someone needs to find a way of making these interstitial places economically viable. Duffy also contrasts the divide and rule inherited from Taylorism which still dominates office designs to today's communication system. "The design of cities needs to catch up with information technology, the economic delivery system and the supply chain."
His convincing construction of 'The Networked Office' concept is based on reversing the current system by creating a demand-led supply chain, starting with the user's needs rather than investment. The "Networked Offices will transcend conventional architectural boundaries," and the main challenge for Duffy is to wean architects from their obsession with new build towards "the most imaginative and creative use of what already exists."
And that's exactly what Prooff is doing with their cityscape model and by inventing products that solve architectural problems. The Ear Chair, for instance, was developed for the reception of Dutch insurance company Interpolis. "We had the idea of furniture becoming architecture," Bey explains, "Architects go in and every time want to change the floors and the walls so we wanted to design a chair that functions as a room. We first developed the ear idea, in time the ears became bigger and now accommodate different size groups."
It soon transpired that people didn't want to leave the Ear Chair to move to the meeting rooms as initially planned, instead the in-situ testing showed how the chairs created a productive enclave of intimacy in a public open-plan space. Bey's Reset designs for Vitra, exhibited at Orgatec last year (see onoffice issue 26) already indicated his interest in experimenting with the concept of private concentration bays in public spaces (the padded cell and the high spot).
This observation grew into the second product, the Work Sofa or Working Lounge based on Veldhoen & Company's research into lounge-work activities. The main idea here is to encourage people to sit in different ways, creating a variety of opportunities to address people. The newest addition to the Prooff product range first shown in Milan this year is the Slow Car. Much like the name suggests, it started with the thought that perhaps slow can be good. Asked whether he really believes our current society could ever slow down given our 'instant access' mentality, Bey says: "The Slow Car has just the right pace for the task at hand, so that it's far more time efficient than sitting in a petrol car that can do 250km/h but gets stuck in traffic moving 30km/h, with your foot always on the break. That's where the frustration with cars comes from. But the Slow Car is not competing with the car; it's competing with the office chair."
Like a task chair Slow Car has wheels but is steered electronically. In the capsule you sit at a mini-desk, like a transportable work surface, to allow you to work while on your way to a meeting etc. Obviously it's not about using it as an alternative form of transport on the city streets, but on an office campus. "Workplaces may consist of more than one office building so the space in-between the buildings becomes work space." Prooff calls these areas office gardens, where the outside is part of the work area and with that has an economic value. And why should an office entrance landscape just be for show when it has inspirational potential for working?
Bey has long been advocating for offices to be more like campuses "where you go to work like a living society." His own studio lives up to this mantra; he is squatting (with the owner's permission) a warehouse outside Rotterdam which he has turned into a knowledge-sharing laboratory. "I do believe that to design inspirational products you need to work in an inspirational office." His campus vision for offices is an entire living model, whereby your way of life completely encompasses working." Workplaces should also be a place where you relax in the evening, play tennis or sing in a choir. Maybe you'd even stay over one night a week if you're working on something intensively, then you'd work from home another day." As much as this model sounds like working in a commune it has many benefits, easing traffic congestion just being one. The simple maths that instead of ten journeys to and from work each week you only have six would greatly reduce congestion on both public transport and the roads.
Looking at modern ways of working and the realities (or stagnation) of our cities' property market the conventional static office does indeed seem outdated. Clearly the unearthing of interstitial spaces for the peripatetic worker is a way forward. Once again it's a parallel with Duffy that seems a likely solution: Bey mentions how hotels are an obvious transient workplace. "Whenever I stay here in London it amazes me how hotels still try to make you feel at home when you'd just go home if that's what you were after. Instead city hotels should be more business driven by facilitating interaction with your light society."
The light society model is derived from the idea of family forming a membership that bridges boundaries. Likewise your immediate surroundings constitute a membership group, as do your office colleagues. Bey believes that communication is key to bringing a vision such as Prooff's cityscape to life. "It's about developing a new language which is much easier in existing groups like the workplace."
Duffy also suggests adopting methods from the hospitality industry like end-users paying for space by the hour, rather than long-term commitment, and facility managers being rewarded for the degree to which they satisfy their customers (ie staff).
Undoubtedly the foundations for change in working realities are being laid as we speak. The ideas formulated by 'office philosophers' are finally gaining weight due to the crash of the global economy. Quite how the officescape of the future will look no one can tell but Prooff are certainly providing tangible, concrete inspiration for those people involved with developing it. Bey concludes: "There isn't one way, there are many possible ways, but one thing is for sure: If you look at kids today, doing ten things at a time, following ten diverse discussions on different networking sites, they are multi-tasking – and these multi-taskers are our future workforce so being stuck in one place at a desk all day seems completely antiquated, highly unlikely and to be honest quite stupid."