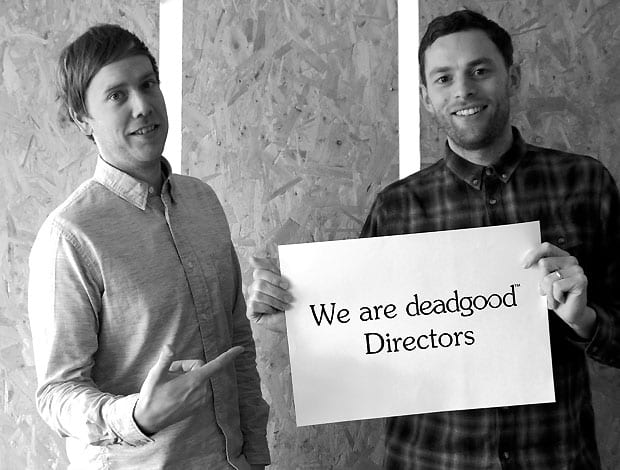 Elliot Brooks (l) and Dan Ziglam (r)|Wire lighting, a Corner chair and a Plex sideboard|Woody, an upholstered bench with the look of a felled tree, chimes with a vogue for temporary perching spots for the office|Love chairs in Manchester Central Library|Massed ranks of Tyneside loungers, designed by David Irwin specially for the Tyneside Cinema|The Raw Spun pendant, Harvey sofa & Laptop Table for mobile working|Working Girl is an extensive range of stools and chairs with a utility aesthetic|The Form chair was one of Deadgood's first products|The just-released Knurled rug, which mimics an industrial textured finish in soft wool||
Elliot Brook and Dan Ziglam are nothing if not hospitable. The two founding members of furniture brand Deadgood are lining up a regiment of bottled beers on a side table for a small party they are throwing that evening. The venue is not, however, their headquarters in Newcastle city centre, but an ad hoc showroom on the South Bank next door to the Mondrian hotel (architect BDG is upstairs, and the space belongs to them).
Deadgood is just two days into a month-long residency and, undoubtedly conscious of occupying someone else's patch, are showing some appreciation to its hosts with some of the good stuff. So, if all goes well will we see a permanent Deadgood showroom down south?
"That's a tough one," says Brook. "A lot of these showrooms are very clinical and intimidating. We always imagined creating somewhere with a real buzz – a cafe with a studio where you can see something being made. A destination where you can experience the brand more subconsciously."
The brand has always had certain panache. Who else on the UK scene would have the audacity to showcase its products in a converted London bus, as Deadgood did at the inaugural Clerkenwell Design Week? Once, at the Salone in Milan, the fresh-out-of-school designers built a towering, precarious structure from 100 of its stools. "We called it chaos. It probably wasn't the best use of space, but people remembered us," says Brook.
The onus with the temporary showroom is on showing how well the product range sits together rather than stuffing everything in willy-nilly. The Harvey corner sofa, for example, lends some structure to the space while Working Girl high stools sit either side of a breakfast-bar-style table.
"Everything we do is really an extension of our personalities. When we first started, Moooi inspired us. It was all quite wacky and instinctive to Marcel Wanders. We wanted to create a mix of styles and bring it all together under a brand," says Brook, who is the guardian of the brand, handling the marketing and PR. His London-based compadre designs, and talks to the factories.
The demarcation of duties happened naturally, they say, rather than according to some great masterplan. The pair graduated from Northumbria University in 2003, when their friendship developed into a business ("It's basically a sexless marriage," says Ziglam). Deadgood celebrated its 10th birthday last year. Their personalities – Brook restrained and earnest; Ziglam energetic and irreverent – are complementary. They are blunt in their ambition: "We want to be one of the world's great furniture brands," says Brook.
Things began in a modest fashion with the first three or four years comprising a mixture of private design work, events and attempts to get their own product to market. Momentum slowly built up until, in 2008, the brand secured a £150,000 grant from the north-east Regional Development Agency. In truth, the company, which for its first two years had been working from a Portakabin on the Northumbria University campus, had a surplus of ideas but only one notable product, Ziglam's Form stool. With a seat made from bent Formica, the chair is a useful illustration of Deadgood's cavalier spirit.
"It hadn't been bent before. It was the product we chose to start the business but no one was making it. I got the recipe [for Formica] and started making it at the university from epoxy resin. It was pure Heath Robinson," says Ziglam.
The RDA funding allowed Deadgood to develop some of its most recognisable products: the Love collection, originally designed for high street furniture brand Barker and Stonehouse, Wire lighting and Capsule seating. The brand, which thanks to its knack for publicity always appeared greater than the sum of its parts, now had some objects to back up the hoo-ha.
Without doubt, the domestic design scene is crammed with small brands all making mileage from the 'made in Britain' ethos, but it is easy forget that this is a relatively new development.
"When we started, no one was doing anything. I think there was Tom Dixon but that was about it," says Ziglam. "We didn't have the volumes to go to China so we had to manufacture locally." The advantage was that, with the UK factories twiddling their thumbs, they were willing to prototype designs from two ambitious youngsters. Being British-made became pivotal to the Deadgood story. "It makes us immensely proud when we can go back to the factory and say 'here's £50,000 for an order – you need to hire two new people'," says Ziglam.
The brand's first substantial order was for 50 Form chairs for the British Embassy in Khartoum, Egypt. Following that, Deadgood's enduring relationship with Northumbria helped it secure a far larger order for the university's new design school. "We had to fight quite hard to get that job and it taught us a lot about the business," says Brook. That led in turn to Form being added to the tender for four Building Schools for the Future projects. All the while, the brand continued to expand its portfolio working with new independent studios like David Irwin and established names like Craig Jones Design. The client list has grown too, with products appearing everywhere from The National Gallery to the BBC.
Despite this success, there is a faint but detectable restlessness about its two protagonists. "The logical thing to do is more of what we have done already. But that fights against what we are about. We need to work out where we can add value with the story and we haven't found that yet," says Ziglam. "Who knows what's next? Maybe it's not furniture at all. Maybe it's an app. We are not there yet."
A decade-old brand whose furniture and lighting products are a byword for great British design, Deadgood's restless inventiveness propels it ahead