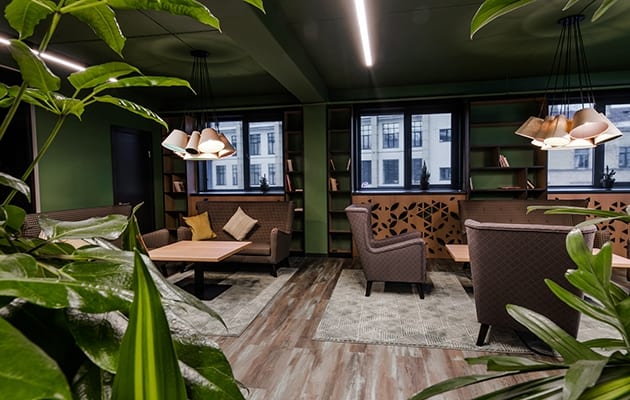 |||
The Latvian capital of Riga is awash with period properties. Romanticism, Gothic, baroque, classicism and modernism all jostle for position. People Work – at 3,500sq m the biggest co‑working space in the Baltic states when it opened last year – is housed here, in a former knitting factory from 1925.
Judging from People Work, co-working Baltic-style is much the same as elsewhere – with one eye-catching difference.
On the ground floor, the hotdeskers can choose from a mix of pods, stools in front of the window, and sofas, mostly produced in Latvia. On the first floor, there's a big conference room and a tiered lecture room for 210 people. This floor is just for fixed-desk members, either in open-plan space or in offices behind glass walls and doors.
The second floor has more fixed desks, and a lounge area with wooden flooring, sofas, a bit of bleacher seating and green tiling in the kitchen area. And nearby I spied something that I can't recall seeing anywhere else apart from at trade fairs: a treadmill desk. In fact, there were two InMovement TreadMill Desks – and, what's more, one of them was being used. But then People Work is the brainchild of Georgy Guselnikov, a Russian businessman behind the regional People Fitness chain of gyms.
The roof terrace isn't yet landscaped or furnished, except for some beanbags occupied by a handful of young women working at laptops on the day of my visit. The interiors were handled by in-house designers Baiba Giniborga-Asere and Ramona Cirule.
People Work has a total capacity of 200 members, and is currently three-quarters full. Like all these places, funky graphics and splashes of colour rarely disguise the fact that when they're not humming with activity around the coffee machine or in the breakout spaces, they can feel a bit soulless. As is typical in such spaces, fixed desks far outweigh hotdeskers at 170 to 30. The former pay €179 plus tax a month in the open-plan areas, while a four-person office costs €799 plus tax. A monthly hotdesk pass is €99 including tax.
Riga may be the biggest city in the three Baltic states, but with a population of around 641,000 there isn't scope for an unrestrained mushrooming of co-working spaces, à la London. Already on the scene is Teikums, which also opened last year, and has had a more consciously "designed" execution by local firm Lauder.
So perhaps it's not surprising that founder Guselnikov is instead eyeing up Lithuania and Estonia. "In Tallinn and Vilnius there are already People Fitness places, so the company is looking forward to expanding," says Giniborga-Asere. Could People Work be exported further afield? Perhaps it could, if it heads for yet more pre-saturated markets before the bubble bursts.
With its 1920s converted factory building, People Work in Riga is leading the charge towards co-working provision in the Baltic states, and is keeping an eye on the future