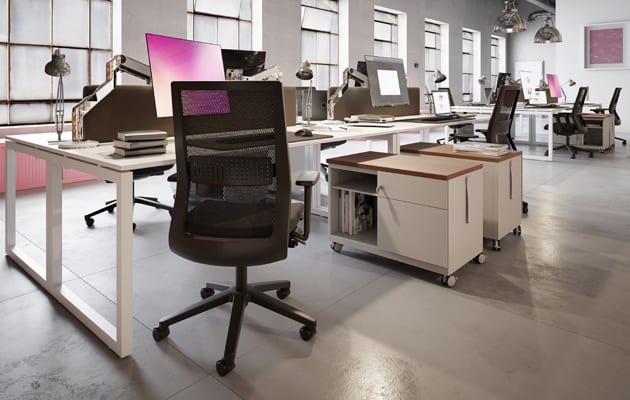 Image: Bisley|||
Recognising the need for storage that addresses the bridging gap between different styles of work, Bisley designed the new Caddy – personal storage at its best. A fully mobile unit the Caddy can be rolled across any interior surface to provide considerable secure storage.
Today's workplace has never been so varied in style. Hot desking or territorial, agile, open-plan or separated departmental offices – these different approaches can be seen from company to company. They can even be seen under one roof in larger plan buildings. The ease of mobility means that the Caddy is the perfect versatile desk companion in any of these environments. It can be moved from one workbay, desk or room to another effortlessly and provides both the storage and stowage requirements of a worker with fully lockable drawers.
Image: Bisley – Caddy range blue
The workplace study, Wellness Together, unearthed a large amount of data regards what elements in the office design create an environment in which staff and companies thrive. A thousand office workers were surveyed as to what they wished for in the ideal office. As more and more staff work in a different place within their offices each day, it's hardly surprising that 18% cited mobile storage as one of their wishes.
Designed to be able to tuck under any standard height desk, the Caddy can be adapted into a seat with the addition of a smart, upholstered seat pad. This small touch creates the opportunity to have quick, unplanned meetings or casual catch-ups at a moments notice without cluttering up the desk space with multiple chairs. The top can also be furnished with a laminated wooden top, making a neat side table.
The Caddy is available in a large range of finishes and upholstery options to ensure that a suitable design can be achieved for any interior environment.
For more information visit the Bisley website.

Image: Bisley – Caddy range pink
This is an online advertorial feature.
Workplace experts Bisley introduce Caddy to their growing range of furniture solutions for the modern office