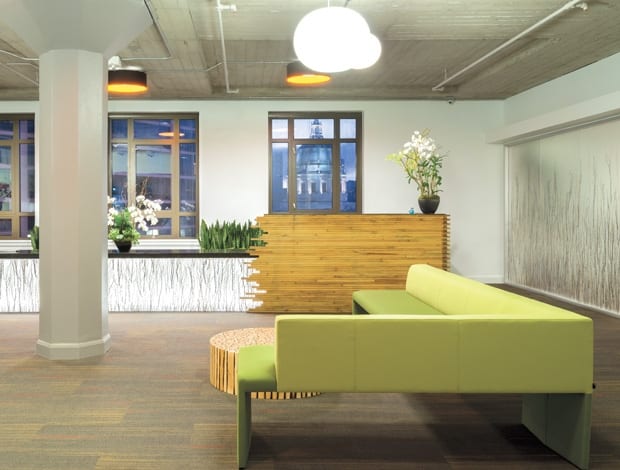 A nature-themed reception, with a desk made from bowling-alley flooring|Twitter's corporate blue is put to good use in cheerful breakout areas|Down time: A glass-enclosed games room sits next to a snack station|Creating a multipurpose central hub, or 'Commons', was a key part of the brief|Green deer – part of the Twitter HQ's forest theme – on the prowl|A large roof terrace overlooks the skyline||
Lundberg Design worked with IA Interior Architects to give Twitter's new Market Square HQ several collaborative spaces and a large food hall for staff to hang out in.
Tech has made our lives better, without a shadow of a doubt. But its impact is not always positive: most of us now have an addiction to devices at the detriment to real life interaction, plus a nagging need for constant vindication – and we've all heard about the even darker side of human nature on social media.
That's why it's nice to hear that, following in the philanthropic footsteps of the big brands of the industrial age, Silicon Valley slickers are getting in on the act and doing their bit for the people. Where the owners of Sunlight soap and Cadbury's confectionery built whole villages for their workers in late-19th-century Britain, now social media giant Twitter is helping in the rejuvenation of what was a run-down part of its hometown, San Francisco.
Twitter's new headquarters takes up floors seven to nine of the 11-storey Market Square complex, an iconic art deco landmark building dating back to 1937. Up until recently, this cavernous former wholesale furniture market, like much of its mid-Market Street neighbours, had suffered significant urban decay. Such was Twitter's desire to stay in the city in which it was founded in 2006, that it decided to turn these blighted blocks into something rather special in terms of workplace design.
"Twitter is helping rejuvenate what was once a run-down part of its hometown"
That decision was undeniably helped along by certain tax breaks: under city legislation passed in April 2011, mid-Market Street was designated a payroll-tax zone, exempting employers from the 1.5 per cent levy they would normally have to pay on every new employee hired after they moved to the area. And so, this part of the city has undergone something of a renaissance, the boarded-up windows and transients slowly being replaced by bright young technical wizards, and suitably bright and inspiring places in which they can work their magic.
San Francisco architecture firm Lundberg Design has worked with Twitter since it was a fledgling 40-person company, assisting in previous office fit outs and helping to select the location for its new offices here. "They had certain requirements and specific desires for the space: open 'benching' workstations with decent proximity to natural light and a design emphasis on collaborative spaces, and especially the food hall as a multipurpose space," explains CEO and founder Olle Lundberg. This gigantic cafeteria and gathering space, known as the Commons, not only feeds its staff gastronomically but aesthetically too, opening on to a park-like roof garden that covers almost half an acre, offering impressive skyline views. When not dealing with developing extra widgets or solving bug fixes, Twitter's employees can hang out here in the day, with blankets provided for those notoriously chilly Bay Area afternoons. This area of the building also serves as a dramatic venue by night as well.
A 'forest' concept was the major source of visual inspiration. "This was really just a very big concrete warehouse [before]," says Lundberg. "We tried to contrast the raw strength of the concrete structure with natural materials and forms that would add warmth and texture to the design." The nature theme allows the designers to plant a few birds – Twitter's logo – around the place.The branding is subtly done, mostly with the odd logo and use of the firm's signature shade of blue.
Many of the wood products were recycled, such as the wood panelling in the lift lobbies, which is reused from existing timber within the building. Lundberg adds: "The reception desk is built from some old bowling alley lanes that I found on Craigslist, and the lobby lights are made from manzanita branches that I found in the forest by my cabin."
"As designers we just worked together, essentially creating a combined office for the project"
Lundberg Design did not work alone on this project. IA Interior Architects were brought on board, as Lundberg admits the Twitter project became too big for them to handle on their own. "While we had not worked with IA before, I knew them and approached them about joining us on the project," he says. "They are of course experts in this scale of project, and we ended up with a great collaboration."
While Lundberg focussed on the 'special events spaces', IA led the overall planning, layout and design for the rest of the project, with responsibility for construction documents and administration. "As designers we just worked together, essentially creating a combined office for the project," says Lundberg.
The huge floorplates are punctuated with informal seating areas, large and small conference rooms, breakout areas with their own pantries, and reconfigurable lounge areas. These are complemented by pieces created by local artists. The office also features a yoga studio, a fitness room and two games rooms, which are proving very popular amongst the Twitterati based here. The end result riffs on the idea of the 'urban campus', oft-associated with tech granddaddies such as Google and Microsoft, but with more natural materials and a deft use of daylight.
Since the completion of the scheme's first phase, Lundberg Design is continuing to work with Twitter on its expansion within the same building. The company's decision to locate in Market Street has kickstarted a long-overdue renaissance of the area. It is already home to some of the city's most historic venues: the Davies Symphony Hall, The War Memorial Opera House, the Asian Art Museum and City Hall. Now, with Twitter's presence, the area's future seems much more positive, as other tech companies are flocking to join it nearby.