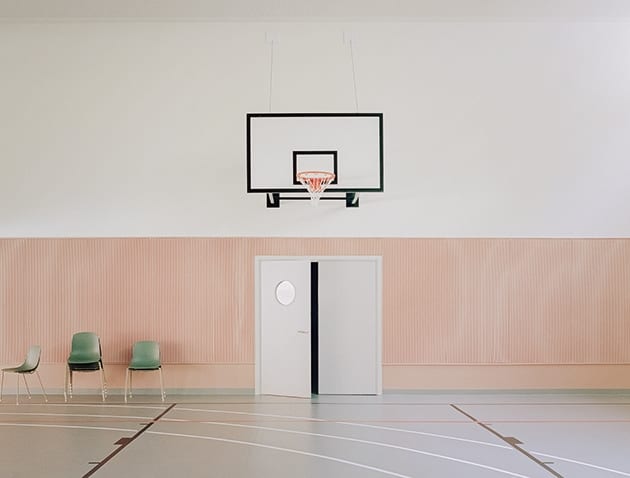 Joyous colours can be found throughout the Enrico Fermi school – including the basketball court|||
The tradition of fortress-like, institutional schools hermetically sealed from the outside world has been turned on its head by Turin-based architect BDR Bureau with its striking transformation of a former school in a 1960s building in its home city.
While the old school was inward-looking and inaccessible, the radically redesigned structure – now the Enrico Fermi school – blurs boundaries between indoors and outdoors and private and public spheres. This experimental school for 11 to 14-year-olds occupies a 5,579sq m site in the Nizza Millefonti district between a former industrial area and the river Po in south-eastern Turin.
BDR Bureau won an international competition to undertake the project, commissioned by private foundations Fondazione Agnelli and Compagnia di San Paolo as part of an initiative called Torino Fa Scuola, involving the renovation of two Turin schools.

A new steel envelope has been added to part of the existing building
There's a utopian, joyous quality to the school: classes are often held outdoors – obviously more possible in a warmer climate. More disciplinarian schools might fear that pupils would be distracted from studying by the surrounding street life or by basking in the sunshine, but this don't seem to apply here. "The schools' redesign and furniture were influenced by a new pedagogical concept based on interdisciplinarity, inclusivity and exploration," explains Simona Della Rocca, co-founder of BDR Bureau.
Another inspiration, she adds, was the 'en plein air schools' of the interwar years, built to combat tuberculosis in the belief that being outdoors promoted good health: "These were abandoned after health issues were resolved. Perhaps their potential wasn't fully grasped. We're currently researching this theme."
The school's extrovert, porous structure comprises a new steel envelope which is attached to part of the existing building and incorporates expansive balconies. Large new windows and doors provide plenty of natural daylight and ventilation. The school's outward-looking appearance is accentuated by its enormous ground-floor atrium, housing amenities that are open to the public after school hours, including a library and cafe. A new main entrance, linked to a garden, has replaced a street-level ramp that oddly led up to the first floor and restricted access to the school.

Areas of the open-plan interior are partitioned by curtains to provide temporary classrooms. Bright red stairs and a metal envelope give a hi-tech feel.
"The garden now functions as a meeting place for pupils, teachers and locals in a neighbourhood that has few green areas and cultural activities," says Della Rocca. "We also restructured the inside of the building, eliminating traditional classrooms and corridors."

Corridor-free interiors contribute to a feeling of openness
The resulting, relatively open-plan interior is informally partitioned by rather theatrical floor-to-ceiling curtains – a pair of these bookend a space used as a theatre or a study room, strewn with casual stools and tables on castors – and internal windows. "The classrooms on the upper floors act as hinges between the indoors and outdoors as they open on to terraces and areas where pupils socialise between lessons."

Upper floor classrooms link the interior with outdoor terraces
Also setting the building apart from oppressive, conventional scholastic architecture is its facade's idiosyncratic, playful colour – a raw plaster pink. Unusually, the project fuses an organic feel, thanks to this textured, adobe-like pink plaster finish, with a hi-tech aesthetic, embodied by its metal envelope and a brick-red staircase in the atrium. Ultimately, BDR Bureau sees the Enrico Fermi school as a "case study" – a template that other designers of school architecture can potentially emulate.
An experimental Turin school project aiming to open up new possibilities for learning by dissecting the relationship between its interior and exterior areas.