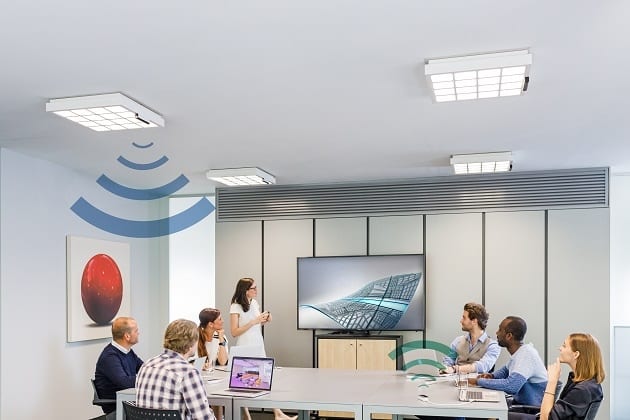 |||
Every workplace knows the value of LED lighting – though it was first invented in the 1960s, it has really come into its own in the past two decades, with a plethora of architectural lighting options available thanks to the fact LEDs work in very thin or flexible spaces and don't heat up.
But it's only in the past eight years that LEDs have come to be discussed as the solution to a problem other than lighting – they are central to the concept of LiFi, a light-based alternative to Wi-Fi.
Trulifi represented in the Claerhout Communication Campus. Photo via Signify
The idea was the subject of a TED talk in TEDGlobal talk by Harald Haas, professor of mobile communications at Edinburgh University in 2011. Essentially, the idea is that data, transmitted using radio waves in Wi-Fi could be transmitted using light wavelengths instead. The concept would free up the already well used radio wave frequency and, since fewer devices would be using the wavelength, would offer quick and secure transmission of data. Only a few years on, that is now starting to become a reality, particularly in offices. The lighting firm Signify – a brand with a heritage in lighting due to its connection to Philips – is already in its second generation LiFi product, launched in June.
Trulifi is an evolution of its first foray into the LiFi space, which came as a lighting concept that provided connectivity through light wavelengths. While the company's original LiFi system created a connection between the luminaires in the lighting unit and the dongle-like device plugged into the computer or laptop, Trulifi takes it a step further, transmitting data via an infrared wavelength, meaning that even when the light is switched off, the connection still works.
Trulifi represented in the Claerhout Communication Campus. Photo via Signify
As well as offering a smoother connection, with fewer dips in connectivity than Wi-Fi due to the lack of competition on the frequency, Trulifi is able to offer up to 150Mbps of speed, divided by the number of devices on the connection (each luminaire can connect up to 16 laptops). Compared to the UK's average Wi-Fi speed of 18.57Mbps, found by communications website Cable in 2018, there's potential for significantly higher internet speeds.
Claerhout Communications, a Belgian marketing and communications agency, has retrofitted a meeting room in its office space with four connected luminaires in order to provide both lighting and the ability to transfer high-res imagery and large files. Christoph Ruys, business development manager at the firm, said of the connection at the launch of the new Trulifi product, "It's been extremely fast and very clean – there's no interference and works in one room." He also pointed to another important benefit – the security side. As the light works on a point to point basis, the connection only exists inside the room with the luminaires. "While it's encrypted, Trulifi adds an extra layer of security as light can't pass through walls – so what's in the room, stays in the room," Buys said.
Trulifi's USB access key. Photo via Signify
The technology is still in its early stages so still requires a USB access key for each laptop, but ultimately has the potential to become as widely used as Wi-Fi, Signify believes. At the launch of the Trulifi, chief innovation officer at Signify, Olivia Ronghong, spoke of a future where instead of dongles for connection, LiFi becomes built into devices and could even be used to guide driverless cars. "With radio signals becoming congested, it's a way for our planet to carry more data," Ronghong said.