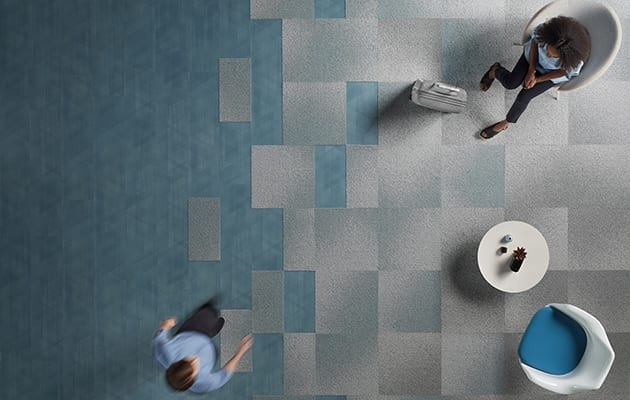 |||
Interface's latest collections, carpet tile range Visual Code™ and luxury vinyl tile (LVT) product Drawn Lines™, are inspired by the juxtaposition of nature and technology. The new products offer a new direction for design in workspaces, education, and hospitality environments. Offering endless design possibilities, the collections can be beautifully paired together to create a wide variety of vibrant, stimulating spaces.
Visual Code
Designed exclusively for Interface by Product Designer, David Oakey, Visual Code, brings together the worlds of high-tech and high-touch to create a sensory experience. The collection takes inspiration from glitch graphics and simple textures, which evoke traditional woven fabrics and rugs. An array of grey shades and pops of bright, bold colours provide a palette that works in any environment.
Drawn Lines
Drawn Lines is unlike any other LVT product on the market. Created by Kari Pei, Interface's Lead Product Designer, it takes inspiration from geometric patterns. The layered filament-fine marks create distinct designs which re-connect us with nature. The products are available in a range of colours from smoky brights, to cool and warm neutrals, all of which are enhanced by metallic threads, which add shimmer and depth.
Beautiful pairings
Visual Code and Drawn Lines can be seamlessly paired together, with no need for any bulky transition strips. The collections truly set a new direction in design and when paired together, allow for the fusion of nature and technology. Furthermore, all of Interface LVT products are designed using Sound Choice™ backing which has been recognised by Quiet Mark™ for its superior noise reduction qualities.
To learn more about Drawn Lines or Visual Code, visit the Interface website.
You can also explore how Interface's LVT and carpet tiles work together seamlessly here.
This is an advertorial feature