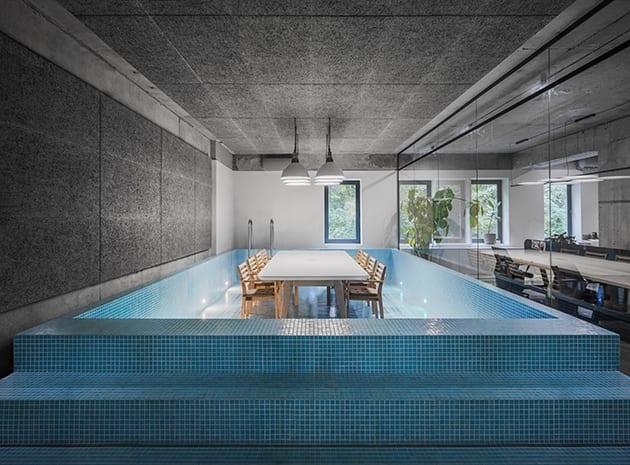 |||
Kiev-based architecture studio Balbek Bureau has recently refurbished the new office for Ukraine's creative Banda Agency, turning the traditional corporate environment on its head.
Inside the Hey Banda offices in Ukraine. Photos by Yevhenii Avramenko
Set in the historical neighbourhood of Vozdvizhenka, the office, called Hey Banda, might be housed in newly built premises, but the area surrounding it has a rich past. Once home to artisans, this vibrant district of Kiev has seen a steady revival since the early 2000s, with efforts made to restore Vozdvizhenka's rich heritage. Plush three- to five-storey buildings and luxury mansions have sprouted up throughout the area in recent years, making Vozdvizhenka a popular office and working hub among many residents, who are eager to bring the neighbourhood back to its creative roots.
The offices mix a variety of textures and styles. Photo by Yevhenii Avramenko
Spanning 780 square metres and organised around six functional units, Hey Banda's concrete expanse includes a reception and various meeting rooms, from vibrant workspaces to quiet lounges. There is a dark room where creatives can hide away and a rustic barn house dedicated to the management department of the company, while the kitchen and terrace encourage socialising – in and out of office. The architectural pièce de résistance, however, is a purpose-built swimming pool meeting room that provides an unconventional yet inspiring office stamping ground, where innovation, creativity and formal conversation can flourish.
Art and plants enliven the concrete backdrop. Photo by Yevhenii Avramenko
The open-plan industrial feel provided by the stark material is enhanced by the more personal design touches found throughout. Dusted concrete floor and walls serve as a blank canvas for quirky artwork by Kiev-based artist Maks Zabrodskyi. Design icons, such as the HAY bar stools neatly lined up along the locally handmade bar, sit beside restored vintage pieces, including a second-hand leather sofa, coffee table and carpet, transforming flea market finds into timeless classics.
Striving to create a space that defies typical office environments, Balbek Bureau and Banda Creative Agency are confidently pushing corporate boundaries. This duo isn't afraid to swim against the tide.
Go inside the Ukranian office pushing corporate boundaries